Lincoln Electric AC/DC 225/125 Arc Welder
Mine is close to 30 years old and still works like new!
Product description
Product Description
AC/DC 225/125 Arc welder, AC & DC welding arcs with broad output ranges for versatile use, ideal for jobs that require top arc-welding performance, can be used for maintenance repair, fabrication, construction & other applications, great for use with a variety of variety of metals, including stainless steel, steel & cast iron.
From the Manufacturer
The AC/DC 225/125 Welder is the deluxe version of the world-renowned AC-225 arc welder. It uses the same traditional design of the AC-225, but adds the smoother, more stable DC welding arc. Ideal for farm, shop, and home use where improved are welding performance is desired. The AC/DC 225/125 is an arc welding power source with an AC welding output range of 40-225 amps and a DC welding output of 30-125 amps. It is an extremely useful stick welding power source for maintenance repair, fabrication, construction, erection and hard surfacing applications. Also for cutting and piercing holes in steel. The AC/DC 225/125 comes with a 3-year warranty on parts and labor and is manufactured under a quality system certified to ISO 9001 requirements.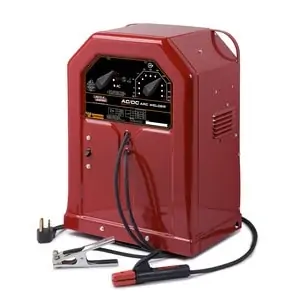 Check current Amazon Prices here.