The Century FC 90 Welding Machine is lauded for its portability, ease of use, and effectiveness for light-duty tasks. However, it might not be suitable for heavy-duty welding tasks. Its flux-cored welding capability is a standout feature.
Summary
Specifications
Dimensions: 16 x 8 x 12
Weight: 19 pounds
Max Output: 90 amps
Output Range: 30-90
Polarity: DC
Duty Cycle: 20% @ 60A
I rate this as low powered welder. This is an inexpensive welding machine. It can weld up to 1/8 inch steel. This welding machine is impressively lightweight, weighing only 19lb. It's very convenient and easy to handle due to its minimal weight.
You can download the manual here.
Pro Tip: When using the Century FC 90 for Flux-Core welding, ensure the machine is set to DCEN (Direct Current Electrode Negative) polarity. This is important because Flux-Core welding typically requires this setting for optimal performance. Additionally, maintain a short stick out distance to ensure better arc control and heat input.
What is Included?
6 foot work cable with clamp
6 foot gun and cable assembly
standard 15 amp, 120V, 6 foot power cord
Pros
Versatile for MIG and Flux Core Welding
Portable Design for On Site Welding
Simple Settings Adjustment
Cons
Lack of Digital Controls
Limited Duty Cycle
Features
1. Ideal for Outdoor Welding
Due to its flux-cored feature, the Century FC 90 welding machine is perfect for outdoor welding. This function allows for deep penetration into thick materials, ensuring a strong and lasting weld even in windy conditions.
Its compact and lightweight design contributes to its outdoor suitability because it's easy to transport to various job sites. The machine's robust construction withstands different weather conditions, ensuring reliable performance wherever you are.
Its ability to handle up to 1/8 inch thick materials makes it ideal for various outdoor welding applications.
2. No Shielding Gas
The Century FC 90 welding machine features No Shielding Gas, ideal for users who prefer simplicity and convenience. This feature eliminates the need for costly and bulky shielding gas cylinders, making welding easier and more cost-effective.
It also allows for outdoor welding without worrying about wind blowing away the shielding gas. This makes the Century FC 90 a versatile machine, suitable for indoor and outdoor use.
3. Infinite Wire Speed Control
The Century FC 90 welding machine offers the feature of Infinite Wire Speed Control. This allows for enhanced control and precision, enabling the user to adjust the machine's welding output to the optimum level for the task.
It provides great flexibility in welding different materials and thicknesses. This feature also ensures cleaner and more efficient welding results, minimizing waste and maximizing productivity.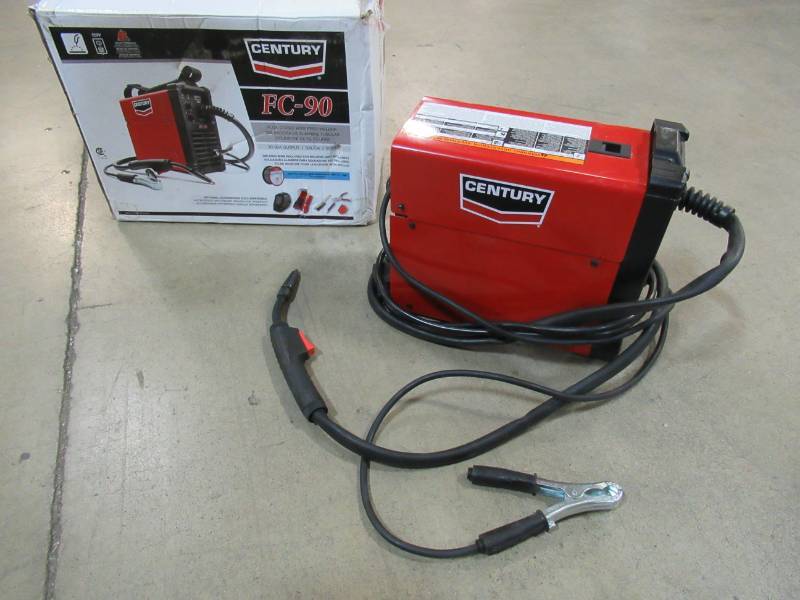 Field Testing
I recently had the chance to field test the Century FC 90 Welding Machine and was pretty satisfied with its performance. This welder's compact size and portability make it a great tool for on-the-go projects. It runs on a 120V power supply, making it suitable for home use or in places where high voltage isn't readily available.
The Century FC 90 uses flux-cored wire, eliminating the need for gas. This makes it much more convenient, especially for outdoor welding jobs where wind can disperse shielding gas. The machine impressed me with its ability to handle up to 1/8-inch thick materials, making it suitable for light to medium-duty tasks.
One downside was the machine's duty cycle. It's rated at 30% at 90 amps, requiring resting periods between uses, which can be a bit inconvenient for larger projects. However, for its price range, this is to be expected.
Overall, I found the Century FC 90 Welding Machine a reliable, user-friendly, and cost-effective tool for anyone needing a portable welder for lighter tasks. Its performance and ease of use make it a worthy addition to your toolbox.
Results
This machine is best suited for light to medium-duty welding tasks such as home repair, hobby projects, and shop or farm use.
The warranty details for the CenturyFC 90 welding machine can vary based on where it is purchased. Most new Century welding machines come with a 3-year limited warranty. However, checking with the specific retailer or manufacturer for accurate warranty information is recommended.
Conclusion
The Century FC 90 Welding Machine was a reasonable performer in my evaluation. Its performance score was slightly underwhelming at 50%, but it made up for this with impressive durability and value for money, both scoring a solid 70%.
The overall score of 63% suggests that this machine offers a balanced mix of performance, longevity, and affordability. It may not be the best option for heavy-duty or professional use. Still, for hobbyists or those needing a reliable, cost-effective machine for occasional use, the Century FC 90 Welding Machine could be a worthy consideration.