If you're proficient in your trade with several years of experience, welding can be a highly lucrative career.
Here's an example to help you wrap your head around the numbers: working abroad can earn you nearly $125,000 annually. That number can be even higher if you work in a hazardous field, underwater or rig welding.
That insight can help you understand what's required to become a welder, and which fields you should focus on to make the big bucks.
Keep reading for more.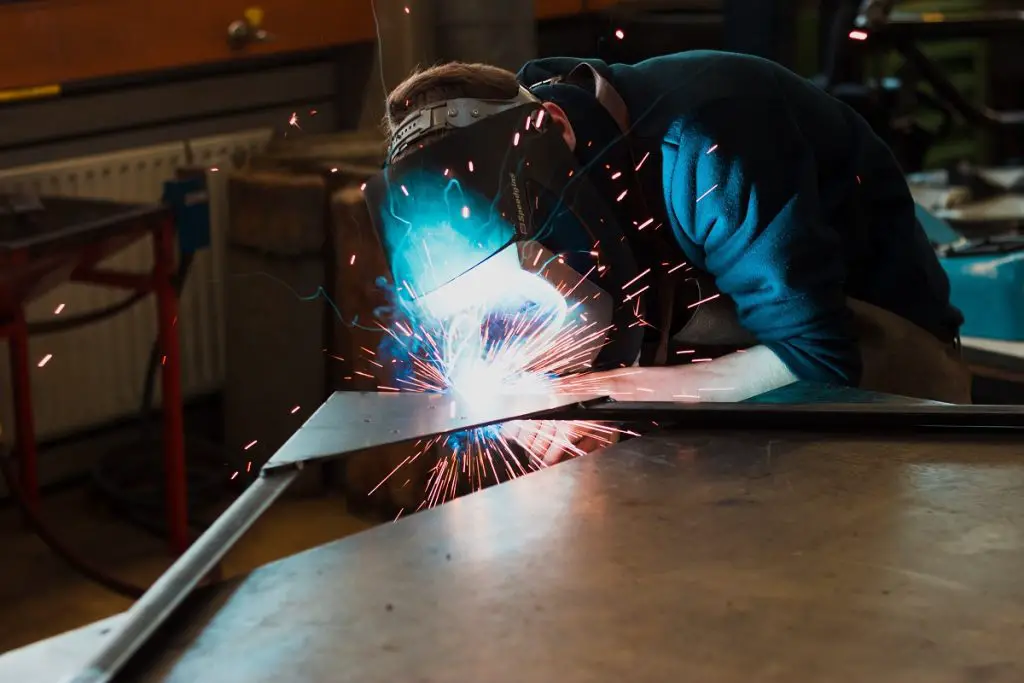 Do Welders Make Good Money?
Yes, welding can certainly set you on the right path to making good money. As long as you're willing to put in the hours and the effort, you can rest assured that you'll be climbing that ladder of success in no time.
Average Salary of a Welder by State
While welding may be an in-demand type of industry, there will be small towns here and there that don't offer the right type of training or job opportunities, if any at all.
So, if you want to qualify for a higher paycheck down the road, focus on the handful of states that offer the best type of hands-on field training.
This is also where you'll find many well-paying entry-level positions to help you hit the ground running and gain the experience you need to become a skilled welder.
Here are a few states worth looking into:
Alaska: has many welding schools, as well as various welding jobs, particularly in shipyards that pay as much as $68,000
Hawaii: not your usual welding hub, but still manages to pay welders around $61,000 annually
Nevada: filled with plenty of mining and manufacturing jobs with an average salary of approximately $45,000
North Dakota: a welder's dream because of the multiple job opportunities and impressive annual salary of about $57,000
West Virginia: mainly has aerospace welding jobs that offer an average of $54,000 per welding job
Wyoming: with lots of wide open spaces, there's no shortage of welding jobs here where the average annual salary can reach $63,000
Average Annual Salary by Industry
Since welding is such a vast industry, knowing the different salaries and job positions can make a huge difference. That's why we made a list of the seven most common welding jobs, how much they pay, and what experience you need in the field for each one.
Take a look.
Welding Engineer
Working as a welding engineer means you must be constantly updated on the latest welding techniques and processes. Not only that, but you also have to find ways to integrate them into all your welding projects.
So, the first job requirement is to love learning as much as you love welding. As for education, you'll need a bachelor's degree and certification through the American Welding Society (AWS) if you want to be considered for this position.
Yet, the wait will definitely be worth it. Welding engineers can make anywhere between $55,000–$125,000 per year.
Nuclear Industry Welders
Nuclear welders need to have underwater welder certification and a commercial diving certification. Not only that, but in order to be a nuclear welder, you need to have FBI clearance to be able to work around nuclear materials.
In addition, they need to pass a series of drug, alcohol, and psychological tests. These tests are designed to ensure they're physically and mentally fit to handle all the rigors that come with the job.
Working on nuclear-powered vessels, repairing reactor vessels, or working in shipyards, nuclear welders typically earn between $60,000 and $ 145,000 annually.
Certified Welding Inspector
As the name implies, this position is more of an authoritative position. So, you probably won't be doing a lot of actual hands-on welding.
However, your job description revolves around supervising all the welders in the company. Certified welding inspectors also need to understand the specifications for every single welding process. This helps ensure the safety of all welders and guarantee that each process is performed up to the highest levels of quality.
Because there's so much involved with this position, no one can take the inspector certification exam until they've completed at least three years of on-the-job welding experience. Yet, that wait will definitely be worth it once you're earning an annual salary in the range of $50,000–$110,000.
Military Support Welder
Doing any work in a war zone can certainly pay well, if only for the safety risks alone. Add to that the skills and experience military support welders bring to the mix, and you get a highly specialized field.
Yet, not everyone is cut out for this type of job because it's so demanding and high-stress. Also, anyone who applies must first undergo rigorous training and comprehensive tests to see if they qualify.
However, once you pass, you'll become part of an elite group, the armed forces. You'll also get terrific benefits, not to mention an impressive paycheck that can reach as high as $165,000 per year.
Industrial Pipeline Welder
Oil and gas are transported over thousands of miles via expansive interconnected pipelines. So, an industrial pipeline welder's job is to ensure the pipes are efficiently designed, built, and in good condition year-round.
This means a lot of travel to various places around the country. You can also find plenty of work opportunities overseas.
While it can be highly exciting, it's still pretty dangerous work. That's why industrial pipeline welders are compensated for their skills, travel expenses, and high-quality work, earning them an average of $130,000 each year.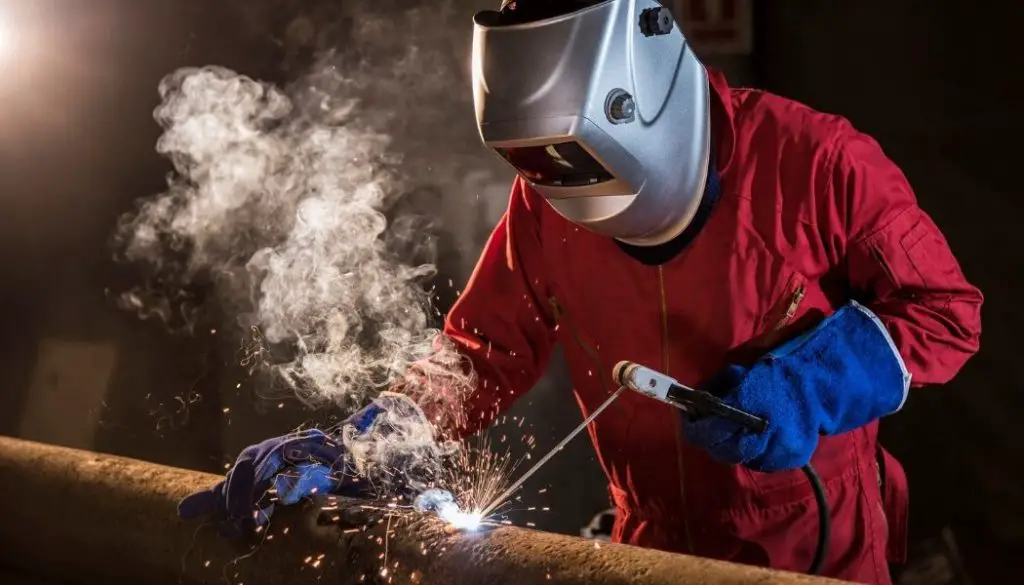 Underwater Welder
To work as an underwater welder, you need what's known as a wet welding D3.6M certification from the AWS. In addition, you need to become a certified commercial diver to learn basic underwater maneuvering.
Some jobs include salvaging shipwrecks, working on subsea constructions, or repairing offshore structures. These can be highly dangerous work sites with a higher rate of work-related fatalities than most other jobs.
Besides being away from home for so long, the risk factor is a major driver of why they're paid as much as $147,000 per year.
Oil Rig Welder
Oil rig welders aren't just the highest-paid in this field, but in the entire world, earn anywhere between $60,000–$210,000 annually.
For starters, they have the most advanced qualifications and education out of all the other types of welders.
Yet, even though they earn the most, they certainly have loads of responsibilities. That's why companies won't even consider anyone unless they have multiple welding certifications and years of experience.
Tips to Make More Money as a Welder
Like fine wine, you first need to age before becoming a master of your trade. Let's say you start working as a welder and your entry-level salary barely passes the $50,000 mark. Then, with some training and a welding diploma or two, you'll be able to make far more than that in just a few years.
Here are a few ways to boost your earnings:
Education
Working as an entry-level welder means having either a high school diploma, a General Educational Development (GED) diploma, and a welding certificate. You may also be required to get an associate degree or apprenticeship program.
Entry positions usually pay an average of $14–$16 an hour.
Experience
Mid-career welders are those who are more qualified than entry-level workers because they have more hands-on training. They've spent numerous hours honing their craft, ultimately qualifying them for a higher hourly wage.
It also qualifies them to take on more responsibilities than those in entry-level positions.
Skill
Pro welders have the ultimate trifecta: knowledge, skill, and experience. They're considered 'advanced' in their profession, which means they get the big bucks.
However, as with almost any other field, the more experience you have, the more responsibilities you're expected to take on.
Industry
Some welding jobs are closer to home, while others require you to travel. Then, some are more dangerous, making the selection process much more difficult. Yet, with higher risks comes higher pay.
So, to give you an idea of who makes what, here are the five leading welding industries and their average annual salaries:
Aerospace: between $35,000 and $75,000
Engineering: between $55,000 and $140,000
Military: between $40,000 and $65,000
Robotics: between $60,000 and $107,000
Shipbuilding: between $25,000 and $95,000
How to Make Money Welding at Home
There's a wide market base for welded pieces. So, you can easily use your skills to make some money on the side.
Start by setting up your workstation either in your garage or rent a space. Next, gather your tools and supplies, and then get to work.
Check out a few of these amazing products you can make at home:
Garage art
Vehicle inclines
Outdoor grills
Ornamental pieces
Metallic furniture
A Final Note
As you now know, 'welding' is such a vast term that comes with fields. So, a question like 'does welding make good money?' can be quite tricky to answer.
Yet, by gathering all the necessary data and taking in the average salaries from various states, you get a good idea of how much a welder makes in a year.
Add to that the years of experience and any programs or degrees you take along the way. Combined, all that will help earn you a higher paycheck worldwide.