The Eastwood 180 MIG Welding Machine is highly appreciated for its smooth welding performance, robust build, and user-friendly design. It's ideal for both professional and DIY users seeking quality and reliability. However, some users may find it slightly heavy for portable use.
Summary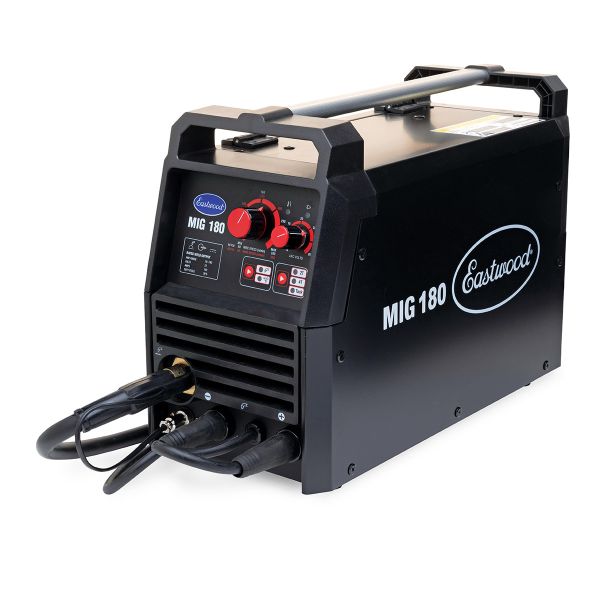 Specifications
Dimensions: 14 x 9 x 18
Weight: 35 pounds
Max Output: 180 amps
Output Range: 30-180
Polarity: DC
Duty Cycle: 30% @ 130A
I rate this as medium powered welder. This is an inexpensive welding machine. It can weld up to 1/4 inch steel. This welding machine is impressively lightweight at just 35lb, which makes handling and transporting it a breeze.
You can download the manual here.
Pro Tip: To ensure a clean, high-quality weld with your Eastwood 180 MIG, it's crucial to ensure proper grounding. Always attach the ground clamp as close to the welding area as possible and clean the area where the clamp will be attached. This will minimize any potential interference and result in a stronger, more reliable weld.
What is Included?
MIG Wire Spool 0.030 (0.8mm), 4 inch (2 lbs)
Gas Regulator with hose
9.5 ft Ground Clamp
NEMA 5-15P to NEMA 6-50R Adapter Cord (240v to 120v), 2′
MIG Torch, Nozzle, 0.030″ (0.8mm) Contact Tip and 8.5′ Cable
Face shield with lens and handle
Welding brush/hammer
Contact tip wrench
Additional contact tips (.030″ and .035″)
Instruction Manual
Pros
Versatile for a Wide Range of Metals
User Friendly User Interface
Powerful Performance
Cons
Limited Power Output
No Digital Display
Features
1. Infinite Wire Control
Eastwood 180 MIG Welding Machine's Infinite Wire Control feature allows for precision in welding tasks. It enables users to adjust the wire speed for smooth, uninterrupted welding, regardless of the material or thickness.
This feature ensures consistent bead quality, minimizing the chance of errors or defects. It allows for greater control and adaptability, facilitating a wide range of welding applications. This feature makes the Eastwood 180 MIG machine versatile and suitable for both amateur and professional welders.
2. Spool Gun Ready
The Eastwood 180 MIG welding machine includes a Spool Gun Ready feature. This allows for the direct connection of a spool gun to the machine, eliminating the need for additional kits or adapters.
This feature is particularly useful for welding aluminum or other non-ferrous metals, as it prevents the risk of wire jamming or bird nesting. The Spool Gun Ready feature enhances the versatility and convenience of the Eastwood 180 MIG welding machine, making it a practical choice for various welding tasks.
3. High Amperage Output
The Eastwood 180 MIG welding machine features a High Amperage Output. This feature makes it a highly efficient and reliable tool that delivers a maximum output of 180 amps. This high power allows the machine to easily carry out heavy-duty welding tasks, penetrating deeper into materials for strong, durable welds.
This elevated amperage output also facilitates faster welding speeds, increasing overall productivity. The high amperage output of the Eastwood 180 makes it a suitable choice for professional welders and industrial applications.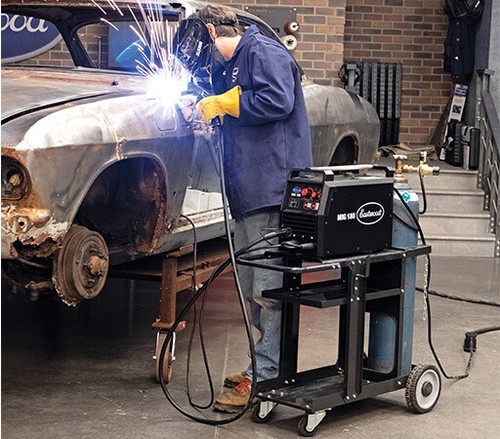 Field Testing
After several days testing the Eastwood 180 MIG Welding Machine, I'm quite impressed. The machine demonstrated consistent performance, even when handling heavy-duty tasks. Its 180-amp output was more than sufficient for my needs, and it easily handled various materials – from steel to aluminum -.
The machine's setup was straightforward and user-friendly, even for a newbie like me. I was able to start welding within an hour of unboxing the unit. The machine's adjustable wire speed control and voltage settings made finding the perfect setting for each task easy.
What I liked the most was the machine's portability. Weighing in at just around 36 pounds, it was easy to move around my workshop. The machine also has a spool gun, making it even more versatile.
However, the machine is not without its faults. Its duty cycle could be better – it overheats and shuts down more quickly than I would prefer. You have to wait for it to cool down before you can start again.
Overall, the Eastwood 180 MIG Welding Machine is a solid piece of equipment that delivers good power and versatility.
Results
This machine is best suited for professional welding tasks such as automotive repairs, metal fabrication, and maintenance.
The Eastwood180 MIG welding machine comes with a 3-year warranty.
Conclusion
In conclusion, after thorough testing, I found the Eastwood 180 MIG Welding Machine to be a solid performer. It scored a 70% in performance, demonstrating consistent and reliable functionality. Durability also scored 70%, showcasing its sturdy construction and longevity. With regards to value for money, it also scored 70%. This welding machine is fairly priced for the features it offers.
With an overall score of 70%, I can confidently say this machine is a good buy. It may not be the top-performing model on the market, but it certainly holds its own in the mid-range category. I recommend the Eastwood 180 MIG Welding Machine to anyone looking for a reliable, durable, cost-effective welding solution.