Is welding hard? The quick answer is yes, welding can be moderate to rather difficult for some beginners.
However, once you gain experience in the trade, you'll understand the welding basics. 
This article will discuss everything you need to know about welding, including the factors that affect its difficulty level and ways you can learn welding at home or in school. Let's dive in.
What Makes Welding Difficult?
Some factors determine how hard welding can be. Aside from learning to do it, the quality of your materials and tools also contributes to the difficulty of welding.
That said, here's what makes welding difficult:
The Type of Welding
Welding can range from moderate to difficult, depending on the type of welding you want to do. For instance, wire or MIG welding uses metal wires and a welding gun.
The wire serves as an electrode or filler metal material that passes through the welding gun and into the weld joint at a selected speed. This makes the process fast and consistent. Therefore, it's more popular with beginners.
On the other hand, the most challenging welding method is tungsten welding or TIG. The process utilizes a tungsten electrode instead of metal wires. To feed the electrode, the welder needs to use a foot pedal.
The welder should also maintain a steady hand at the welding torch while controlling the variable amperage. To sum it up, TIG requires proper coordination, so it takes some time to get used to as newcomers.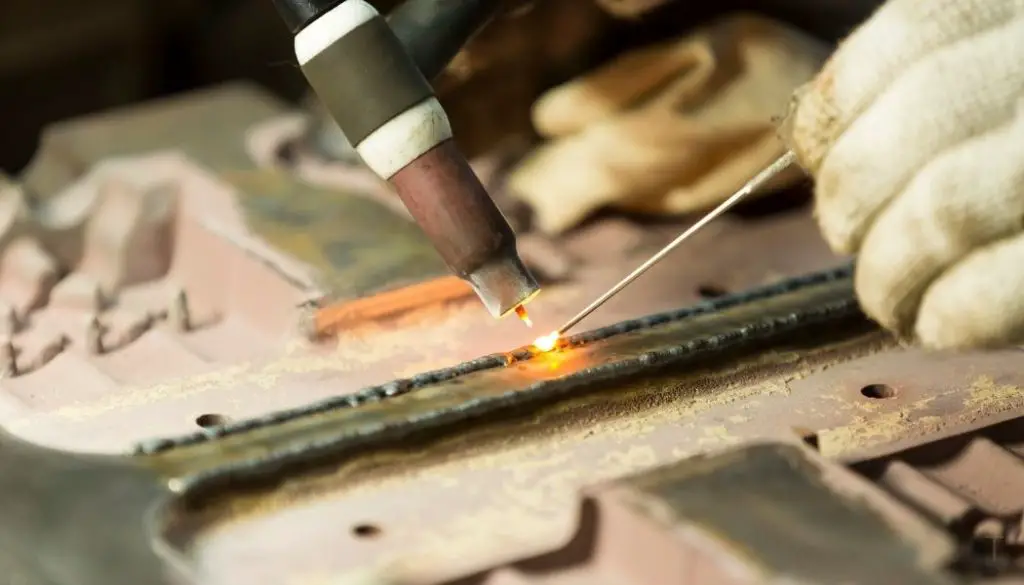 Good-Quality Equipment
Learning can be easier with quality equipment if you're a first-time welder. Luckily, there's beginner-friendly equipment available in the market.
For instance, welding requires clamping to hold welded pieces together. Hence, it's better to invest in welders with helpful features, such as a digital display and automatic settings. Here are some of the best welders in the market:
Safety Precautions
In addition to quality equipment, both professional and beginner welders need to invest in safety gear. The gear will ensure that you complete the tasks more safely and effectively. 
For example, using an auto-darkening welding helmet will require less effort. It can also let you focus on welding, because you don't need to manually flip the hood up and down. Here are some great auto-darkening welding helmets you can choose from:
How to Learn Welding at Home?
Teaching yourself how to weld can be a frustrating and rewarding process. Here are ways you can learn to weld at home: 
Use Social Media
Plenty of welders turn to social media to share their projects. They also give best practices and tips to beginner welders. Simply put, you can learn welding from home by following their social media accounts. 
Another option is joining forums or Facebook groups. This way, you can find a community with whom you share the same interest.
Watch YouTube Videos
YouTube tutorials are another way you can learn how to weld from professionals. On top of that, most welders post content to their channels for free. Hence, YouTube can improve your learning pace. Just make sure that you're learning from a reputable channel.
How to Learn Welding at School/Course?
An excellent teacher can make you even better at welding. Luckily, schools are great opportunities to find the right education for welding.
Here's how you can learn welding at school:
Study Blueprints
Welding blueprints contain symbols describing the weld's type and design, including the size and finishing information. By studying welding blueprints, you'll learn the ins and outs of welding to familiarize yourself with the trade. 
Pick a Good Welding Program
Picking the welding program depends on your goal. For instance, if you have professional intentions in welding, you can enroll in schools that focus on welding, like The Lincoln Electric Welding School and Hobart Institute of Welding Technology.
Decide Which Welding Type to Study
Choosing what type of welding you want to study can help you focus and learn more efficiently. Therefore, you need to know your goals: a new career or a fun hobby.
What's the Fastest Way to Learn Welding?
Unfortunately, there's no shortcut to learning how to weld. The easiest way you can master the skill though, is to spend lots of time doing it.
Here are the fastest ways you can learn welding:
Undergo training from an Expert/Apprenticeship
Although most welding jobs don't require formal education, you need a good mentor to improve significantly in the trade. Additionally, you need to complete the training to receive a license as a competent welder.
Attend Welding Expos
Attending networking events, such as welding expos, is an awesome way to meet and exchange knowledge with people within the same industry. Most importantly, you can learn from experienced craftsmen. 
What Are the Projects to Improve Your Welding?
Developing solid welding skills doesn't happen overnight. Like other trades, lots of practice can help you improve your skill set. Better yet, you can try some of these projects:
Storage Rack
A storage rack is a simple project for when you want to learn wire welding in particular. This project only requires a little creativity and skill, so it's suitable for beginners.
Outdoor Fireplace
An outdoor fireplace doesn't demand a professional level of welding. Instead, you can build it with basic knowledge about wire welding.
Barbecue Pit
Another useful project is making a barbecue pit. You can practice your welding skills by welding metal sheets and bars together. However, if you want your barbecue pit to serve as a decoration on your patio, it's better to use a tungsten welding technique.
Wine Bottle Holder
If you're a wine enthusiast, you'll enjoy making a wine bottle holder on your own. The design is completely up to you, hence you can decide which method to use.
The Wrap Up 
So, is welding hard? Yes, it is. However, you can learn effectively and safely with access to knowledge, proper training from an expert, quality equipment, and safety precautions. Other than that, you can also learn at home by using social media or watching YouTube tutorials.
On the other hand, you can also learn by taking up courses. Once you learn the basics, you can improve your welding skills by taking up projects, such as welding a storage rack, wine bottle holder, and barbecue pit.