Swanson 12-Inch Speed Square Layout Tool 
Marking and measuring angles is done constantly when working with steel. This is one of the handiest tools in a welders arsenal.
Only 1 square gets to call itself the Speed Square.
Speed Squares have been in production since 1925. Proudly Made In America.
Today our Speed Squares are manufactured in different sizes and are made from different materials so that we address the many different needs that contractors, construction professionals, and DIYers have for every job and any project.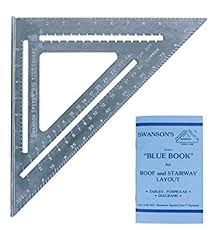 Check current pricing at Amazon here.