The Miller 220 Multiprocess Welding Machine is a versatile and powerful unit, suitable for both professionals and hobbyists. It offers easy setup, excellent performance across various welding processes, and robust build quality. Although pricey, its features and reliability justify the cost.
Summary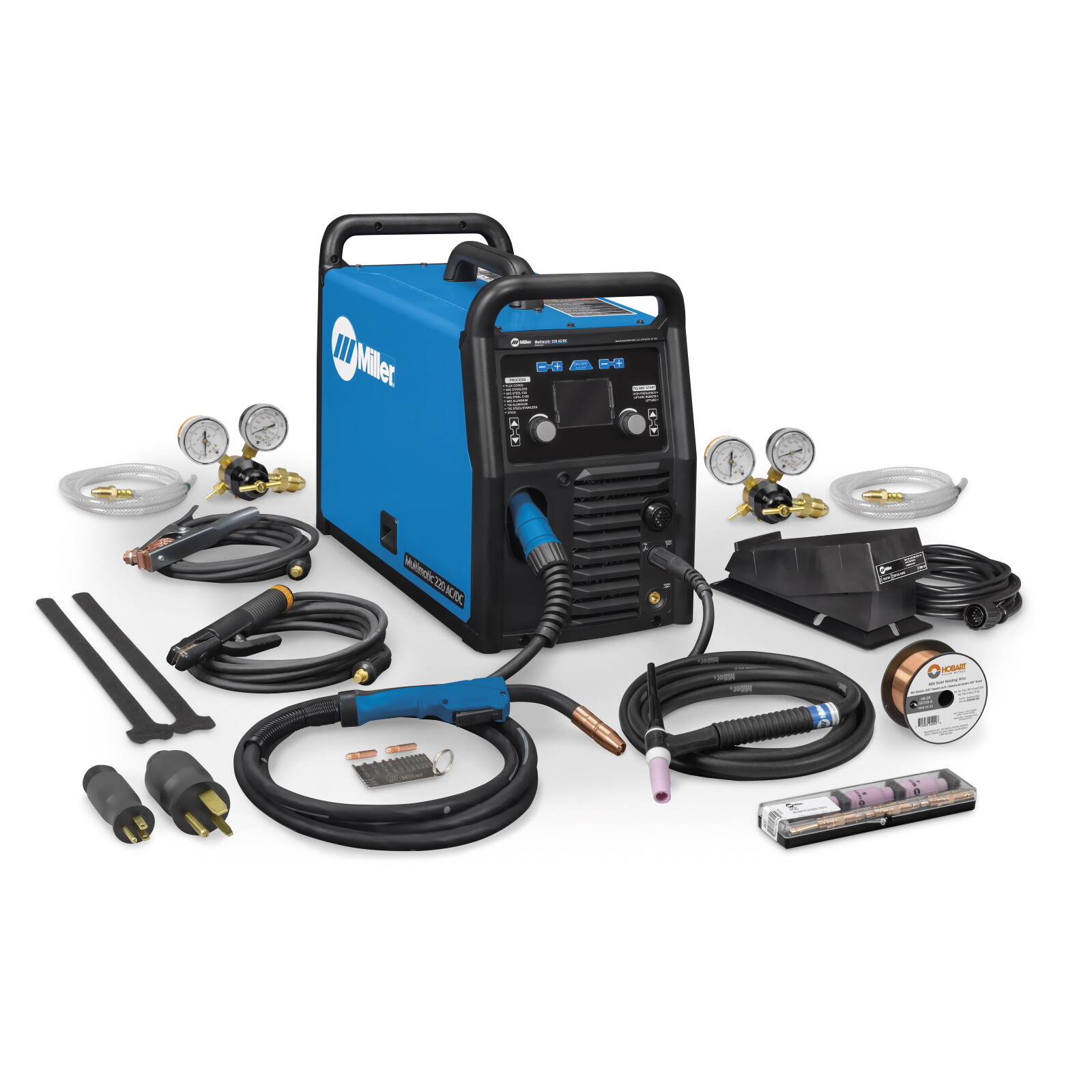 Specifications
Dimensions: 13.5 x 10.625 x 19.5
Weight: 73 pounds
Max Output: 220 amps
Output Range: 10-220
Polarity: DC
Duty Cycle: 40% @ 150A
I rate this as high powered welder. This is a high priced welding machine. It can weld up to 1/2 inch steel. The welding machine has a moderate weight, coming in at 73lbs. It's not too heavy, making it reasonably manageable for most.
You can download the manual here.
Pro tip: For optimal performance with the Miller 220 Multiprocess, ensure you adjust the settings to match the specific type of welding you're doing (MIG/TIG/STICK/FLUX-CORE). Each process requires different power levels and wire feed speeds. Also, always maintain a clean gun nozzle and proper stick-out length to ensure accurate and efficient welding.
What is Included?
6.5 ft (2 m) power cord and MVP adapter plugs for 120V and 240V
10 ft MDX-100 MIG Welding Gun
13 ft (4 m) cable electrode holder and 25 mm Dinse-style connector
12.5 ft (3.8 m) Weldcraft A-150 (WP-17) TIG torch with 25mm Dinse-style connector
RFCS-14 HD foot control with 20 ft (6 m) cord
10 ft (3 m) work cable with clamp and 25 mm Dinse-style connector
Two Argon and AR/CO2 mix regulator/flow gauge with hoses
Spool of Hobart .030 in (0.8 mm) solid wire
Two contact tips for .030 in (0.8 mm) wire
Quick Select drive roll for .024 in (0.6 mm) or .030/.035 in (0.8/0.9 mm) solid wire, and .030/.035 (0.8/0.9 mm) flux cored wire
AK2C TIG torch accessory kit
Material thickness gauge
Hook-and-loop cord wraps
Pros
Versatile – Eliminates the Need for Multiple Machines
Auto-Set Elite and Pro-Set Features
Lightweight and Compact Design for Portability
Cons
Quite Expensive Option
Complex to Use for Beginners
Features
1. Multi Process Capability
The Miller 220 Multiprocess welding machine's Multi Process Capability is a standout feature, allowing users to perform various welding tasks without needing multiple machines. It is designed to handle MIG, TIG, and stick welding, providing versatility and convenience for professional and DIY projects.
This feature allows seamless transitions between each welding process, enhancing productivity and efficiency. The Miller 220's multiprocess capability makes it an ideal tool for a comprehensive, all-in-one welding solution.
2. Advanced Auto-Set Technology
The Advanced Auto-Set Technology is a notable feature of the Miller 220 Multiprocess welding machine. This technology simplifies the welding process and enhances the machine's performance by automatically adjusting the parameters to the desired settings.
It eliminates the need for manual tweaking, saving time and reducing errors. It also ensures optimal results, regardless of the type of material or welding process. This feature significantly improves the operator's productivity and the overall efficiency of the welding tasks.
3. Portability
The Miller 220 multiprocess welding machine boasts superior portability features. Weighing only 38 pounds, it's lightweight and compact, making moving around workshops or job sites easy. Its multi-voltage plug allows it to adapt to various power supplies, enhancing its mobility.
The machine's handle is ergonomically designed for comfortable lifting, and it can also be packed into a carrying case for convenient transportation. This makes the Miller 220 a perfect tool for those needing a versatile, high-performing welding machine on the go.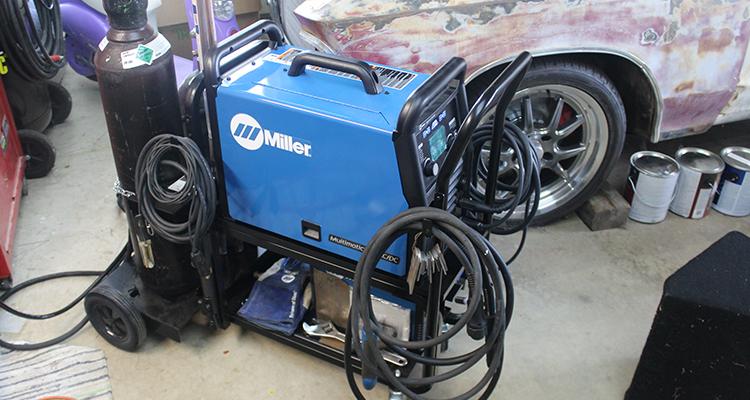 Field Testing
I recently had the opportunity to field test the Miller 220 Multiprocess Welding Machine and I was thoroughly impressed. Its compact size belies its power and versatility. It easily handled MIG, TIG, and Stick welding, proving its worth as a truly multipurpose tool.
The set-up was straightforward, with intuitive controls making it easy even for a novice to get started. I was particularly impressed with the Auto-Set Elite feature which allowed me to transition between different materials and processes seamlessly.
In terms of performance, the Miller 220 didn't disappoint. The machine delivered a stable and smooth arc, even at lower amperages. I also appreciated the machine's MVP plug, which made switching between 120V and 240V power sources easy.
The machine's build quality is stellar, with a sturdy casing that can withstand the rigors of a demanding work site. The Multi-Voltage Plug (MVP) allows you to connect to common 120 or 240V power sources.
In conclusion, the Miller 220 is a reliable and versatile welding machine that delivers on its promises. It's a worthy investment for any serious welding professional.
Results
This machine is suitable for a wide range of welding processes including MIG, Stick, Flux-cored and DC TIG welding.
The Miller Multimatic 220 AC/DC Multiprocess welder comes with a 3-year warranty.
Conclusion
My experience with the Miller 220 Multiprocess Welding Machine has been exceptionally positive. The performance was top-notch, earning a perfect score of 100%. The durability was also impressive, scoring 9 out of 10/ It's a heavy-duty, reliable machine built to last. As for value for money, I rated it at 80%. While it's not the cheapest on the market, the quality and versatility justify the price.
My overall score for this machine is 85%. It's a solid, dependable unit that can easily handle various welding tasks. I highly recommend the Miller 220 Multiprocess Welding Machine for both amateurs and professionals alike.