Hobart Airforce 27i Plasma Cutter 120/240V
I purchased mine a couple of years ago and kicked myself for not having bought it sooner. Its a great machine with the flexibility to use both 120 and 240 voltage. Now I can't live with my Hobart!
Product description
Versatile, powerful cutting in a lightweight power source. Inverter-based design and reliable technology pack a lot of performance into a very portable package. The Airforce 27i features a multi-voltage plug (MVP) that allows you to connect to common 120V or 240V power receptacles without using any tools. You can easily transport this plasma cutter to the job, connect to power and begin cutting up to 5/8" material on 240 V power quickly.
Multi-Voltage plug (MVP) allows you to connect to 120 V or 240 V power.

Excels at cutting 3/8 in mild steel, can sever 5/8 in mild steel

Fan-On-Demand – Runs only when needed reducing dust/debris pulled into the unit.

More precise cut, thinner kerf, less slag to clean up.

Wind Tunnel Technology – Prevents abrasive dust and particles from damaging internal components.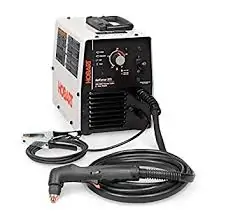 Check current Amazon Prices here.