The Forney 140 MIG Welding Machine is highly praised for its power, ease of use, and portability. It offers smooth welding performance and is perfect for beginners and professionals alike. Users also appreciate its robust build quality and exceptional value for money.
Summary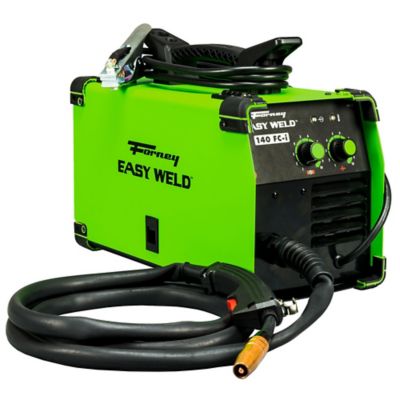 Specifications
Dimensions: 14.5 x 12 x 24
Weight: 57 pounds
Max Output: 140 amps
Output Range: 30-140
Polarity: DC
Duty Cycle: 20% @ 90A
I rate this as medium powered welder. This is an inexpensive welding machine. It can weld up to 1/4 inch steel. The welding machine has a moderate weight of 57lb, making it manageable to handle.
You can download the manual here.
Pro Tip: When using the Forney 140 MIG for MIG welding, ensure that the wire speed and voltage settings are properly adjusted according to the thickness of the metal. This will ensure optimal performance and clean welds. Also, remember to keep the MIG gun at a 10-15 degree push angle for the best weld bead. Finally, ensure that the work surface is clean and free of rust or paint for the best possible electrical connection.
What is Included?
MIG gun with 10ft lead
10 ft ground cable & clamp
Gas hose and regulator
Pros
Versatile to Handle Various Tasks
User Friendly Simple Controls
High Performance
Cons
Limited Duty Cycle
Not Ideal for Heavy-Duty Tasks
Features
1. User Friendly Interface
The Forney 140 MIG welding machine boasts a user-friendly interface that simplifies the welding process for both novices and professionals. Its controls are intuitively designed and clearly labeled, allowing quick amperage and wire feed speed adjustments.
The machine also features LED indicators for easy monitoring of system status. This accessible interface eliminates confusion and enables users to focus more on the welding task, enhancing productivity and efficiency.
2. Versatile – Stainelss Steel, Aluminum, Mild Steel
The Forney 140 MIG welding machine boasts the versatile feature of working with various materials such as stainless steel, aluminum, and mild steel. This versatility enables users to perform various welding tasks without needing multiple machines.
It positions the Forney 140 as an ideal choice for professional welders and hobbyists, offering flexibility and convenience in one compact unit. This feature enhances the machine's efficiency and usability, making it a cost-effective and practical tool for various welding needs.
3. Durable and Portable
The Forney 140 MIG welding machine is highly durable and portable. Its robust metal casing ensures longevity, even under tough working conditions. Despite its sturdy construction, the machine is lightweight and designed with a handle for easy transportation.
This makes it an ideal tool for those who need to move around their workspace or carry their equipment to different job sites. Its portability does not compromise its performance, making the Forney 140 MIG a reliable and flexible tool for all your welding needs.
Field Testing
I recently field tested the Forney 140 MIG Welding Machine, and I was thoroughly impressed. The assembly out of the box was straightforward and hassle-free. The machine's compact size and lightweight design made it highly portable, a feature that I found very advantageous.
Performance-wise, the Forney 140 didn't disappoint. It handled varying thicknesses of metal with ease and the adjustable wire feed speed control was a great feature, allowing me to customize the machine to suit my needs. The arc was stable and consistent, producing clean and precise welds each time. There was minimal spatter, which was a pleasant surprise.
The machine also has a generous set of accessories, including a MIG gun, ground clamp, gas hose, and regulator. I also appreciated the thermal overload protection which gave me peace of mind during extended periods of use.
My only minor gripe is the ground clamp, which felt flimsy. However, it did its job effectively and I faced no issues during the testing period.
In conclusion, the Forney 140 MIG Welding Machine is a solid, reliable, and versatile welder that is well worth considering, especially for hobbyists and DIY enthusiasts.
Results
This machine is best suited for light to medium-duty welding tasks such as auto repair, home repair, farm and ranch, and small scale industrial projects.
The Forney 140 MIG welding machine has a 12-month warranty against manufacturing defects. However, it's always best to check with the retailer or the manufacturer directly as warranty terms may vary.
Conclusion
The Forney 140 MIG Welding Machine performed decently in my review. Its performance, durability, and value for money all scored a solid 70%, indicating a good but not excellent quality. This machine is reliable for anyone looking for average performance that matches its price point.
The overall score of 70% further cements its status as an above-average welding machine. While it may not be the best in the market, it's a worthy consideration for those who need a reliable, cost-effective welding solution. It certainly delivers a level of quality that justifies its price.