The Power MIG 180C is a professional welding machine. It uses industrial supply voltage to suit anyone from an autobody mechanic to a professional fabricator. It is full of Lincoln's latest technologies, providing a spatter-free (or at least spatter-less) weld. It features a tool-free design, so you can easily change accessories and inputs. Although 180 max amps can be limiting for some, if this is sufficient power for your jobs, then I would recommend it.
Summary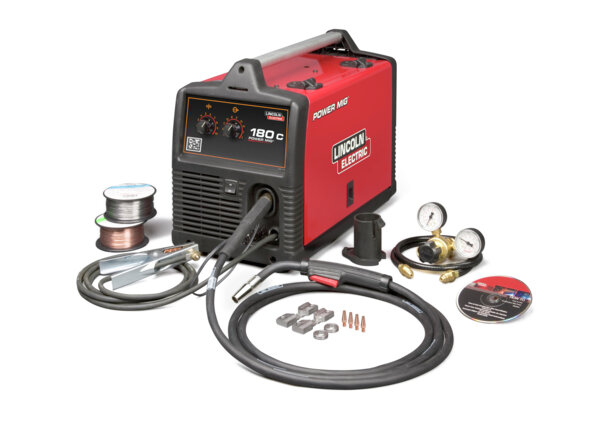 Specifications
Dimensions: 14 in x 10.2 in x 18.6 in
Weight: 80 pounds
Max Output: 180 amps
Output Range: 30 to 180 Amps
Polarity: DC
Duty Cycle: 30% at 130 Amps
I rate this as a medium powered welder. This is a moderately priced welding machine. It can weld up to 3/16 inch steel. This is a moderately lightweight welding machine at under 100 pounds. You can move it from job to job, but it will likely stay in the back of your truck.
You can download the manual here.
PRO TIP: The price tag of this machine reflects the latest technology built into it. You will notice the difference the first time you use it.
What is Included?
Magnum PRO 100L gun
10 ft. Gas and Gasless Nozzles Cable Liner
Work Cable and Clamp
Adjustable Gas Regulator and Hose Spindle Adapter
Sample Spool of .025 in. SuperArc L-56 Mild Steel MIG Wire
Sample Spool of .035 in. Innershield NR-211-MP Flux-Cored Wire
.035 in. and .025 – .030 in. Drive Rolls
.030 – .045 in. Knurled Drive Roll
.025 – .035 in. and .035 – .045 in. Wire Guides
Pros
Can handle 230 Amp voltage for use in workshops and industrial settings.
Suitable for steel, aluminum, and stainless steel.
A forgiving arc with a wide voltage sweet spot.
Cons
The duty cycle is on the low side, and you must take constant breaks. Keep this in mind, depending on the welding you intend to do.
High price point considering the limited 180 amp power constraint.
Features
1. Diamond Core Technology
The diamond core technology in the Lincoln Pro Mig 180C welding machine is designed to improve the overall performance of the welder. One of the key benefits of this technology is that it creates a forgiving arc, which means that the welder is more stable and consistent, even when working on challenging materials or in difficult conditions. This results in less spatter, which can be a major problem for many welders, as it can make the finished product look uneven and unprofessional.
Another benefit of the diamond core technology is its wide voltage sweet spot. This means that the welder has a wide range of voltage settings that will work well, making it easier to set the machine up for different types of metal or welding conditions. This can save time and frustration, as it eliminates the need for fine-tuning the machine on test metal before getting started. This can be a real time saver for those who frequently switch between different projects or materials.
Overall, the diamond core technology in the Lincoln Pro Mig 180C welding machine is a significant improvement over traditional welding machines, and offers many benefits for both professional and amateur welders. It is a great choice for those who want a machine that is easy to use, produces high-quality results, and is built to last.
2. Industrial Cast Aluminum Drive
The Industrial Cast Aluminum Drive in the Lincoln Power Pro Mig 180C welding machine is a high-quality wire feed system designed to improve the overall performance of the welder. The cast aluminum construction of the drive is durable and sturdy, making it well suited for heavy-duty industrial use.
One of the key benefits of the Industrial Cast Aluminum Drive is its ability to handle a wide range of wire sizes and types. This makes it a versatile option for welding various materials, from thin gauge sheet metal to thicker plate steel. The drive is designed to feed wire smoothly and consistently, which helps to ensure a high-quality weld.
The wire speed control regulator in this system is also noteworthy. It allows for precise control over the wire feed, which is essential for achieving high-quality welds. The regulator is easy to use and adjust, saving the welder time and frustration.
3. Tool-less Design
The Lincoln Electric welding machine boasts a design feature that eliminates the need for tools when adjusting the input power, wire spool, wire drive service, and polarity. This allows quick and easy changes to be made on the fly, saving time and increasing efficiency for the welder. Additionally, this feature enables the welder to spend more time actively welding and less time stopping to use tools, making it a valuable asset for those looking to maximize their productivity. Overall, the tool-less design of this welding machine can be a game changer for professional welders.
Field Testing
I field tested this machine and was pleasantly surprised. This is designed to be used inside a workshop because of its industrial supply voltage. I personally prefer at least 15 ft in cable length, so would likely upgrade this myself from the cable included. The diamond core technology did provide an exceptional spatter-free weld, and I was impressed with the quality.
Results
This machine is suitable for Professional fabricator welding.
It has a solid 3 year warranty.
Accessories
You should consider getting a welding cart to make your gas bottles as portable as your welding machine.
Conclusion
In conclusion, the Lincoln Power MIG 180C welding machine is a dependable option for professional welders. It scored well in durability, value-for-money and overall, however, performance was only average at 7/10. This machine is equipped with industrial voltage and is suitable for professional use, but it may not have enough power for heavy-duty tasks. Despite this, it is still a good option for those needing a reliable and affordable welding machine for professional use.