The Power MIG 210 MP has fast become one of my favorite welding machines. It is extremely lightweight at only 40 pounds, is powerful, and the multi-process functionality means that it can handle anything a normal welder can ever throw it at. Whether you are a beginner or more experienced welder, I would have no hesitation in recommending this machine as your primary choice.
Summary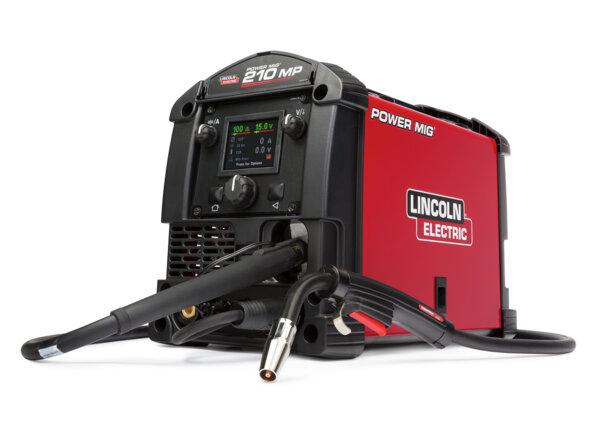 Specifications
Dimensions: 14 in x 10.75 in x 19 in
Weight: 40 pounds
Max Output: 220 amps
Output Range: 20 to 220 Amps
Polarity: DC
Duty Cycle: 40% at 120 Amps
I rate this as a high power welder. This is a moderately priced welding machine. It can weld up to 5/16 inch steel. This is a lightweight welding machine, weighing in at 40 pounds. It is surprisingly compact, given its power and functionality. All of the different welding process accessories will probably end up weighing more than the machine itself.
You can download the manual here.
PRO TIP: Make sure you are confident that you want a multi-process machine. If you are just getting started in welding, specializing in a single process can help your skill development.
What is Included?
Magnum PRO 175L Gun – 10 ft.
120V and 230V Input Cables
Work Cable and Clamp
Electrode Holder and Lead Assembly
Adjustable Gas Regulator and Hose
Gas and Gasless Nozzles
Gun Cable Liner
Spindle Adapter
Sample 1 lb Spool of SuperArc L-56 Mild Steel MIG Wire
Sample 0.5 lb Spool Innershield NR-211-MP Flux-Cored Wire
0.025 in. and 0.035 in. Contact Tips
0.025 – 0.030 in. and 0.035 in. Drive Rolls
0.030 – 0.045 in. Knurled Drive Rolls
0.025 – 0.035 in. and 0.045 in. Wire Guides
Pros
This multi-process welding can weld almost any kind of metal and thickness you will come across.
I don't know how they can fit so much power and processes into such a little box, but this welder is extremely portable.
It is powerful enough to handle any job a farmer or homeowner will likely encounter.
Cons
The duty cycle is on the low side, and you must take constant breaks. Keep this in mind, depending on the welding you intend to do.
Although it is portable, you will likely need to carry a lot of accessories based on the wide range of welding processes.
Features
1. Lightweight and Portable
Its dual input voltage means that you can plug it in to both household and industrial power supplies. Combined with its 40 pound weight, you can pick it up and take it anywhere. This is ideally suited for moving between your workshop and truck to where the job is – well suited for farmers and homeowners.
2. Intuitive Digital Controls
The digital display is easy to read, even for novice welders. It is one of the best color displays I have seen in modern machines, but the controllers are still easy to touch while wearing thick gloves.
This makes it easier to learn for novice welders. It also reduces the risk of using the incorrect setting because you have selected a mode or voltage that isn't what you expected. The last thing you want to do when unboxing a brand new welding machine is needing to take out the manual to understand how it works. This machine truly is plug-and-play.
3. Versatile and Powerful
I was shocked when I first got my hands on this machine that they can fit so much power into a 40 pound box. It can handle up to 5/16-inch steel, and 3/16 aluminum.
A multi-process welding machine is more versatile because it can perform multiple welding processes using a single machine. This can provide several advantages:
Versatility: A multi-process welding machine can perform multiple welding processes, such as MIG, TIG, stick, and flux-cored welding, which makes it suitable for a wide range of welding applications. This can save time and money, eliminating the need to purchase and maintain multiple welding machines for different processes.
Flexibility: It can be used for different welding projects, from home repairs to more complex industrial fabrication. This can make it a more cost-effective solution for businesses performing various welding tasks.
Increased productivity: A multi-process welding machine can increase productivity by reducing the time associated with switching between different machines.
Ease of use: A user-friendly interface, makes it easy to switch between processes, this also makes it easy for the operator to adjust and optimize the settings for each process.
Field Testing
When I took the Power MIG 210 MP out for a test run, I was pleasantly surprised. It has a great combination of easy to use interface, high power, versatile multi-process functionality, and lightweight design. Even though the price tag is higher than the alternatives, I still find it great value. I ran it through my normal series of tests and couldn't find any problems.
Results
This machine is suitable for Versatile and powerful multi-process welding. This machine can handle MIG, stick, TIG, and flux-cored welding.
It has a solid 3 year warranty.
Accessories
It would be worth your time looking at this TIG torch, if you are considering adding some accessories to your welding machine.
Conclusion
In conclusion, the Lincoln Power MIG 210 MP welding machine is an excellent choice for professional and personal use. It scored highly in performance, durability, value-for-money and overall, earning a 9/10 rating in each category. This multi-process machine is versatile, reliable and affordable, making it one of the best options on the market. The high scores in all categories and the affordable price make it a top pick for anyone in the market for a new welding machine.
Overall, the Lincoln Power MIG 210 MP is one of my favorite machines and I would highly recommend it.