The Power MIG 211i is a surprising combination of power and lightweight design. It is one of the few machines with over 200 amps of power at this price point. Lincoln describes it as 'straightforward and dependable', and I couldn't agree more.
Summary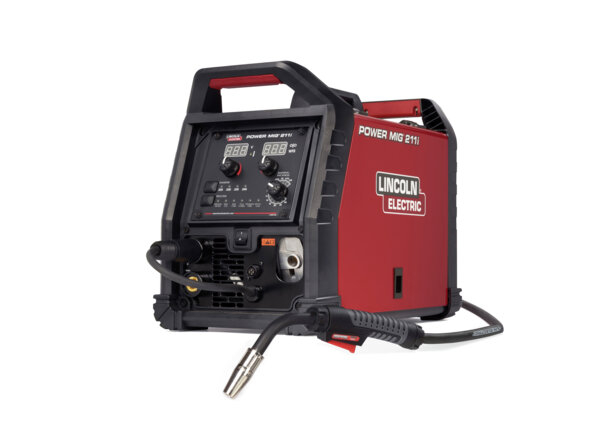 Specifications
Dimensions: 15.5 in x 10.75 in x 22 in
Weight: 41 pounds
Max Output: 211 amps
Output Range: 20 to 211 Amps
Polarity: DC
Duty Cycle: 30% at 175 Amps
I rate this as a high power welder. This is an affordable welding machine. It can weld up to 5/16 inch steel. This is a lightweight and portable welding machine. It weighs just over 40 pounds, and can be lifted into your truck easily.
You can download the manual here.
PRO TIP: This machine's 211 max amperage falls in between a professional machine and a beginner option. Be confident that you won't need to go up to 250+ amps before choosing this model to avoid a costly surprise in the future.
What is Included?
Magnum PRO 100L Gun 10 ft.
230V to 120V power cord adapter
Work Cable and Clamp
Adjustable Gas Regulator and Hose
Gas Nozzle
Gun Cable Liner
Spindle Adapter
Sample 2 lb Spool of SuperArc L-56 Mild Steel MIG Wire
0.030-0.035in. Drive Roll
0.030 – 0.045 in. Knurled Drive Rolls
0.025 – 0.035 in. Wire Guide
Pros
This is one of the few affordable welding machines that boasts over 200 amps of power.
I love the two handled grip design that means you can lift it up easily. Ideal for welders needing a portable option.
Although it has digital readouts, the large buttons can be adjusted even when wearing gloves.
Cons
I personally feel like 15 feet is the minimum length cable so that you don't feel completely attached to the machine.
This is balanced between being too expensive for a novice and not powerful enough for an experienced welder. I worry that you may outgrow it within a few years and need to buy a 250+ Amp machine.
Features
1. Robust Wire Drive
This means you will get a fixed amount of wire at the desired speed. Some cheaper manufacturers don't provide the same reliability, especially over time.
The advantages of a robust wire drive include:
Durability: it is designed to withstand heavy use and maintain its performance over time, which can help increase the welding machine's lifespan.
Reliability: it is less likely to break down or malfunction, which can help to ensure that the welding machine is always available for use when needed.
Minimizes downtime: it can reduce the need for repairs and maintenance, which can help to minimize downtime and keep the welding machine running smoothly.
Can handle heavy workloads: it is built to handle heavy workloads, making it suitable for industrial or professional use where the machine will be used frequently and for long periods.
Can handle different types of wire: it can handle different types of wire and thicknesses, which can provide versatility in welding.
2. Ergonomic Case
The case is designed to be bumped and dropped without damage. I also love the two handles on top which make it easy to carry. This is the ideal portable welding machine.
3. Simple User Interface
This machine has 7 easy to read digital displays with large knobs. I noticed that you could adjust them easily, even while wearing gloves. The readouts are also clear and intuitive, even for beginners.
Field Testing
When I took this machine out to test I was impressed. It is described as dependable and I agree. It has an affordable price tag, a compact design, enough power to handle most tasks, and clear display readouts. The weld quality is high, and it comes with various accessories. My main concern was the lack of power for the most heavy duty tasks.
This is an intermediate welding machine for people who need more power than the 140 amp entry level options, but don't want to empty their bank account on a professional welding machine.
Results
This machine is suitable for Small shop welding.
It has a solid 3 year warranty.
Accessories
I recommend getting a machine cover to protect the bright red paintwork from damage. One of my biggest regrets is the number of bumps and scratches my welding machines have gotten over the years.
Conclusion
In conclusion, the Lincoln Power MIG 211i welding machine is a solid and dependable option for those needing a welding machine. It scored well in performance, durability, and value-for-money, earning an overall score of 8/10. This machine is a dependable and versatile option for professional and personal use. Although it may not be the best choice for the most demanding tasks, it is a reliable option for most welding projects.