The Miller 165 TIG Welding Machine is a reliable and efficient tool, offering smooth welding performance. Its compact design and easy-to-understand controls make it user-friendly. However, it may not be suitable for heavy-duty industrial tasks. Overall, it's a great choice for beginners and hobbyists.
Summary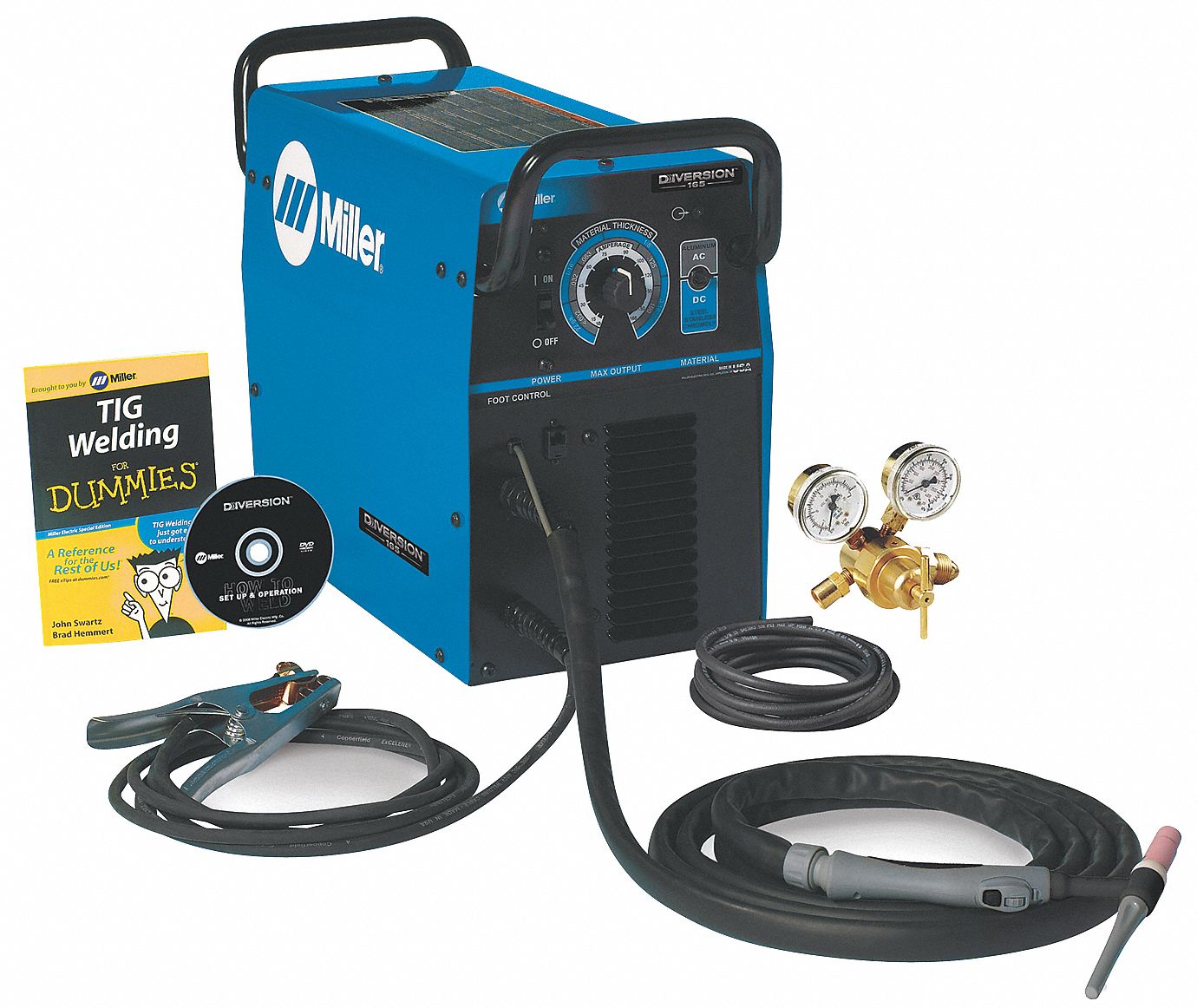 Specifications
Dimensions: 17 x 9.5 x 23
Weight: 50 pounds
Max Output: 165 amps
Output Range: 5-165
Polarity: AC/DC
Duty Cycle: 35% @ 125A
I rate this as medium powered welder. This is a high priced welding machine. It can weld up to 1/8 inch steel. This welding machine weighs 50lb, which I consider to be moderately heavy. It's not overly cumbersome, but it has a substantial heft.
You can download the manual here.
Pro Tip: Always ensure the tungsten electrode in your Miller 165 TIG is properly sharpened. A well-sharpened electrode enhances the arc control, resulting in better weld quality and precision. Additionally, remember to set the amperage according to the thickness of the material you are welding. Lastly, practice clean welding; ensure your base metal and filler rod are free from contaminants to prevent weld defects.
What is Included?
Power source with primary cord (50A, 230 V plug, attached)
12.5 ft (3.6 m) LS17 Weldcraft TIG torch with backcap, ceramic gas cup, 3/32 in (2.4 mm) collet and collet body, and 2% ceriated tungsten
11 ft (3.4 m) work cable and clamp
Smith Argon regulator/flow gauge with hose
TIG Welding for Dummies book
Pros
Superior Arc Control
TIG and Stick Versatility
Durable Desig and Long Lifespan
Cons
High End Model is Not Affordable for Beginners
Limited to Thinner Metals
Features
1. Auto-Line Technology
The Auto-Line Technology feature of the Miller 165 TIG welding machine provides the machine with a noteworthy capability. This feature allows the machine to automatically link to any input voltage within a specified range without needing manual linking.
It contributes to the machine's flexibility, enabling it to accommodate various power supply conditions. This technology makes the Miller 165 TIG welding machine a reliable and versatile tool for different welding operations, reducing downtime due to power supply issues and enhancing productivity.
2. Compact and Portable
The Miller 165 TIG welding machine is renowned for its compact and portable features. These attributes make it highly convenient for use in diverse settings, including both professional workshops and home garages.
Its small size enables easy storage, while its lightweight design facilitates comfortable transportation. The compactness does not compromise its performance, ensuring high-quality welds. This portability feature makes the Miller 165 TIG welding machine a preferred choice for those who need to move around with their welding equipment.
3. Multi-Process Capabilities
The Miller 165 TIG welding machine boasts exceptional multi-process capabilities. This versatile tool can handle various applications, from TIG to Stick welding, offering users flexibility and convenience. Its ability to switch between different welding processes makes it ideal for projects requiring multiple techniques.
It ensures consistent, high-quality performance across varying tasks, making it a valuable asset for both professional welders and DIY enthusiasts. This feature of the Miller 165 promotes efficiency and maximizes productivity.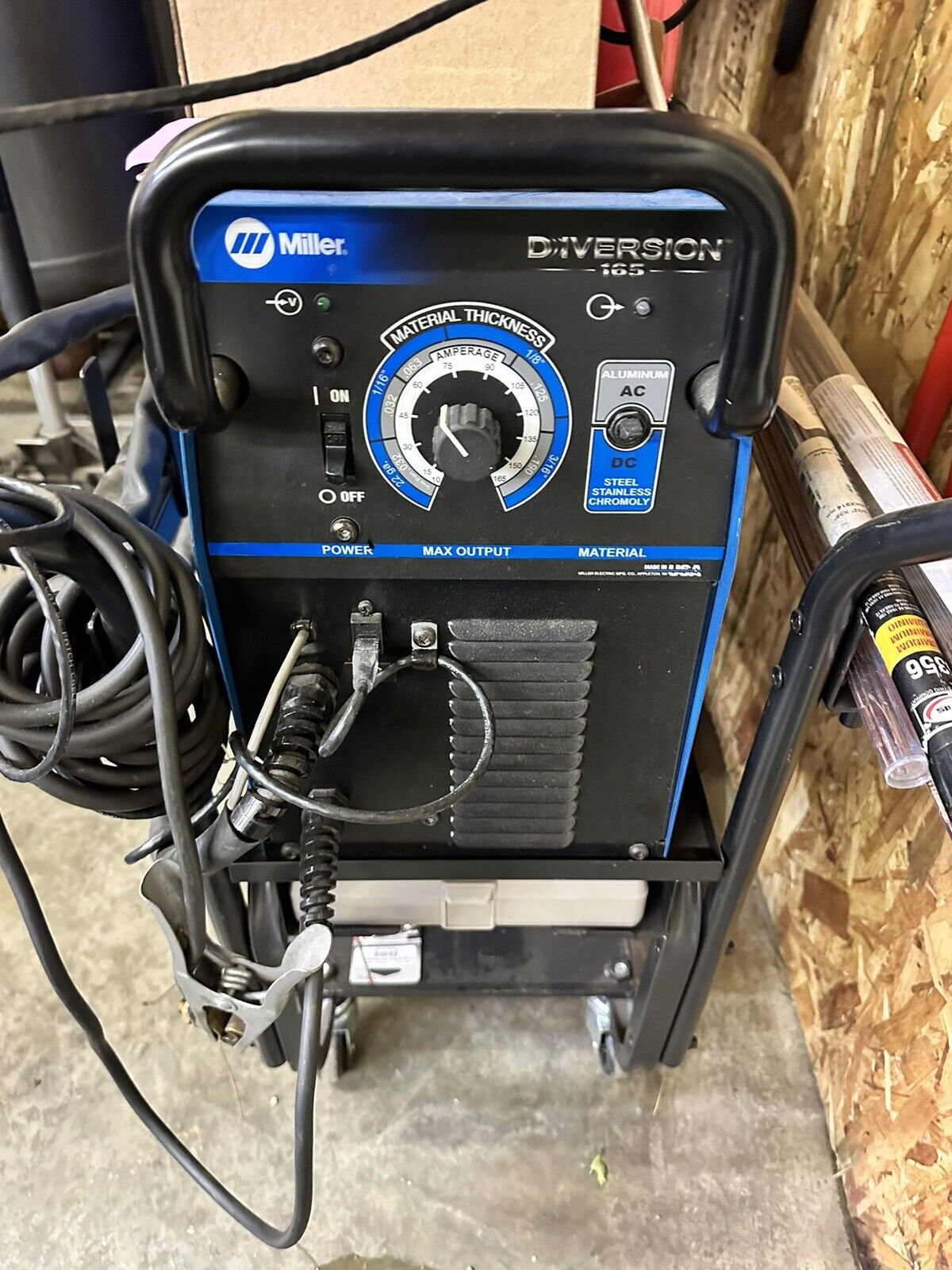 Field Testing
After field testing the Miller 165 TIG Welding Machine, I found it a solid, reliable machine for professional and hobbyist welders. The machine's compact size and lightweight design made it easy to transport, an essential feature for those who need a portable welding solution. It delivered a stable and smooth arc, allowing for precise control and clean, neat welds.
The Miller 165 TIG Welder also boasted impressive power and versatility. It handled a variety of materials, including stainless steel, aluminum, and thinner metals without difficulty. The machine's Auto-Postflow feature, which adjusts the postflow time based on the welding amperage, was another standout feature. It helped prevent the tungsten from overheating and contributed to longer tungsten life.
On the downside, I found the fan to be a bit noisy, and the absence of an AC balance control could be a slight issue for some users. But overall, the Miller 165 performed admirably in the field, and I believe it offers excellent value for its price. It's a well-rounded machine that I'd recommend to anyone needing a reliable TIG welder.
Results
The Miller 165 TIG welding machine is best suited for precision welding tasks on materials like stainless steel, mild steel, and aluminum.
The Miller 165 TIG welding machine comes with a 3-year warranty. However, checking with the retailer or the official Miller website is always recommended for the most accurate information.
Conclusion
In conclusion, my experience with the Miller 165 TIG Welding Machine has been largely positive. Its performance and value for money are commendable, scoring 80%, and the machine's durability is particularly impressive with a score of 90%.
The overall score of 83% reflects its high-quality features and reliability. I recommend this welding machine to any professional looking for well-rounded, durable, cost-effective equipment. It's clear that the Miller 165 TIG Welding Machine delivers a solid performance worth investing in.