The Yeswelder CT2050 is a versatile, powerful welding machine with user-friendly features. It offers smooth operation, dual voltage capability, and a high duty cycle for extended use. However, the absence of a foot pedal is annoying.
Summary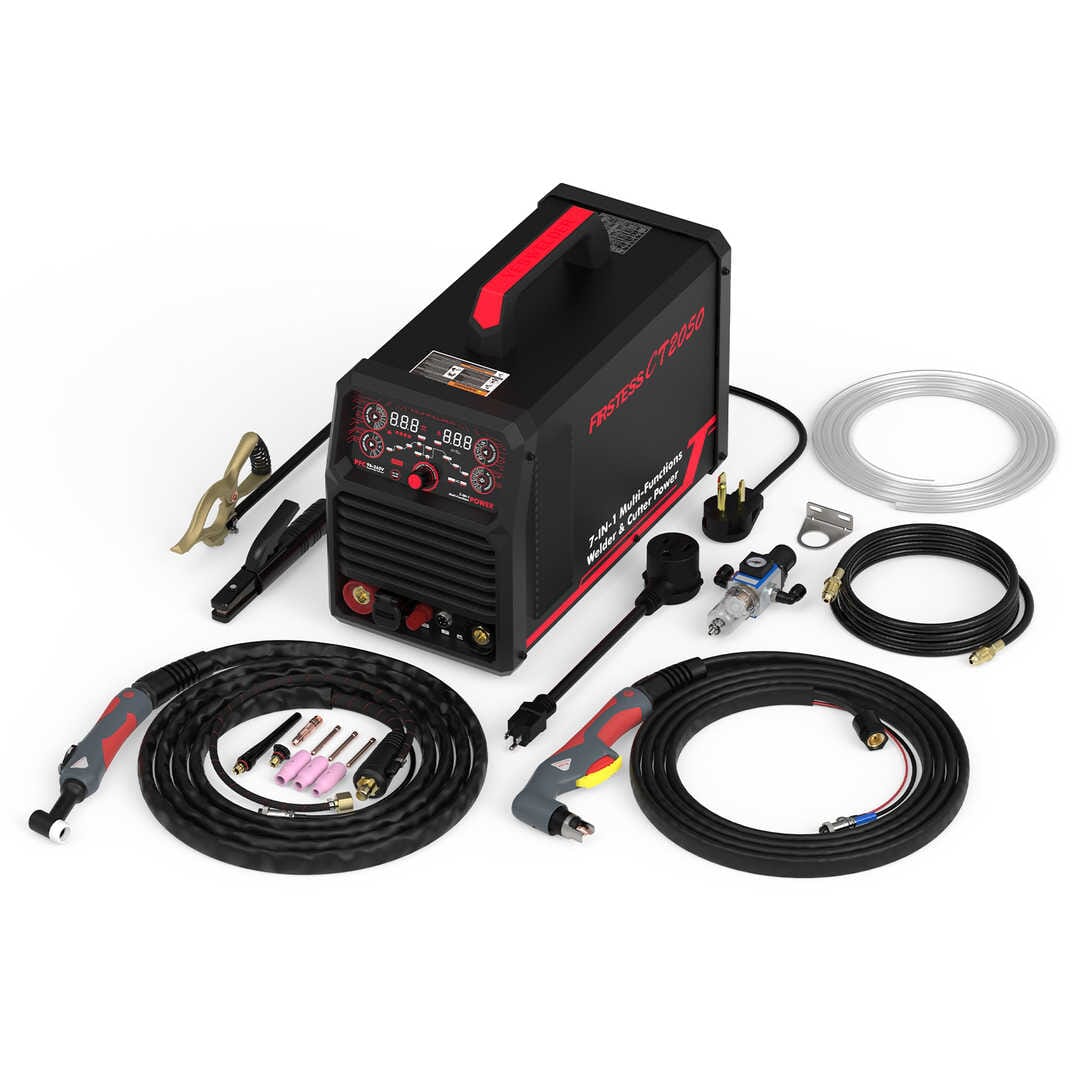 Specifications
Dimensions: 16 x 7.1 x 11.6
Weight: 25.4 pounds
Max Output: 200 amps
Output Range: 10-200
Polarity: DC
Duty Cycle: 60% @ 160A
I rate this as high powered welder. This is an inexpensive welding machine. It can weld up to 1/4 inch steel. This welding machine is impressively lightweight, coming in at just 25.4lbs. It promotes easy handling and portability.
You can download the manual here.
Pro Tip: For optimal TIG/STICK welding with the Yeswelder CT2050, always ensure your tungsten electrode is appropriately sharpened. For TIG welding, a pointed tungsten helps concentrate the heat better, while a rounded tip is ideal for STICK welding. Also, remember to frequently clean your welding surface to improve conductivity and reduce contamination. Lastly, adjust your amperage setting based on the thickness of the material you're working with for the best results.
What is Included?
Cutting Torch
TIG Torch
Connector
Gas Hose
Air Tube
Air Compressor Regulator Filter
Power Adapter
Work Clamp
Electrode Holder
Pros
High Performance
Multi-Functional Machine
Heavy-Duty Metal Case
Cons
Lacks Built-In Voltage Regulation
Not Suitable for Heavy-Duty Tasks
Features
1. Dual Voltage Capability
The Yeswelder CT2050 welding machine has a Dual Voltage Capability feature, significantly enhancing its versatility. This feature allows the machine to operate efficiently on either 110V or 220V power supply, ensuring it can be used in various settings, from home workshops to professional job sites.
It automatically adapts to the voltage supplied, eliminating the need for manual adjustments. This makes the Yeswelder CT2050 a convenient and practical choice for users who need a flexible welding solution.
2. Multi-Functionality
The Yeswelder CT2050 welding machine offers a high degree of multi-functionality, serving as a 2-in-1 unit with TIG and stick welding capabilities. This dual nature makes it versatile, catering to various welding needs.
It is equipped with advanced IGBT inverter technology and boasts a powerful 200 Amp output, enabling smooth welding on different materials. Furthermore, its compact size, digital display, and easy controls enhance its functionality, offering users a convenient, efficient, and precise welding experience.
3. Advanced Inverter Technology
The Yeswelder CT2050 welding machine boasts of Advanced Inverter Technology. This feature offers enhanced welding quality and efficiency by providing a stable and concentrated arc, even in small size.
It allows the machine to work excellently in both direct current electrode positive (DCEP) and direct current electrode negative (DCEN). This technology also makes the welding machine lightweight and compact, contributing to its portability and ease of use, making it ideal for professionals and hobbyists alike.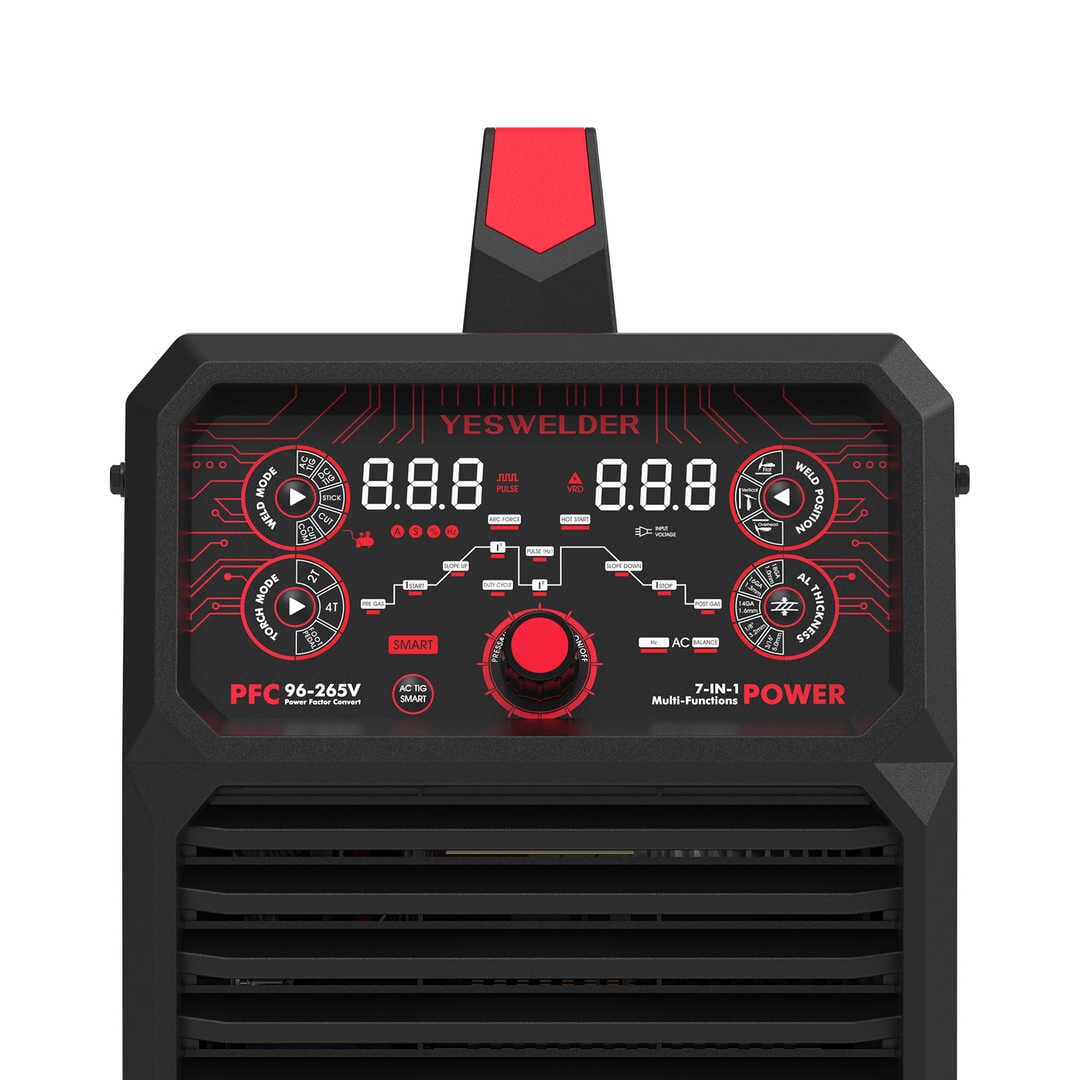 Field Testing
I recently had the chance to field test the Yeswelder CT2050 Welding Machine, and I was quite impressed with its performance. Straight out of the box, the setup was straightforward and user-friendly. The machine is compact and lightweight, making it highly portable, a definite plus for me.
In terms of performance, the Yeswelder CT2050 didn't disappoint. It has a wide amp range, allowing for precise control over the welding process. The arc stability was excellent, leading to clean and smooth welds, even on thicker materials. I also appreciated the machine's dual voltage capability, which provides flexibility in terms of power sources.
The machine stayed quite cool even during prolonged use, thanks to its effective fan-on-demand system that reduces power consumption and minimizes dust accumulation. The only downside I noticed was the quality of the supplied accessories; they did the job but felt a bit cheap. However, this was a minor issue considering the overall performance and functionality of the welder.
In conclusion, the Yeswelder CT2050 is a reliable welding machine offering good value for money. It's an excellent choice for both beginners and experienced welders.
Results
This machine is best suited for professional welding tasks, including heavy-duty industrial projects, due to its high power output and versatility in handling different welding processes.
Yeswelder offer a great 3 year warranty. This is better than most other affordable brands and covers a lot of defects you may experience.
Conclusion
The Yeswelder CT2050 Welding Machine has proven to be a solid performer. It scored a respectable 70% for performance and value for money, meaning it delivers good quality work and is reasonably priced. Its durability score of 60% also indicates it's a reliable choice.
With an overall score of approximately 67%, this welding machine is a good investment for professionals and hobbyists. It might not be the absolute best on the market, but it certainly balances quality and affordability. I would recommend the Yeswelder CT2050 to anyone looking for a reliable, high-performing welding machine at a reasonable price.