Yes, you can get sunburnt from welding due to intense ultraviolet (UV) radiation emitted by the welding arc. This can cause "welder's flash" or "arc eye," a painful inflammation of the cornea. Always wear proper protective equipment, such as an auto-darkening welding helmet, gloves, and long-sleeved clothing, to prevent sunburn.
Whether you weld as a hobby or professionally, it comes with risks. Since welding flames and arcs emit visible, infrared, and ultraviolet radiation, they'll burn unprotected skin and eyes, just like when you go under the sun without sunscreen.
As a welder, safety is one of my top priorities. However, welding sunburns is an occupational hazard, with the correct information, you can reduce or even eliminate the risk.
Here's how you can know if you have welding sunburn, how to treat it, and the safety equipment you need to prevent it.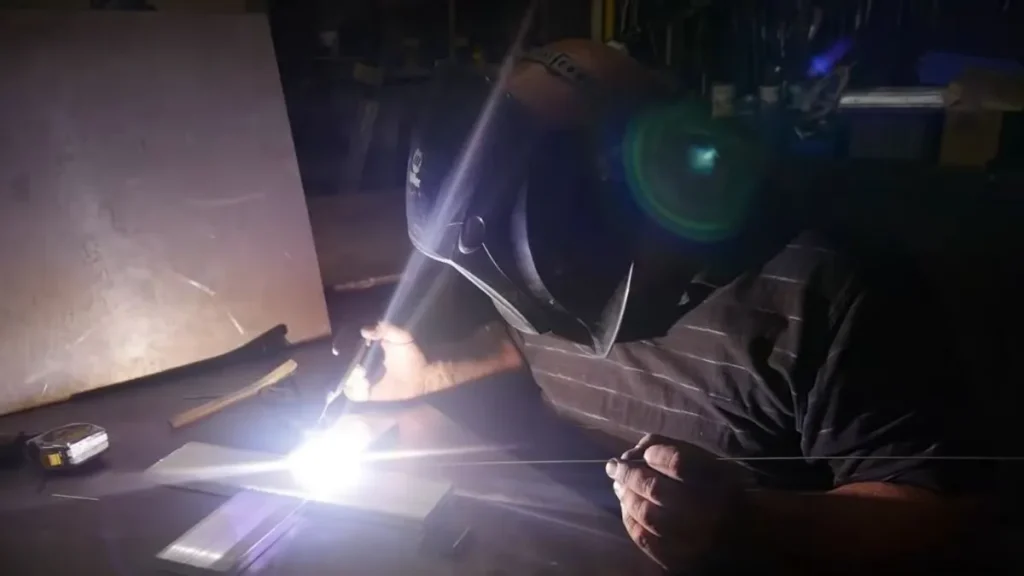 Symptoms of Welding Sunburn
If you've been welding for quite some time, you might have noticed some symptoms already. If you're unsure if they're caused by welding sunburn, I've listed them below:
Pain, from mild pressure or even concentrated burning sensation
Light sensitivity
Tearing and bloodshot eyes
Blurred vision
Skin burns
Photophobia or the inability to look at light sources
Most of these symptoms are an indication of Arc Eye. Welding sunburns typically affect your eyes as they're the most vulnerable when welding. Skin burns are also common occurrences.
Please note that intense and repeated exposure to ultraviolet radiation while welding could also cause skin cancer.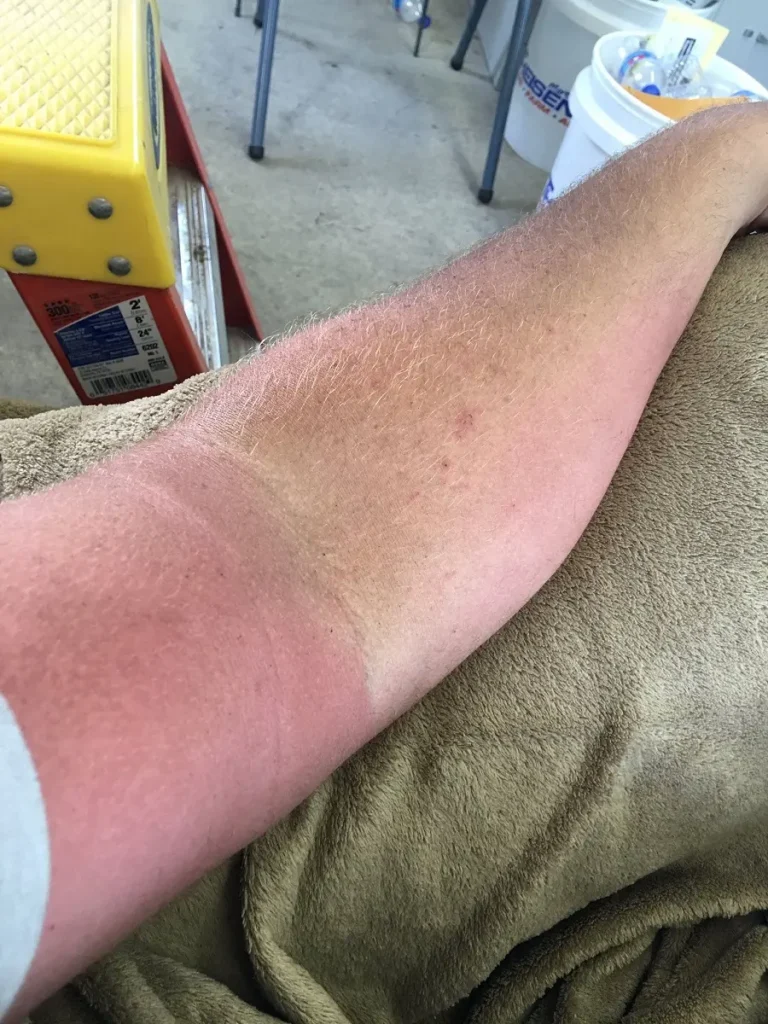 How to Treat Welding Sunburn
Welding sunburn lasts depending on the degree of the burn. For first-degree burns, it could take three to five days. Third-degree burns can take up to ten days to heal. 
You can also try these treatments to speed up the healing process:
Keep the burn moisturized. Treating welding sunburn is the same as treating sunburn from the natural sun. It's best to use aloe-based lotion to apply to the burnt area.
Stay hydrated. Taking in a lot of fluids would also help keep the burn moisturized.
Apply cold water. Cool it under cold running water for at least 20 minutes for skin burns. This will reduce the pain, swelling, and risk of scarring.
Avoid direct exposure to sunlight. Covering the burnt area when going outside would reduce the risk of a more severe burn.
Allow the burn to heal. Don't scratch, pick, or peel the burnt skin. It'll slow down the healing process.
It usually takes two to three days to get better for arc eye or any eye discomfort. It's best to see your doctor if it isn't better after three days.
You also can try these treatments if necessary:
Take a pain reliever. Lessen the burning sensation and pain in your eye by taking some medication.
Use eye drops. Using eye drops and lubricants will hydrate your eyes and reduce discomfort.
Wear sunglasses. When you go outside, protect your eyes from the UV lights emitted by the sun. If you're experiencing light sensitivity, wear sunglasses even indoors.
Do not wear contact lenses. Avoid irritating your eyes further by using contact lenses. 
Safety Equipment to Prevent Welding Sunburn
As they say, prevention is better than cure. So I'll list some equipment you would need to prevent welding sunburns.
Safety Glasses
The greatest tool in welding is your eyesight. Since arcs of flames are hazardous to your eyesight when welding, protecting your eyes is always a must.
Any spatter from the welding arc, welding arc rays, and even flying metal from a grinder is dangerous to your eyes when unprotected.
I recommend wearing clear safety glasses near welding and cutting areas. If you're cutting with a torch or gas welding, it's best to use specially shaded goggles.
Use a #3 shade lens if you're cutting with a torch, and #5 lenses when you're brazing.
I like these safety glasses by Dewalt, because they are clear so you can wear them indoors, and they have a full wrap-around design to protect you from stray sparks and grinder material.
Welding Helmet
The most common piece of PPE when welding is a welding helmet. There are two main categories for welding helmets: auto-darkening and fixed shade. 
As the name implies, a fixed welding helmet typically has a fixed shade #10 . Auto-darkening welding helmets' shade can be adjusted with a simple turn of a knob depending on what you need.
Welding Gloves
If you're working on welding projects, it's best not to grab any metal in the welding area. Always make sure that the metal isn't hot before grabbing any. You can tap it with your hand first to make sure it isn't hot.
Welding gloves help insulate your hands from extreme temperatures while welding. Don't grab any metals, especially ones that you just welded, even with your gloves. They might still have areas that are hot and molten.
Reinforced Double Layer Kevlar Padding
Guaranteed to Withstand Temperatures up to 932 F
16-inch Extra Long Gloves
1.5mm Thick Cowhide Leather
Lincoln Electric Welding Gloves
High Grade Leather and Soft Cotton Liner
Kevlar Threading and Leather Reinforced Stree Points
Inside Cuff Lined with Twill Cotton to Absorb Moisture
Steel Toe Welding Boots
Steel toe boots protect your feet from falling objects as well as welding arc rays. These welding boots would make sure that your feet won't get hurt while welding.
Leather/Flame-Resistant Coat
There are still parts of your body that your gloves and boots can't cover. That's why you need either a leather or flame-resistant coat. You don't want your favorite shirt to get a hole and burn your skin as well. 
For stick welding, you should always wear leather to protect yourself from arc spatters. On the other hand, for MIG and TIG welding, a flame-resistant coat is recommended.
You can also check my suggestions for protective equipment essentials for beginner welders.
Wrapping Up
Welding is a highly rewarding yet risky task. Even a beginner welder shouldn't compromise safety in this field of work.
So can you get sunburnt from welding? It's highly probable, especially if the proper tools you need are set aside.
In the case of welding sunburn, you now know how to determine the symptoms immediately. We also covered some treatments you can do to lessen the discomfort and even the safety equipment you need to prevent it.
As such, always be cautious and equipped with the appropriate equipment when welding or at a welding site.