The best welder for beginners should run off 115V, at least 140 amps to weld 1/4 inch steel or 180 amps for 1/2 inch, a duty cycle of 30%, and a simple, intuitive interface. It should also be manufactured by a reputable brand, such as Hobart, Forney, Lincoln Electric, or Miller.
My favorite question of all time is "what is the best welding machine for beginners?" It can be a difficult decision that depends on the type of material, the amount of work, your budget, and the welding style.
For those of you who don't have time to read, here are the best three beginner welders I recommend:
Brands and Recommendations
Welding machine brands are a lot like car brands to welders. Everyone has a favorite. Bentley over Rolls Royce or Honda over Toyota. But what is a car really? It is simply transportation. It gets you from point A to point B. Admittedly, some get you there with a bit more class. But in the end, what matters is that it got you to your destination.
I have used and abused all of the following brands and can quickly tell a sketch welder from a great one:
Nevertheless, a lower-quality welder will often work for you on a budget.
1. Best Budget Mig Welder – Hobart Handler 140
The best welding machine for beginners is the Hobart Handler 140, because of its intuitive stepped voltage control, versatile MIG and flux core processes, and 115V supply power.
Pros
Stepped voltage control
Cast aluminum drive
Total weight of 57 lbs
Great customer service
It will run off regular 115v power (most households)
Cons
Limited amps – can weld up to 1/4″ thick mild steel
Grounding clamp needs to be upgraded.
I like the Hobart for a freshman level beginner. It has everything you need to start welding immediately. And the stepped voltage is perfect for someone starting out.
If you have to turn a knob that allows for an infinite amount of settings, you could miss out on the learning curve that stepped voltage settings will force upon you. Potentially making you a better welder in less time.
In simpler terms, you don't want to get caught up in finding the perfect voltage to get your job done. When you are new, it is more about spending time welding, getting experience.
The Hobart will get you the necessary experience and get the job done simultaneously. I also rate their support highly. When you are new, you are going to have a lot of questions. And probably more questions. And, maybe a few more. Hobart's phone support is your next best bet if you don't have a group of welders to talk with.
Specifications
| | |
| --- | --- |
| Metric | Value |
| Processes | GMAW, FCAW |
| Amperage Range | 25 – 140 Amps |
| Material Thickness | 24 gauge to 1/4-in Mild Steel |
| Input Voltage | 110/115/120 V |
| Duty Cycle | 20% at 90 Amps |
| Weight | 57 pounds |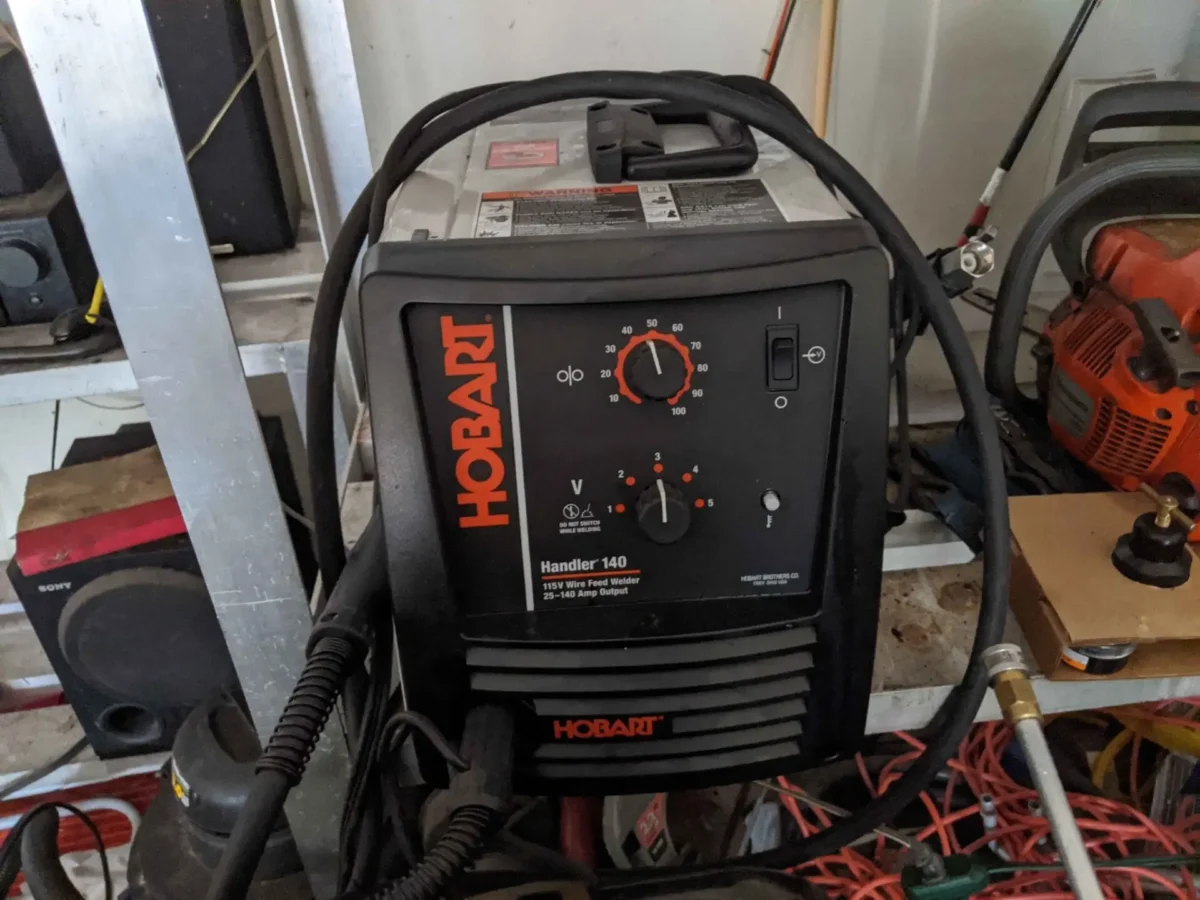 2. Best Advanced MIG Welder – Lincoln MIG 180
Let's say you have some welding skills and want a MIG machine that will grow with you. I would recommend the Lincoln Easy MIG 180.
Pros
Higher Voltage and amps of 180 means you can weld up to ½ thick material
Spool gun ready – for aluminum projects
56 lbs
Cons
The warranty is only 3 years
The grounding clamp needs to be upgraded
The spool gun is sold separately.
Requires industrial voltage supply.
I like the Lincoln 180 because it retains a lot of what I like about the Hobart but has more power. To boot, it is still light enough to transport with ease.
You can start bidding on small welding jobs with this machine if you want. This machine could help you start your first paid welding gigs. In addition, it is reliable enough that it will be around for years.
Specifications
| | |
| --- | --- |
| Metric | Value |
| Processes | GMAW |
| Amperage Range | 30 – 180 Amps |
| Material Thickness | Up to 1/2-in Mild Steel |
| Input Voltage | 208/230 V |
| Duty Cycle | 30% at 130 Amps |
| Weight | 56 pounds |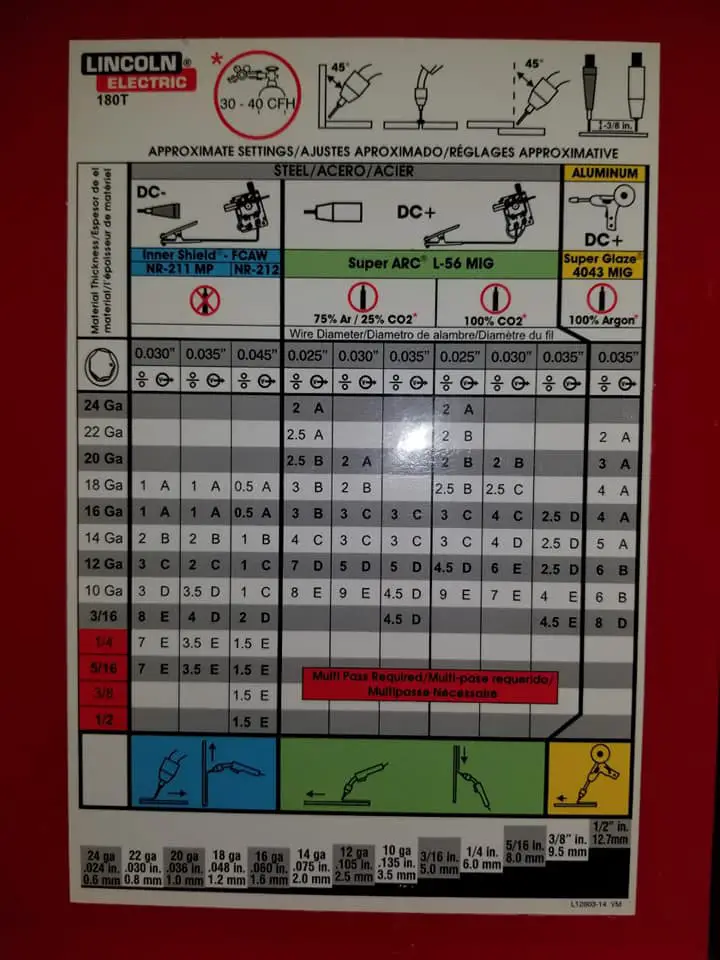 3. Best TIG Welder For Beginners – AlphaTIG 203Xi
I really love this AlphaTIG welder. This welder is excellent for someone who has never touched a TIG welder.
Pros
Very simple interface
Amazing customer support
Welds both AC (aluminum) and DC (steel)
Cons
Expensive unit to start out with
The duty cycle can be short if you're doing a lot of welding
What I like about this unit is the simple interface. Again, when you're starting out, it's about building confidence. And not getting overwhelmed with too many options. You can change the pulse settings of frequency and amperage.
It can use both 120V and 240V, depending on what you have available. I found it very effective at welding carbon steel, aluminum and stainless steel.
This welder has a 60% duty cycle at 200 amps or a 100% duty cycle at 150 amps. This means you can weld for extremely long periods of time for fairly serious thickness materials.
It has a 3-year warranty on the welder but only 6 months on the foot pedals and spool guns. I did notice that the copper in the ground clamp was weak and needed to be replaced relatively early.
Specifications
| | |
| --- | --- |
| Metric | Value |
| Processes | GTAW, SMAW |
| Amperage Range | 20 – 200 Amps |
| Material Thickness | Up to 1/2-in Mild Steel |
| Input Voltage | 120/240 V |
| Duty Cycle | 35% at 200 Amps |
| Weight | 40 pounds |
4. Best Budget TIG Welder – ESAB Mini-Arc 161
ESAB Mini-Arc 161 will get you acquainted with TIG on a budget.
Pros
Very affordable
Esab produces quality machines
Runs 115v or 220v
Cons
Lack's AC capability
No foot pedal for added control
I think this is great for someone who wants to learn and practice their TIG welding.
I also feel that you will outgrow this machine quite quickly if you wish to continue learning. Unless you want to specialize in one specific type of welding. Say, mild steel pipes as an example, you may want the AlphaTIG Welder.
This welder is extremely lightweight at only 18 pounds and comes with a shoulder strap so you can move it around very easily. It operates on multiple voltages for flexibility. It has an amperage range of 5 to 160, so you can weld up to 1/4 inch thick material.
It doesn't come with a TIG torch, so you must purchase one separately.
This brilliant little machine is portable and affordable, but you will likely outgrow it pretty quickly and need to upgrade as you learn more.
Specifications
| | |
| --- | --- |
| Metric | Value |
| Processes | GTAW, SMAW |
| Amperage Range | 5 – 160 Amps |
| Material Thickness | 24 gauge to 1/4-in Mild Steel |
| Input Voltage | 115/230 V |
| Duty Cycle | 35% at 110 Amps |
| Weight | 18 pounds |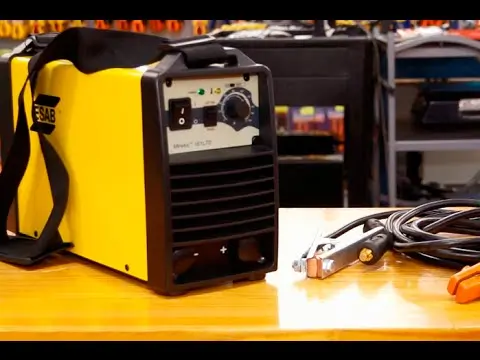 5. Best Stick Welder for Beginners – Miller Electric Thunderbolt 160
Stick welders are fantastic. Most "old pro's" learned the trade of welding with a stick welder. Many industries still rely on stick welding to build buildings, repair heavy equipment and manufacture their products.
One thing I really like about stick welding is metal preparation. Even though you should always prep your metal and clean it up the best you can, slightly rusted and dirty metal is often not a problem with a stick welder. You can still make a solid weld over this stuff. And it's economical. Just purchase the machine, your rods, and your set.
So what's a great stick welder to start with?
Miller's Electric Stick Welder is one of my favorites. This is the machine you need for your future stick welding jobs if you want a dependable, long-term solution.
Best Stick Welder for Beginners
Pros
Well known brand
Can run on either 120 or 240v
Lightweight at 15 pounds for portability
Cons
Short power cord provided
A bit on the pricey side
I like this Miller a lot. It is not that heavy, dependable and a great welder overall. However, if you buy a brand new one, it can be on the expensive side. Miller is one of my favorite welding machine manufacturers – I trust their products.
The clamps included are not up to the same level of quality I would expect, so I recommend replacing them. This machine is made in China, so expect a lower level of workmanship.
Specifications
| | |
| --- | --- |
| Metric | Value |
| Processes | SMAW |
| Amperage Range | 160 Amps |
| Material Thickness | Up to 1/4-in Mild Steel |
| Input Voltage | 120/240 V |
| Duty Cycle | 30% at 160 Amps |
| Weight | 15 pounds |
6. Best Budget Stick Welder – Lincoln K1170
The "tombstone" welder design has been around forever. In fact, it's one of Lincoln's best-selling machines. It's a tried and true machine that's super dependable.
Pros
Affordable
Wide amp selection
Cons
So there you have it for stick welding. In reality, they are great for beginning your welding career. No doubt, these machines are simple to use. Mainly due to there being little to no prep needed for the materials to be welded. In no time you will learn to make some great structural quality welds with these machines.
It goes up to 225 amps, so you can weld pretty thick material. This is a powerful tool. It can weld cast iron and low allow steel. It has a 3-year warranty on parts, but you won't need this due to Lincoln's superior quality to other brands.
This is the kind of welder you will hand down to your children.
Specifications
| | |
| --- | --- |
| Metric | Value |
| Processes | SMAW |
| Amperage Range | 40 – 225 Amps |
| Material Thickness | 24 gauge to 1/2-in Mild Steel |
| Input Voltage | 230 V |
| Duty Cycle | 20% at 225 Amps |
| Weight | 109 pounds |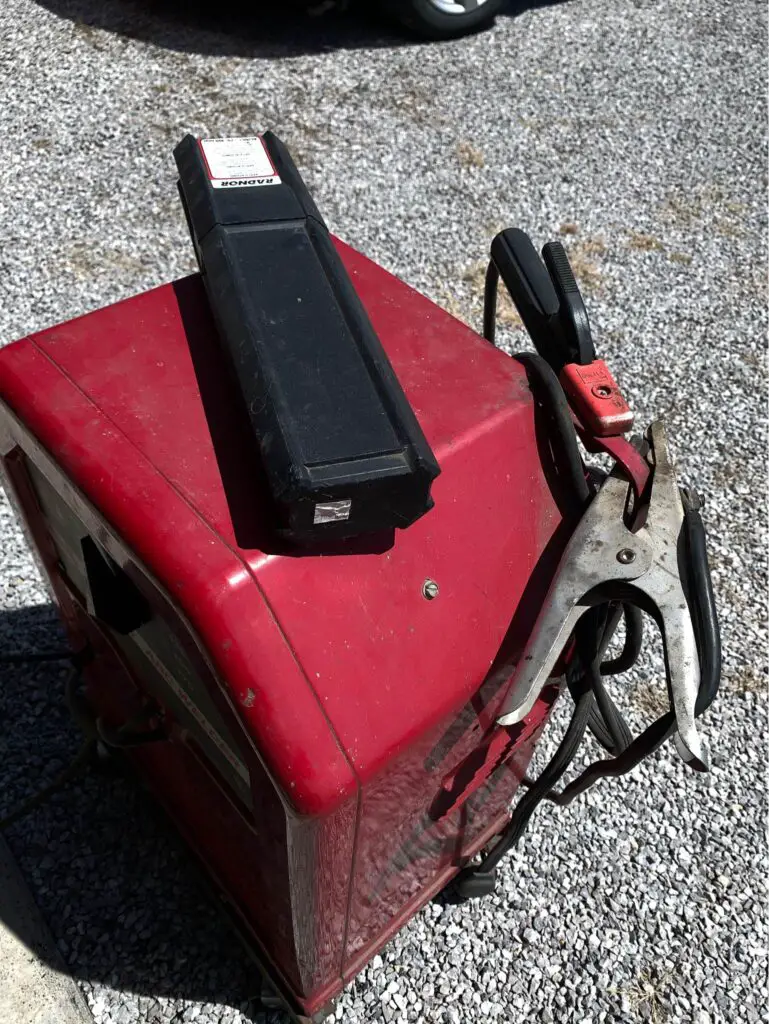 7. Best Budget Multi-process Welding Machine – Weldpro 200 Amp
Thankfully, the is another option for you to consider. It's the multiprocess welder. This machine will do stick, MIG and TIG welding from just one machine. As a result, you can have a machine that allows you to experiment with all three types of welding.
Consequently, you can get a feel for which process you like best.
Best Budget Multi-Process
This really is a great budget welder for a Multi-process welding machine.
Pros
Affordable
Lightweight – only 30 lbs
110V or 240V supply voltage
Cons
Only a 10 ft MIG gun included. 15 ft makes a big difference.
This little machine would be good for a first-time setup. Having said that, if you want to spend a bit more, I'd go with the Miller 215.
It comes with a 3-year warranty. It comes with a digital display that is easy to read and adjust. Its amperage range is 40-200 amps for MIG, 15-120 amps for TIG and 40-120 amps for MMA.
Its duty cycle is 30% at 200 amps or 100% at 110 amps.
With this welding machine, you can handle any task from aluminum or TIG brazing dissimilar metals.
Specifications
| | |
| --- | --- |
| Metric | Value |
| Processes | GMAW, GTAW, MMAW |
| Amperage Range | 40 – 200 Amps |
| Material Thickness | 24 gauge to 1/4-in Mild Steel |
| Input Voltage | 115/230 V |
| Duty Cycle | 30% at 200 Amps |
| Weight | 30 pounds |
8. Best Multi-Process Welding Machine – Miller 215
This welder can handle all the processes and it has some nice added features…
Pros
Dual gas lines – no switching between gases for MIG/TIG welding
38 lbs total weight for an MP machine!
Runs on 115v or 220v
Cons
This is an excellent welding machine that you can pick and use for decades on almost every task. It has a multi voltage supply of 120 or 240V. It has a color LCD display.
You can weld up to 3/8″ mild steel.
Now I didn't really explore the multi-process machines in depth for a reason. I wanted to give you a look at a good machine and a better machine. And that's about it. Again, there is a method to my madness.
Specifications
| | |
| --- | --- |
| Metric | Value |
| Processes | GMAW, GTAW, SMAW, FCAW |
| Amperage Range | 20 – 230 Amps |
| Material Thickness | Up to 3/8-in Mild Steel |
| Input Voltage | 115/220 V |
| Duty Cycle | 60% at 150 Amps |
| Weight | 38 pounds |
Beginner Welder Buying Guide
On the surface, it seems quite simple. Almost as if I could just give you the name of one specific welder. Then, BAM! All of your welding questions are answered!
Ok, it may not be exactly like that…But, when asked that question the real revelation surfaces. And that is…
There is no "One size fits all" welder.
Now can you understand why I love the question so much? We could talk for days, or at least hours, about the pros and cons of all the welders on the market. But ultimately, I want to help you find the best welder for your specific needs.
So, in this article, we will talk about:
What specific type of welding do you want to do?
Difference between a cheap and expensive welder.
Safety gear recommendations.
Best welders I recommend at different price points.
And by the end, you will better understand what kind of welding you want to specialize in. That is if you want to specialize at all. In addition, you will know how to buy your first welding machine.
Features of a Welder for Beginners
A welding machine for beginners should have the following features:
Power: Enough power to handle your most common welding tasks. 140 amps can weld 1/4″ mild steel, but if you need to weld 1/2″, you should get at least 180 amps.
Simplicity: This means an intuitive display and controls. You don't want to make welding any more complex than it already is. The most mistakes I have seen a beginner make is by using incorrect settings. A simple machine is more likely to get set up correctly.
Affordability: Let's be honest – it is likely that you will want to upgrade to a more advanced machine in the future. Your first welder is unlikely to have the power or features of your last welder. So get a machine that will keep you interested for the first year or two without blowing your budget, and you can always upgrade later.
Portability: Unless you have your own shop, it is likely that you will need to move your machine around or put it into the back of your truck. Get something lightweight that you don't need a forklift to move.
What Kind of Welder Do You Need?
Yep, I just asked you a kindergarten question. Actually, it is a very important question. I am really asking what kind of long-term outcome you envision for your welding.
Let me give you some examples of paths you could take with welding:
Become a professional welder and work in a Union or non-union shop.
Specialize in a structural welding and work on buildings.
Focus on TIG welding and work on intricate airplane parts.
Help artists bring their vision to life with TIG/MIG/Stick welding.
Fabricate steel items like fixtures, stage decks, or auto parts.
Fabricate furniture, various items in your garage during your spare time.
Have a small repair business/ fab shop from your home.
So, the above list provides just a sampling to get your thoughts flowing…Wait a minute! I know exactly what you're thinking here. "I Don't even know how to weld and you want me to pick a career path?"
For that reason, I know it must feel like a lot of pressure. Just know, there is a method to my madness. I promise. If you look at the end goal, the eventual outcome you want. You can avoid a lot of frustration, wasted time, money, and resources.
TIP: If you know what you want to be doing with your welder in the future it can serve you for years to come. Or,  if you start to weld and don't like it…(I know that's hard to believe…), you could have saved a bundle of cash before you committed to a more expensive machine.
Do you want to become a Professional, Semi-professional or Hobby Welder?
There is absolutely no wrong answer. Due to my being a professional, the welders I use and love would be overkill for the weekend warrior.
Similarly, the MIG welder I love would be useless to the brass welder. And lastly, if you are unsure what you want to weld when you grow up…That's ok too, I'll be sure to point you in the right direction.
Types of Welding
If you're not familiar with the different types of welding there is an in-depth post I wrote about.
As a result, I'll skip the finer details covered in the above article and give you a high-level overview:
Mig Welding:
It is one of the easier disciplines to learn. MIG welding is useful in all types of construction and is great for the DIY'er concentrating on mild steel.
Tig Welding:
This is going to require a higher skill level to master. In reality, I would say it's the most difficult yet the most rewarding type of welding. This is partly because you have the most control over your welds and can join materials like Aluminum, Brass, and Bronze. This is a great type of welding to master.
Stick Welding: 
Stick or Electrode welding is down and dirty and a whole bunch of fun. Stick is arguably the easiest type of welding to master. Additionally, it's great if you want to structurally weld I-beams in a building for instance. And, it can be financially rewarding as well. Stick welding is also great for repairing large and small equipment around the farm or construction site.
Certainly, that's a very quick overview and not meant to be all-encompassing. However, it will help us drill down and get the best welder for you.
Should you buy a Cheap or Expensive Welder?
A lot of guys will buy the most expensive welder on the market. Why? They think if it is expensive it must be good. And that can be very true. For that reason, let's compare welders to watches.
A Timex will tell you the time quite well. Furthermore, it will do so for a reasonable price. But obviously, it doesn't have the quality of a Rolex. Or, the flash of one either.
Is one better than the other? Well, if we are looking at pure craftsmanship then the Rolex will be 100 times better crafted than the Timex. However, if we need a watch to tell the time accurately at a decent price, the Timex wins hands down. Using this example I challenge you to think a bit differently…
What is Your current budget?
Yes, a more expensive welder will be better built. The ergonomics and the quality of the materials used in the construction will be better. Why buy a Rolex when a Timex may do everything you will ever need it to do?
A high-quality MIG welder will have a better wire feed and drive system. A great TIG welder will have more control for the user. Is all of that worth the cost when first starting out?
I'll tell you about my first welder. It was straight off craigslist. Really! It was a super ugly tombstone (cracker box) welder. It was cheap. But it was also plenty good enough that in a short time I learned how to stick weld. Most noteworthy, I still have that machine to this day. And consequently, it has earned me at least 500 times what I paid for it.
So my advice to you is to buy enough welder for right now. However, purchase a welder to get you there if you know where you want to be with your wedding a year from now.
There will always be the chance that you might outgrow it sometime in the future. And that is ok. You can keep it for a backup or resell it to recoup some of your original cost.
Having said that, I wouldn't start with a Rolex right out of the gate for the beginner. Unfortunately, there is always the chance that you might not use it that much. As a consequence, never get your full value out of it.
For this reason, consider your budget and be smart with your purchase.
Why I wouldn't recommend starting out with a Multi-process machine?
I'm glad you asked. It goes back to the heart of our conversation. Start with one thing and master it before you go on to a related skill. Don't get caught up with too much detail initially. For instance, start with MIG or stick welding before you tackle TIG.
These machines are great if you already have the skill sets. If you're already good at MIG welding or learning stick and want to practice TIG in the future, you might consider one. But, as a newbie, I would steer clear regardless of the price point.
Frequently Asked Questions
How many amps should a welding machine have for beginners?
This depends on the material you will be welding on and its thickness. If you are just a DIY hobbyist then 140 amps should be sufficient to weld 1/4 inch mild steel. You can go up to 180 amps to weld 1/2 inch mild steel, however this is less common. Think about the thickness material you will be welding and use this to choose the maximum amperage your welding machine will need.
What duty cycle should a welder have?
The duty cycle is how long you can run your welding machine at maximum amperage. For example, a duty cycle of 50%, means that it can run for 2.5 minutes out of every 5 minutes at max amps before needing to cool down.
Keep in mind that if you are doing spot welding, it is unlikely you will ever be welding continuously for that long. Pipeline welders need very high-duty cycles because they will weld for so long. But as a beginner, a duty cycle of 30% or more should be sufficient.
Should a beginner start off with a multi-process welder?
No, I recommend starting with a single-process welder – stick or MIG. Then you can upgrade later on. If you buy a high-quality welding machine, it will hold its value and you can sell it or keep it as a specialized tool. I still own the first welding machine I ever bought and use it regularly.
Does a TIG Welder Need a Foot Pedal?
The foot pedal controls the Amperage. Or, in other words, how "hot" your arc will get. More amps and you'll form a puddle in no time. Conversely, too many amps and you will burn through.
Now, a lot of machines already have that ability built into the system. It is called upslope. You set your amperage level and the machine will increase the amps on its own, over time.
However, the best thing about a foot pedal is that you can creep your amps up manually. In essence, you could start at a really low amp level of say 5 amps, then slowly increase up to 80 amps. The operator fully controls the amperage setting, adjusting it on the fly.
Without a foot pedal, you can't change your amps on the fly. Once increased to the preset level, you are locked in. This can be good if you are working in a hard-to-access spot. Or, on a large project that cannot be set up on a fab table.
KEEP IN MIND:  I will always recommend a foot pedal. In this case, I think the more control you have while TIG welding, the better your end product will turn out.
Conclusion
There are many great welding machines on the market. Consequently, as a beginner, it's really easy to get overwhelmed. I know, I've been there as a brand new welder and we didn't have as many choices in those days. New technology and the internet make your research ability almost overwhelming. Mainly because of the sheer volume of information to filter through.
However, even though new technology has made welding easier, more accessible, and improved welding machines, nothing can replace welding time.
Most importantly, pick an outcome. After that, choose the process that will get you there. You don't have to stick with it forever…. Ideas and goals change. Just get started and practice regularly. Your welds will improve. Later, you can upgrade or add to your welding collection over time.
And that's really a great thing about this craft. You will get better as time goes on. Your projects will become more complex. And as a result, you will be able to repair and build many things you never thought possible.
As a professional fabricator and welder, I get asked welding related questions all the time. I get every kind of question imaginable on metalworking, fabricating and welding. Questions such as:
Read through my list of 101 welding tips to cover everything you need to get started.