I am always on the lookout for reliable and efficient welding equipment. Today, I'll share my thoughts on the Hobart Handler 140 welder, a popular choice among hobbyists and DIY enthusiasts. I've spent considerable time using the Handler 140 on various projects and am excited to share my insights with you.
The Hobart Handler 140 is a versatile, user-friendly MIG welder, perfect for home use and light industrial applications. With its easy setup, solid performance, and a range of features that make it a great value, it's an ideal choice for beginners.
Can Weld Up to 1/4" Mild Steel
20% Duty Cycle at 90 Amps
115V Supply Only
Includes 10 ft MIG Gun and 10 ft Work Cable with Clamp
Specifications
Welding Processes: MIG and Flux-Core
Input Voltage: 115V
Amperage Range: 25-140A
Duty Cycle: 20% at 90A
Weight: 57 lbs
Pros
Easy setup and operation, suitable for beginners
Good welding performance for its class
Dual-groove quick-change drive roll for easy wire changes
Portable and compact design
Built-in safety features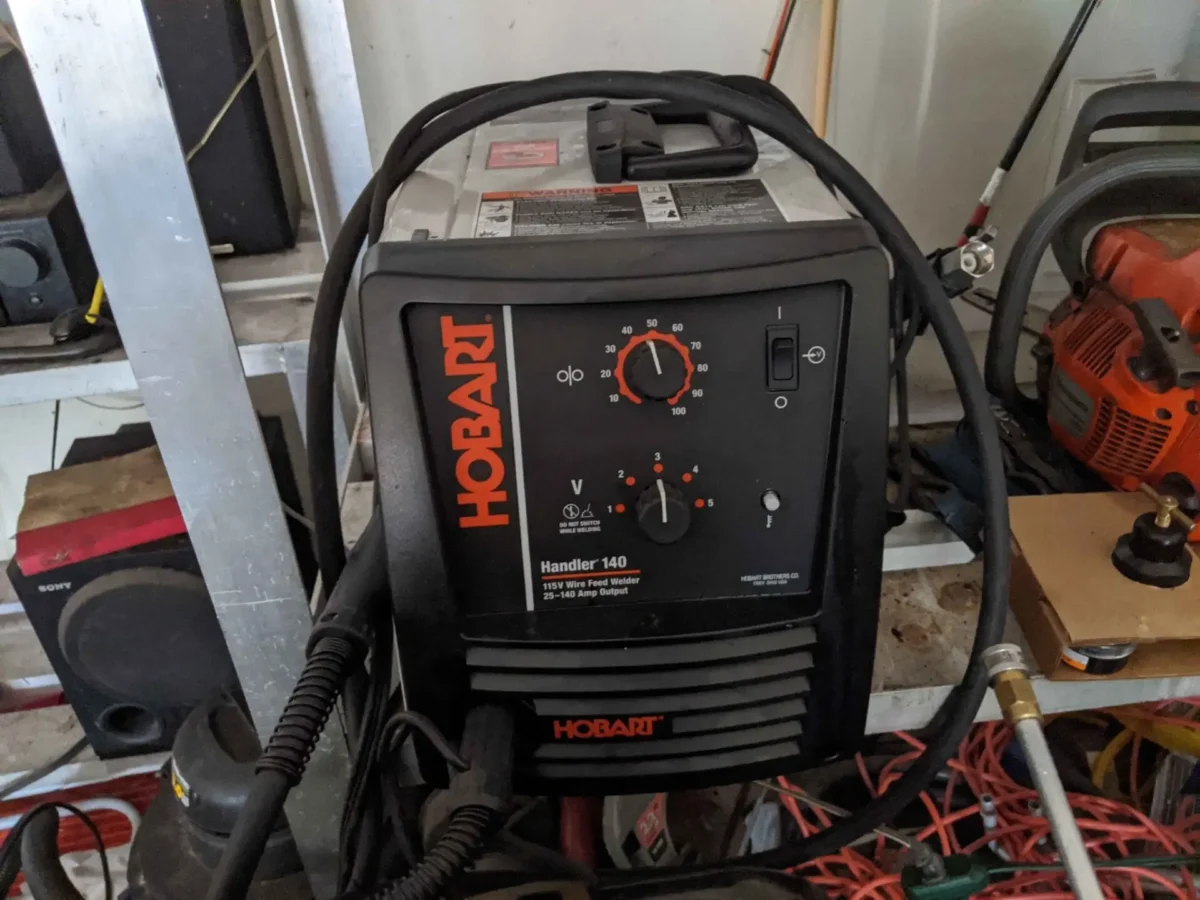 Cons
Limited to 115V input, which restricts its maximum power output
20% duty cycle at 90A is not sufficient for heavy-duty tasks
Does struggle with thicker materials
No TIG or stick welding capabilities
Ground clamp and MIG gun could be of higher quality
Key Features
Built-in Wire Feeder
One of the standout features of the Hobart Handler 140 is its built-in wire feeder, which plays a crucial role in ensuring smooth and consistent wire delivery during the welding process. The integrated wire feeder boasts adjustable tension control, allowing users to fine-tune the wire feed speed according to the specific welding task.
This level of customization is handy when working with different materials and thicknesses, as it enables precise control over the weld bead and helps to prevent issues like burn-through or incomplete fusion.
The wire feeder's robust construction also ensures longevity and reliability, making it a valuable component.
Dual-Groove Quick-Change Drive Roll
It features a dual-groove quick-change drive roll designed to make wire changes as effortless and efficient as possible. This unique feature allows users to easily switch between different wire sizes, accommodating solid and flux-cored wires with diameters ranging from 0.023 to 0.035 inches.
The quick-change drive roll system simplifies transitioning between various welding tasks and materials, ultimately saving time and enhancing productivity.
The dual-groove design ensures optimal wire feeding and alignment, contributing to the overall quality and consistency of the welds produced.
Solid Steel and Aluminum Welding Capabilities
The versatility of the Hobart Handler 140 is further exemplified by its ability to weld a range of materials, specifically mild steel and aluminum. The welder can handle mild steel thicknesses ranging from 24-gauge to 1/4-inch, making it suitable for various applications, from automotive repairs to light construction projects.
Regarding aluminum, the Handler 140 can weld materials from 16-gauge to 3/16-inch thickness, allowing users to work on projects such as boat repairs or custom metal fabrication. It is important to note that while the Handler 140 can weld aluminum, a spool gun is required for optimal results.
This broad range of welding capabilities makes the Hobart Handler 140 an invaluable tool for hobbyists, DIY enthusiasts, and professionals alike, as it can cater to various projects and material requirements.
Things I Like
I found the setup and operation easy, which makes it accessible to beginners while still providing quality results. The dual-groove quick-change drive roll and built-in wire feeder make changing wire spools and adjusting tension a breeze. The thermal overload protection is a great safety feature that provides peace of mind while welding.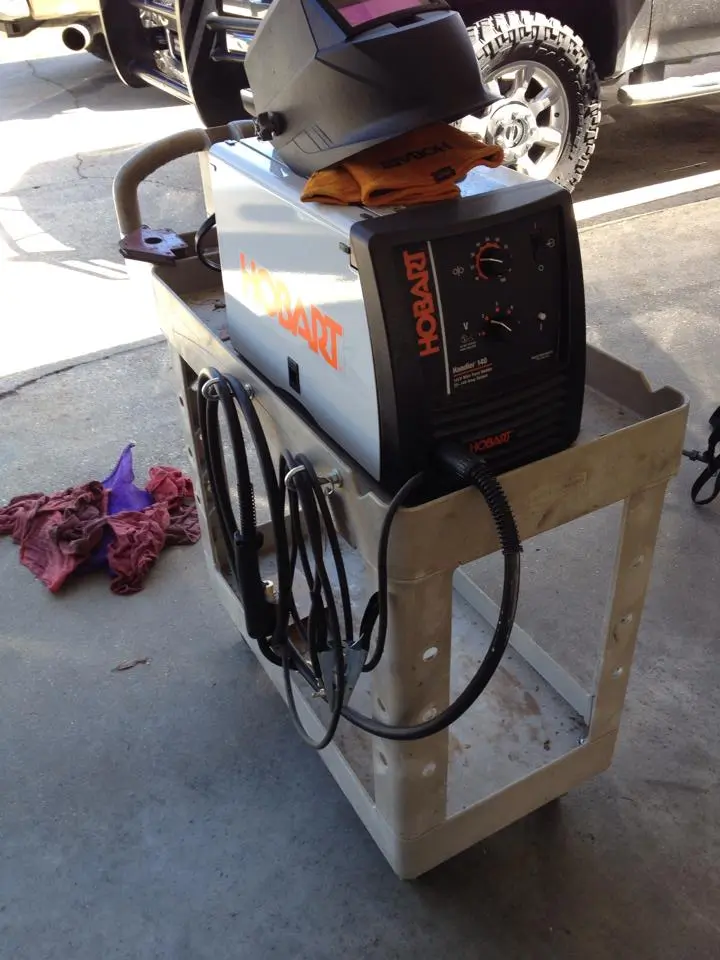 Things I Don't Like
I find the 20% duty cycle at 90A somewhat limiting for more demanding tasks. If you need to use the full 140 amps of power, you will need to take a lot of breaks to cool the machine down.
The lack of TIG or stick welding capabilities reduces its overall versatility. The included ground clamp and MIG gun could also be of higher quality.
You really need to think hard about how much power you need for your most common jobs. I generally prefer to get at least 180 amps, which means I will never be limited by power.
Field Testing
To better understand the performance of the Hobart Handler 140 welder in real-world applications, I put it through a series of field tests. These tests focused on various tasks typically performed by home users and hobbyists, evaluating its ease of use, welding capabilities, and overall performance.
The machine was straightforward to set up, taking only 15 minutes from unboxing to being ready. The instruction manual was clear and concise, providing helpful guidance for both first-time users and experienced welders. The five voltage control settings and adjustable wire feed speed made fine-tuning the welder for optimal performance simple.
Switching to flux-cored welding was simple and quick. The welder performed well in this mode, producing slag-free welds with good penetration and minimal spatter. This feature expands the usability of the Handler 140, especially when welding outdoors or in areas with limited shielding gas availability.
It performed well on various materials and thicknesses, showcasing its capabilities as a valuable tool for home users and hobbyists.
Alternate Product Comparison
As an alternative, consider the Lincoln Electric K2185-1 Handy MIG. Similar in price and performance to the Hobart Handler 140, the Lincoln Handy MIG offers a slightly better duty cycle (20% at 70A) and weighs less (46 lbs). However, it has a lower amperage range (35-88A) and fewer voltage control settings, making it less versatile.
Reputable Lincoln Electric Construction Quality
Easy to Use for Beginners and DIYers
Not Suitable for Industrial Scale Jobs
Pricey Considering Its Low Power
Conclusion
The Hobart Handler 140 welder is an excellent choice for those who tackle light to medium-duty welding tasks at home or in light industrial settings. Its user-friendly design, reliable performance, and built-in safety features make it a solid investment for beginners and experienced welders.
While there are some limitations, such as the duty cycle and lack of TIG/stick welding capabilities, its strengths more than compensate for these drawbacks, making it a valuable addition to any workshop.