It is no wonder that MIG welders have become the most popular class of welding machines in recent years. MIG stands for Metal Inert Gas welding.
They are easy to use and leave clean welds due to replacing solid flux with an inert gas to shield the weld pool from contaminants. The welds are smooth and very nice looking.
The continuous wire feed is faster than stick welding and there is no need to worry about keeping your welding rods dry. Furthermore, beginners typically learn to MIG weld faster than stick or TIG welding. I sure have enjoyed mine!
When deciding to buy a new welder, there are many features and specifications to consider.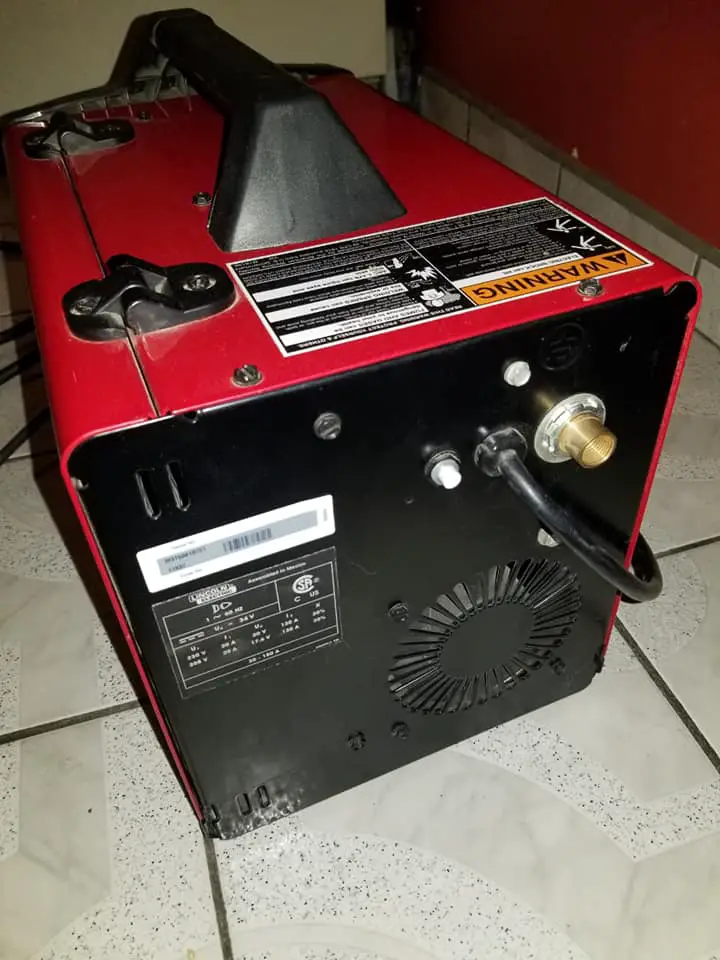 Why should You Buy Lincoln Electric Products?
Founded by John C. Lincoln, Lincoln Electric has been instrumental in the research and development of electrical products since its beginning in 1895. In 1909 Lincoln Electric added its first welding machine to its line.
Then in 1911, Lincoln Electric introduced the first variable voltage, single operator, portable welding machine worldwide The Lincoln Electric Welding School was later founded in 1917. Consequently, the school has trained more than 100,000 welders to date.
Euclid, Ohio is where they call home with their Corporate Headquarters and main manufacturing facility on St. Claire Street.
They have grown into a worldwide network of over 8500 employees in more than 160 countries and 42 manufacturing locations in North America, Europe, the Middle East, Asia and Latin America, you know Lincoln Electric knows its welding business.
Why buy the Lincoln Electric Pro MIG 180?
180 Amps Can Weld 1/2" Thick Mild Steel
Aluminum Ready Spool Gun
3 Year Warranty
Extremely Reliable and Durable
When I began the process of looking to add a MIG welder to my shop it was only natural for me to look at what Lincoln Electric had to offer.
Especially, since I have owned a Lincoln Electric 225 amp AC/DC stick welder for the last 30 years and have never had a single issue with it. In addition to that, I have owned a Lincoln Electric, "Ranger," engine-driven welder for the past fourteen years.
The Ranger now belongs to my son who needs it more than I do out on his ranch.  It's nice when equipment lasts so long that you can pass it down to your kids!
TIP: If you are a beginner welder, I think you would really like my post: What do I need to start welding?
How thick of metal can I weld with the Lincoln Electric Pro MIG 180?
Learning that I could weld up to 3/16″ steel with gas shielding and 1/2″ steel with flux-core wire with the Lincoln Electric MIG 180, I knew I had found the correct sized machine for my purposes.
Most of the projects I had in mind for the machine had to do with building and repairing race truck cages and peripheral equipment for the racing team.
I had researched and found where a gentleman had used the Pro MIG 180 exclusively to build his entire off-road truck cage out of 2″, 0.120 wall DOM tubing. That was good enough for me.
I immediately set my new Power MIG 180 on a cart designed for MIG machines. The cart comes in handy rolling the machine from bay to bay.
TIP: If you would liIf you want to learn more about carts, I prepared a comprehensive evaluation of the Klutch brand welding cart, complete with photographs.
I already had a 230-volt outlet and extension cord for my stick welder, so I just moved in the Pro MIG 180 and parked it beside it. Being lightweight, compact and portable, it moves around the work areas easily and doesn't take up much space.
The 10′ Magnum Pro 100L Gun lead is long enough to get the job done and yet not so long that it can't be spooled up easily on the cart. This keeps everything tidy and compact when moving the machine around the garage and when stored.
To date, the biggest job I have tackled with the Power MIG 180 was building a complete roll cage on a Ford Ranger pickup chassis.
Once I had the tubes all tacked together, the many hours of welding them together commenced. Not once did I ever reach the duty cycle limit of the machine, which is 30% at 130 amps/20v.
What is the Duty Cycle?
The duty cycle of the machine running off a 230v plug is rated for, 130A/20V/30%. This equates to the machine being capable of running for 3 continuous minutes at 130 amps. Then, needing to remain idle for 7 minutes to cool down.
The duty cycle is based on a 10 minute period (30% of 10 minutes is 3 minutes). Since most of the time I am welding on a setting well below 130 amps, the machine does not heat up as fast and will weld longer than the duty cycle rating before needing to cool down.
Unless you are welding two pieces of metal together that are several feet long and never stop to reposition, you will probably never reach the maximum duty cycle of the machine.
Can the Lincoln Electric Pro MIG 180 weld aluminum?
To date, I have never welded aluminum but I have had the need to do so in the past. At the time, I didn't have the proper equipment for it.
I suspected that in the future I would have the need to again weld aluminum so, I knew I wanted a machine that could handle it when that time came.
When the time does come I will only need to purchase the economically priced, Magnum Pro 100SG Spool Gun to instantly be ready to weld aluminum with this same machine.
Since the wire spools and leads are so easy to switch out on the Power MIG 180, I estimate it will take between 10 and 15 minutes at most to be ready to weld aluminum.
What is included?
When you unpack your new Power MIG 180 welder you'll find that it comes with everything you need to begin welding right away except for a welding helmet and gloves.
You will need to purchase or rent your own shield gas bottle from your local welding shop before you can MIG weld. But, if you can't wait to start, simply spool up the .035 flux core wire, install the proper tip and start marrying metal together.
The wire speed and amperage control knobs are just large enough that they can be adjusted with a gloved hand.
This welder comes with everything you need, including:
Magnum® PRO 100L gun, 10 ft. (3.0 m)
Gas and Gasless Nozzles
Cable Liner
.025 in. (0.6 mm) and .035 in. (0.9 mm) Contact Tips
Work Cable and Clamp
Adjustable Gas Regulator and Hose
Spindle Adapter
Sample Spool of .025 in. (0.6 mm) SuperArc® L-56 Mild Steel MIG Wire
Sample Spool of .035 in. (0.9 mm) Innershield® NR-211-MP Flux-Cored Wire
Learn-To-Use DVD
.035 in. (0.9 mm) and .025 – .030 in. (0.6 – 0.7 mm) Drive Rolls
.030 – .045 in. (0.7 – 1.1 mm) Knurled Drive Roll
.025 – .035 in. (0.6 – 0.9 mm) and .035 – .045 in. (0.9 – 1.1 mm) Wire Guides
NOTE: The manual is full of good information, is easy to read and the illustrations are very high quality.
What do I not like about the Power MIG 180?
There is very little that I do not like about my Lincoln Electric Pro MIG 180. The only two things that come to mind both have to do with the on/off switch.
My personal preference would be for the switch to be a little larger. The original switch went out after a year and a half.
However, I was able to find an exact replacement after just a couple of minutes online and easily replaced it myself.
Useful Information