Some of my welding carts are getting to be a bit beat up and in need of replacement. They are all 20+ years old. So, after looking at my used and abused carts, I wanted some fresh ideas for a nice, new cart for my shop.
Fortunately, there are a plethora of ideas out there? Ideas that do-it-yourselfers have come up with that I probably would never have thought of on my own. Plus, commercial carts of various styles and brands are available to choose from.
I should probably start by deciding how many machines I want my cart to hold. Then, decide what other tasks I might want the cart to do.
Such as:
Should welding cart have drawers or shelves?
Will you need it to carry a gas bottle?
Should I add hangers for welding helmets and other tools?         
One thing is for sure, I will make sure it's constructed of solid steel and has good, heavy duty casters.
Then, it's a choice of buying one or finding some plans and building a custom welding cart. A third choice is to draw one up with exactly what I need leaving off everything I don't need.  
Do You Need a Welding Cart
Once you assess your needs, there are a few different paths you can take too. As mentioned, most DIY'ers and pro's build their own carts. Again, either from some existing welding cart plans they find online or from a fully custom, self-designed cart. You have the same choices.
It can be hard to find a store bought cart with all the features you want. Having said that, it will save you the time if you need a cart quickly or don't have the time to build one.
In this article:
you will learn about some typical plans available online.
some good, and not so good, store-bought welding carts will be reviewed.  
some helpful hints, If you build your very own cart, will be provided surrounding the specific areas you should NOT cut corners on.
The goal here is to provide you with helpful information so you can decide between builing building a welding cart or purchasing one off the market.
In part, we will do this by providing links and resources to help you decide. It is possible that you might find a premade cart on Amazon that will fit your needs better than something you could build yourself at this time.
So, let's dig in and start exploring some welding cart ideas.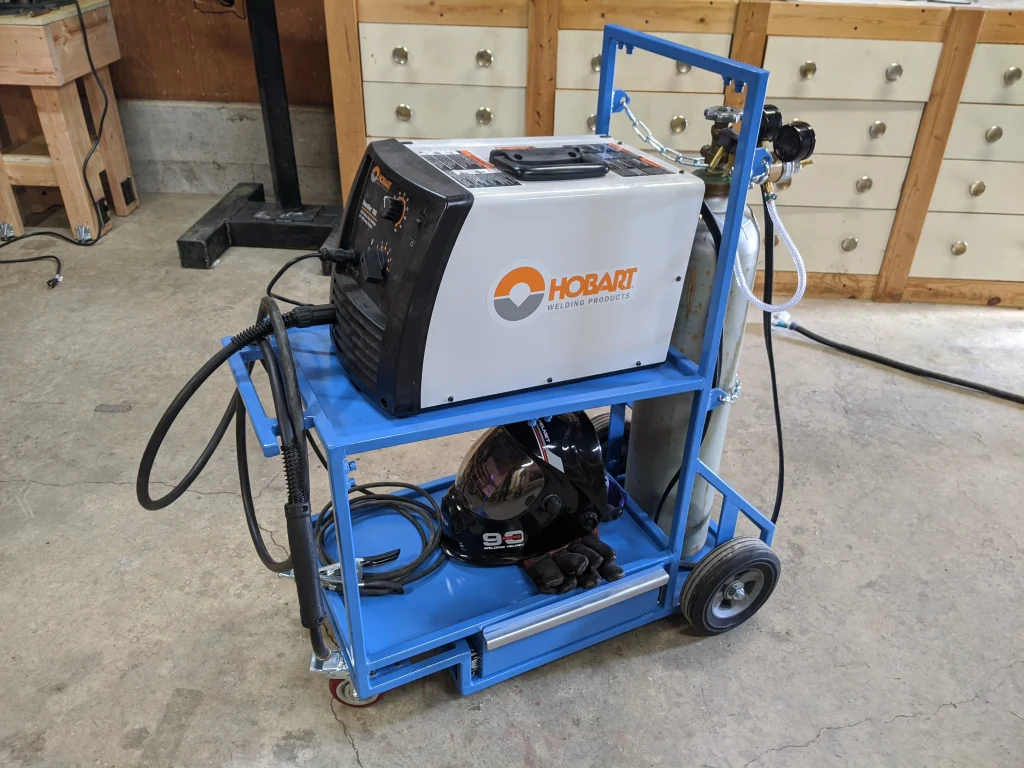 Welding Cart Plans
There are many good plans available online. There are also some low-quality plans. Consequently, we will need to sharpen our focus a bit.
This is typically done by asking pertinent questions to help refine our needs. Once whittled down to a workable concept, we can then select a plan that best fits our needs.
For instance: 
Will it need to hold one machine or multiple machines?
Does it need shelves or a possibly lockable area?
Can it be a bare-bones cart just for your welder and/or tank?
Does your welding cart need to be transportable?
Will your cart need to carry peripheral equipment such as chipping hammers, wire brushes, ginders, etc.?
Once you know the tools and equipment you need your cart to hold, you can start looking at some welding cart plans.
I have put together a guide to everything you need to think about before building your own welding cart at home.
A quick Google search will turn up several options; here are some that I like right away:
An Instructables page gives you step by step instructions on how to build a simple cart for your garage or shop. What I like about this plan is that it is a cart that makes use of scrap metal. The writer mentions he used steel bed frames he found at thrift store. Waste not, want not as they say.
I also like the Miller welding carts page because of the pictures. It's from their user forum and you'll see several homemade carts that have been submitted. While you won't have the dimensions or a ton of information about the cart, what you will get are some great ideas for your welding cart. When designing my cart I stopped here first and sketched out ideas I liked – which helped me plan for drawers, a cord station, a good tank cap space, etc.
Now, you'll see crazy stuff on Pinterest, like a welding cart made from a wheelchair, But outside of that you'll get some good ideas like you would on the Miller forum. I suggest you spend 15 minutes on Pinterest and see what carts catch your eye– you can then incorporate some design features into your welding cart plans.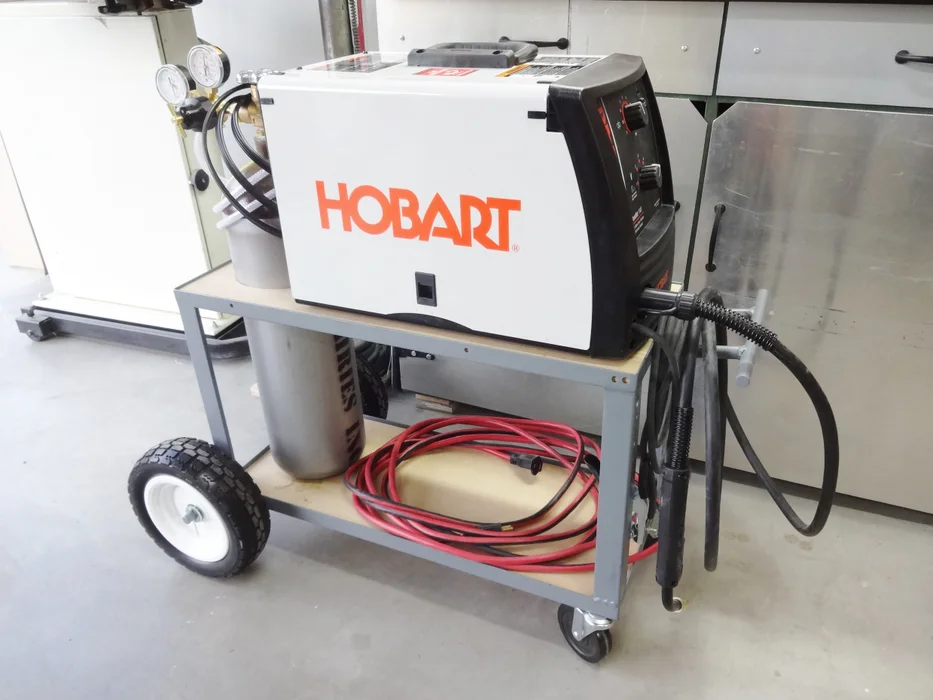 Let's say you want a premade welding cart plan that you can simply print out, grab your metal and get busy. Take a quick look at these.
I would call this one a miller welding cart, because it was designed for a miller machine. It is a solidly built cart and the plans are well laid out. If your machine has the same dimensions (or you want to make your own measurements around this concept), this might be a good plan for you.
Lastly, this is one great cart built from scrap tube steel. It's as basic as it gets!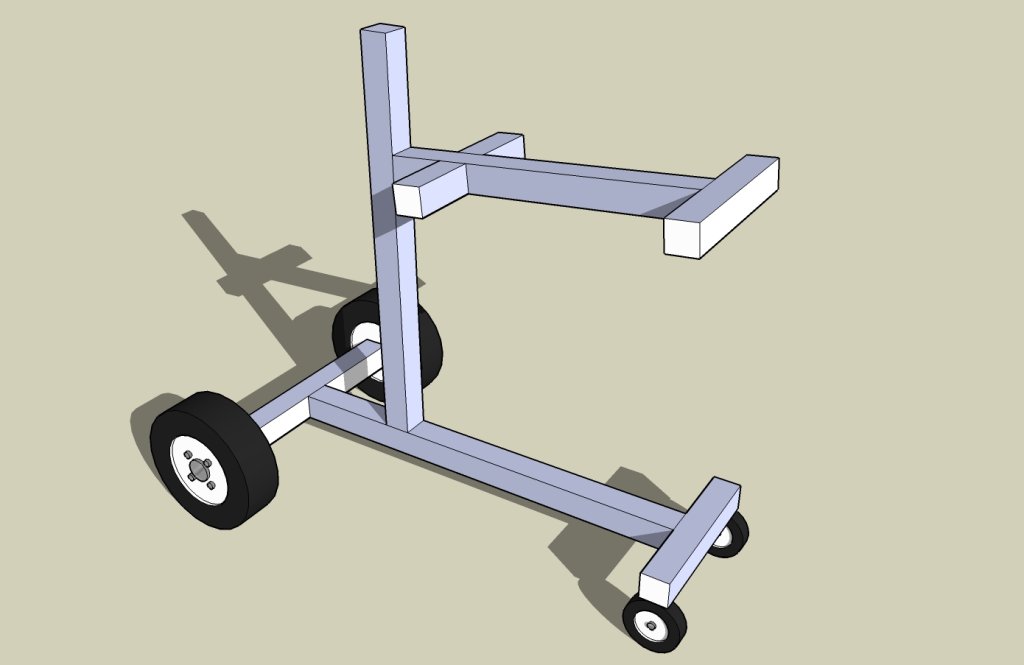 So when it comes to cart plans, you can either draw your own plans based on carts you see online or print out some ready-made plans and start fabricating.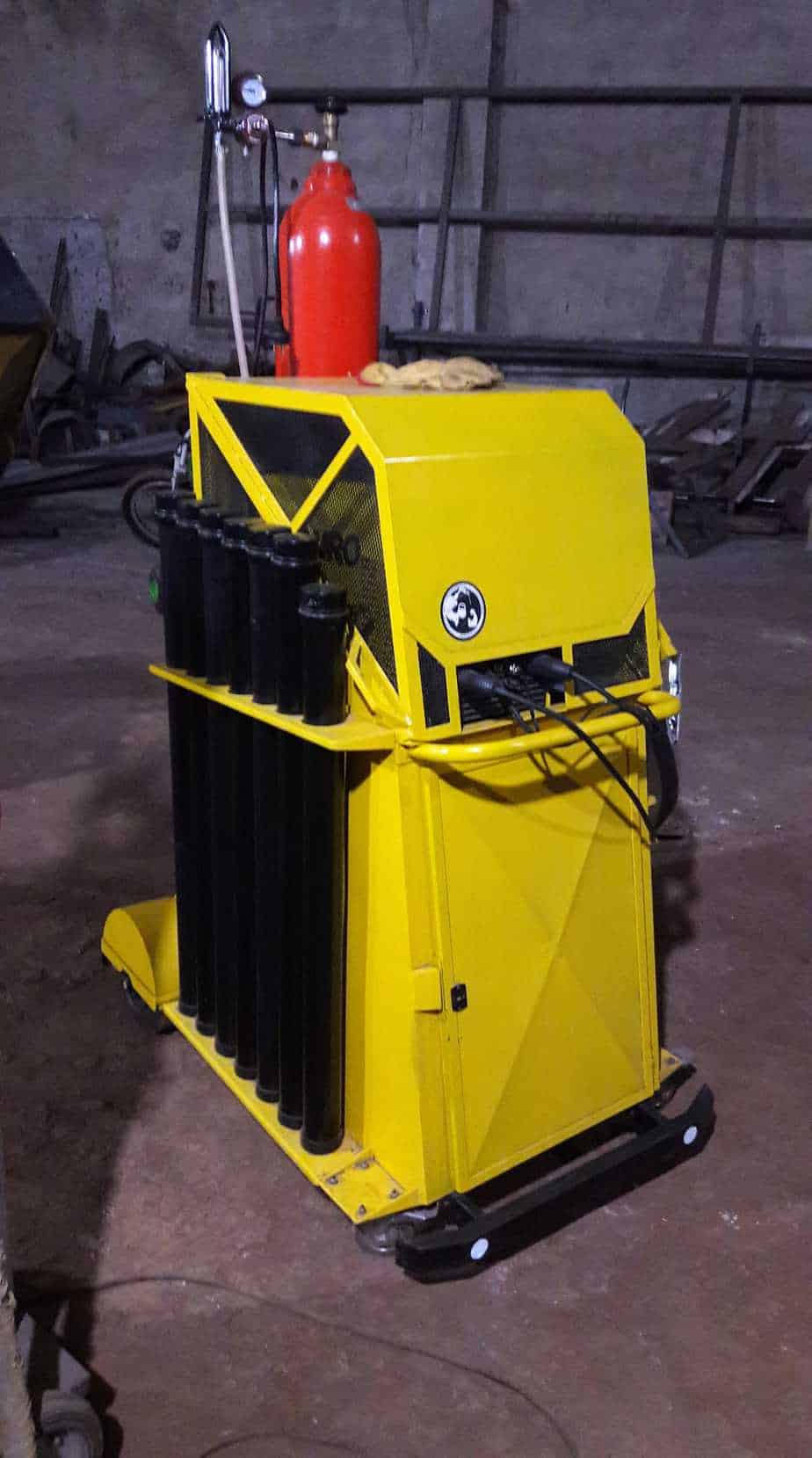 Commercial Welding Carts
You may not want to be bothered with building your own cart at this time. It is possible that you want something you can just assemble with no hassle.
If we look at our major options and start with the big 3 welding brands, Miller, Hobart, and Lincoln. All these manufacturers produce some top notch welders, so in theory, they should have good accessories. Let's explore some of their best selling carts now:
Hobart Welding Carts
Now I did a quick search and found only one Hobart cart. It's a simple, low profile cart. The reviews are kind of a mixed bag, so for the cost, I would skip this one.
I believe Hobart really added their welding carts as an afterthought to their welding machines. They did offer a deluxe cart that seemed like it would have been pretty nice. Unfortunately, it's been discontinued. I love the Hobart welders, especially the Hobart 140 for beginners, but skip their carts.
Pro-tip: I believe that, for all practical purposes, Miller and Hobart are the same company. So I think they distribute their better carts more often under the Miller name.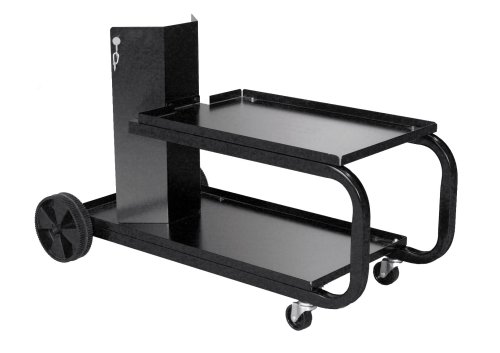 Miller Welding Carts
Again, the carts here seem limited and a little on the expensive side. I found this cart and was not impressed. It's basic, it's not a welding cart with drawers and the running gear seems suspect at best.
I also found this Migrunner cart from Miller. But oh my the price! I could buy a very basic welder, build a cart from scrap and get a great hood for less than the cost of this cart!
Lincoln Welding Carts
I found one basic low profile cart from Lincoln. There are only a few reviews on this cart. Outside of this model, I can't seem to find anything else available from Lincoln. I would skip this cart too.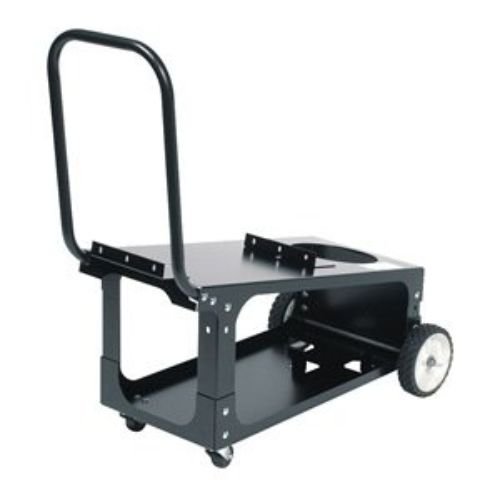 Other Brands
With the explosion of Amazon, there are a lot of imported goods from small manufactures with unknown brand names being sold. A lot of these carts are a mix of value and durability – said another way – you'll get a semi-decent cart for a good price.
For an in-depth review from us, take a look at this article about the Klutch Compact Locking Welding Cabinet.
Here are some choices:
The Yaheetech cart has three tiers and is constructed of steel. For about $50 and some assembly time – it might be worth it. There are some concerns about the castors rubbing against the bolts, and depending on the welder you pair it with, the possibility of a tip over.
This is a generic brand two-tier cart. Same issues as we found with the Yaheetech cart (poor instructions, bolts rubbing against the tank or welder). But, it might be in your price range and those issues could be something that's manageable. 
Outside Amazon there are the Harbor Freight welding carts that are worth mentioning:
Now, the welding cart with drawers, or welding cabinet as HF calls it, is a bit more money. But the reviews are pretty good and I like the storage drawers myself. For about $150 bucks it might be a good deal.
Thoughts on Commercial Carts
There are some well-made carts you can buy on the market, and some not so well made carts. Overall I would steer clear of anything you can buy. If you're not a straight up new welder, then why not take the time to make something sturdy yourself? Yes, it will cost about the same as a cart you can buy or more. Yes, it will take more time to build it – but it will probably last a lot longer than any welding cart you can buy.
Conclusion
In this article, we looked at many of the options you have for a new welding cart. You can build your own from premade plans, go full custom and fabricate your own unique cart, or simply purchase a ready to assemble welding cart.
I think the best mix of value and durability would be to build your own welding cart with drawers. You'll have a cart you're proud of, a place to store all your gear and a cart that will last you many years.