Klutch must have been thinking about me when they packaged extra bolts, nuts, washers, and cotter pins in the parts bag. It seems that I'm always either losing hardware after I open the package or the manufacturer fails to put the correct amount in. That certainly was not an issue with the Klutch cabinet.
These days manufacturers of MIG and TIG welding equipment have reduced the sizes of their welding machines to the point that most of them are truly portable. A nice cart like Klutch Compact Locking Elding Cabinet makes moving them around the shop much easier.
The cart can also double as a storage area for many of your welding accessories. Many of the carts on the market also come with other accessories such hangers to wrap the leads on. These make the whole package very handy and compact when not in use.
Why I bought Klutch Compact Locking Welding Cabinet?
As many of us do these days when we decide to purchase a new item, we go shopping online. Earlier, I had purchased a small cart for my MIG welder. That cart turned out to be a little too small and too lightly built.
My desire was to put the larger gas bottle on the cart with the welder, but I knew the old one just wasn't sturdy enough for it. Plus, I didn't have a cart to put my plasma cutter on.
Purchasing a bigger, sturdier cart for the MIG welder and bottle, then putting the Plasma cutter on the older, smaller cart seemed to be a good move. So I bought one.
I wanted a cart that was still compact but sturdy. Since I had purchased one of the cheaper carts the first time around, I knew I needed to spend a little more to get more.
Everything about the Klutch Compact Locking Welding Cabinet is beefier than the one I had. The rear wheels are taller and it has a wider track width. The front casters are heavy duty as well.
The extra width definitely makes me feel safer about carrying the larger gas bottle on it. And, the bigger wheels both front and back will make it easier to roll around.
The storage area underneath has a door that closes and locks. The lock and door are obviously not meant to secure anything valuable. They simply are not heavy duty enough. Having said that, I know where I can put a few things and keep them from walking off when my grandsons are on the loose.
Out of sight, out of mind as they say. Having a completely closed in area with a door will also keep grinding dust and debris off my welding helmet and anything else I choose to stick in there.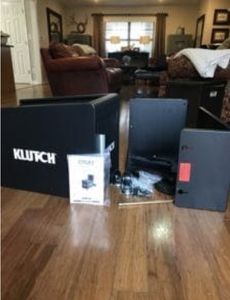 Unpacking and Assembling the Klutch Compact Locking Welding Cabinet
All of the parts were securely packaged and wrapped. Once everything was unboxed, unwrapped and laid out on the floor, I gathered up a few tools and took notice of the time.
I wanted to make sure I could provide you with the amount of time you might expect to fully assemble it. The time to assemble was almost exactly thirty minutes.
I did make an extra trip to the garage to get a portable drill/driver to make securing the top go a little easier, but other than that I was steady at it.
It helped that it came with very well-written assembly instructions. Because, the one schematic of the cart in the instructions was a little blurry, but still clear enough to see how everything fit together.
I did make an extra trip to the garage to get a portable drill/driver to make securing the top go a little easier, but other than that I was steady at it.
The tools I used were a 3/8″ drive ratchet with a 6″ extension and a 10 mm socket to do most of the work. In order to hold backup on a few of the bolts, I used a 10 mm combination wrench.
In the same amount of time that I took walking back to the garage to fetch the portable drill, I could have hand screwed the six, small phillip head screws in. In addition, I also used a pair of needle-nosed pliers to bend the cotter pins securing the rear wheels.
I do have one bit of advice. And, it doesn't solely pertain to assembling this particular cart. Anytime there are multiple screws or bolts securing one thing to another, never fully tighten any of them until all have at least been started.
Everything will line up much easier that way.
That was it. Completely assembled and ready for the welding machine in just under thirty minutes.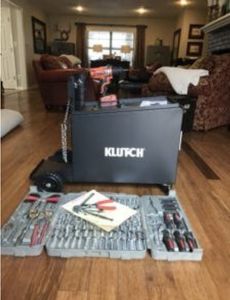 Features and Benefits
 Stands just 26in.H, allowing it to store under benches or shelving
The sturdy metal frame can hold up to 135 lbs.
 The stowaway compartment with a locking door is roomy enough to securely store your helmet, gloves and other welding supplies
Built-in cable wrap hangers keep welding cables organized and prevent damage by holding them off the ground
Two 6in. solid rubber tires and two 2in. solid rubber front casters provide easy mobility
Sturdy steel construction with a durable powder-coat finish
32in.L x 19in.W x 26in.H overall size
Shipping weight 47 lbs
6″ rubber wheels on back
2″ solid rubber wheels on front casters
How does it compare to similarly priced welding carts?
The Lincoln Electric cart is smaller and lighter if that is what you are looking for. The larger wheels should also allow it to roll over uneven ground better.
But as stated earlier, I was looking for a cart with more carrying capacity and I do not mind the slightly larger frame in order to gain sturdiness. I also like the enclosed storage area located on the lower shelf which the Lincoln does not have.
Overall, I am very satisfied with the Klutch Compact Locking Welding Cabinet. It looks nice and will be a great addition to the shop in appearance as well as function.
Marry some metal today!
Helpful Posts