Pipeline welders are in high demand due to the ever-growing oil and gas industry. The work is physically demanding and often requires long hours, but the pay is good and the benefits can be great. If you're planning on becoming a pipeline welder and searching for the best pipeline welder machine, then you're at the right place. 
The Lincoln LE31MP Welder is my top choice because it is a lightweight multiprocess transformer-based welder. It features fast tool-less drive roll changeovers and an adjustable drive system that reduces slippage. It is ideal for professional pipeline welders looking to get their own machine from a reputable manufacturer.
Pipeline welding is a type of welding that joins pipes and other types of tubing together. It is frequently utilized in natural gas, water, and oil transmission. Generally, pipeline welders work in various places, including construction sites, factories, and other industrial locations.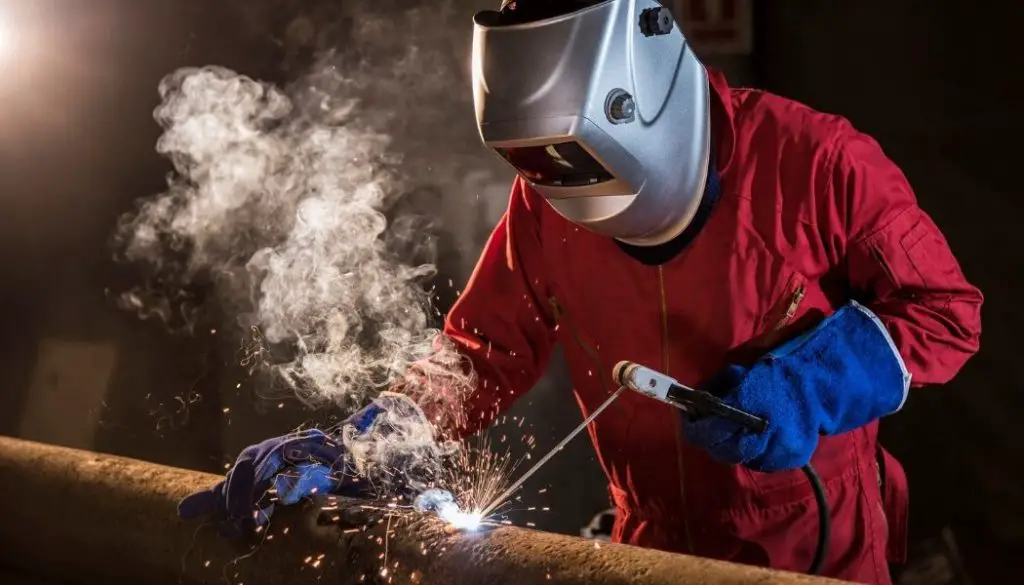 Before going into details, these are our Top 3 Picks:
Powerful 225 Amps
Pulse Function
Can Weld 1/4-inch Aluminum and 3/8-inch Mild Steel
Precise Foot Pedal Welding Heat Control
Pipeline Welder vs Pipe Welder: What's the Difference? 
The main difference is that pipeline welders generally work on a larger scale. They are responsible for welding together large piping sections, often in difficult and dangerous locations such as offshore rigs.
On the other hand, pipe welders usually work in a more controlled environment. They are responsible for welding smaller pieces of piping together, often in a factory or workshop setting.
What Are the Requirements for Becoming a Pipeline Welder?
A high school diploma or equivalent
Completion of an accredited welding program
A minimum of two years of welding experience
Physical strength and endurance to work in tough climate conditions
Good eyesight and hand-eye coordination
Welding certifications, such as the American Welding Society (AWS) Certified Welder program
Which Features to Look For in a Pipeline Welder Machine
When looking for the best pipeline welder machine, you should keep a few key features in mind. 
Amperage Range
The amperage range is the power output of a welding machine. It is crucial to consider it when purchasing a welder because it determines the thickness of metal. If you plan on welding heavier metals, typically between 1/8" to 3/8", you will need a machine with a higher amperage range.
A general rule of thumb, a welder must have an output of 30 amps for every 1/16-inch of thickness. So, if you plan on welding metal that is 1/8-inch thick, you will need a machine with an amperage range of at least 60 amps.
Wire Speed and Feed Rate
Wire-speed is the rate at which the welding wire is fed into the weld pool. The feed rate, on the other hand, is the rate at which the electrode is consumed. You should consider both because they determine the overall speed at which you can weld.
The best way to find the perfect combination of wire speed and feed rate is to experiment with different settings on a scrap piece of metal. Once you find the right one, you can weld for hours without having to stop and adjust the machine.
Duty Cycle
It refers to the time a welding machine can be utilized without overloading. For example, a welder with a duty cycle of 60% can be utilized for 6 minutes out of every 10 minutes without overloading. On the other hand, a welder with a duty cycle of 100% can be used continuously without overheating or causing damage.
Portability
Welding machines are frequently used in difficult-to-reach construction and manufacturing areas. In order to provide welders with the flexibility they need to work in these locations, they must be portable.
Furthermore, many welders are used in the field, requiring their portability from one job site to the next. Such machines meet these needs by being compact and lightweight.
Warranty
Warranty is a must to consider before deciding on a welding machine. That is because it protects you from having to pay for expensive repairs.
The length of the warranty varies by manufacturer, but most offer at least a 3-year guarantee. Some companies even offer extended warranties for an additional cost.
Brand & Price
There is no doubt welding machines are expensive. However, with the right choice, it is a cost-effective investment that might last for a lifetime. To find the best bang for your buck, compare the features of different machines and choose the one that meets your needs and budget.
Many reputable brands offer a wide range of welding machines at different price points. Some of the most popular brands include:
Lincoln Electric
Miller Electric
Hobart Welders
Esab Welders.
What Skills Do You Need to Be a Pipeline Welder
Becoming a pipeline welder is a great way to enter the exciting, in-demand welding field. Though the job is physically demanding, it can be very rewarding financially and emotionally.
You'll need the following skills to be a successful pipeline welder:
Physical Health and Stamina
You'll be working long hours in challenging positions and environments such as cramped spaces, high places, and bad weather. You'll need to be in good physical health and have the stamina to work long hours on your feet.
Welding Skills
Of course, you'll need to have welding skills to be a pipeline welder. This includes being able to weld various types of metals using different welding processes such as MIG, TIG, and flux-cored welding.
If you're new to welding, you can get certified through a welding program at a trade school or community college. Many welders also learn on the job by working as an apprentice under a more experienced welder.
Mechanical Skills
Pipeline welders also need to have strong mechanical skills. This includes being able to troubleshoot and repair welding equipment, as well as understanding how to use other tools such as grinders, saws, and torches. In addition, you must also know how to operate generators, pumps, and compressors.
Problem-Solving Skills
Welding is an imperfect science, and things don't always go according to plan. You'll need to be able to troubleshoot problems such as cracked welds, holes in metal, and incorrect settings on welding equipment as they arise and you'll need to come up with creative solutions on the fly.
Communication Skills
Most welders work as part of a team, so you'll need to be able to communicate effectively with other members of your crew. This includes being able to take and follow instructions, as well as working well under pressure.
Read and Interpret Blueprints
You'll be responsible for welding pipes and other structures according to blueprints or other drawings. This requires being able to read and interpret blueprints so that you know exactly what needs to be welded, where and how.
Hand-Eye Coordination
Pipeline welding requires a high degree of hand-eye coordination. This is because you'll need to be able to control the welding torch or electrode while also watching the weld pool to ensure that the weld is being made correctly.
Safety Skills
Lastly, working with high-powered welding equipment comes with certain risks. As a pipeline welder, you'll need to be aware of these risks and take precautions to protect yourself and those around you. This includes understanding how to use personal protective equipment (PPE) such as welding helmets and gloves and being aware of potential hazards such as fire, electrocution, and fumes.
Best Pipeline Welder
Pipeline welding is a specialized type of welding that requires specific machines and accessories. If you're in the market for a pipeline welder, here are my top 6 picks available on the market:
1. Lincoln LE31MP MIG Welder
Duty Cycle: 60%
Amp Output: 80-140
Warranty: 3 Years
Lincoln LE31MP is a lightweight and portable welder that connects to 120-volt power. It works well with MIG, Stick, Spool Gun, Flux-Cored, and TIG welding.
In addition, it has an intuitive user interface, easy setup, and a full list of accessories that permit welding in no time. With a duty cycle of 60%, this welder is perfect for light to medium-duty welding applications.
Furthermore, its fast tool-less drive roll changeovers with dual-track drive rolls ensure positive flux-cored wire feeding with common wire diameters will have you up and welding in no time. Plus, the adjustable drive system reduces slippage and the possibility of wire tangling.
Pros
Multiprocess transformer-based welder
User-friendly interface
Smooth Arc – no spatter or noise
Easy to set up and use
Foot pedal and spool gun
Includes accessories
Cons
It comes in refurbished condition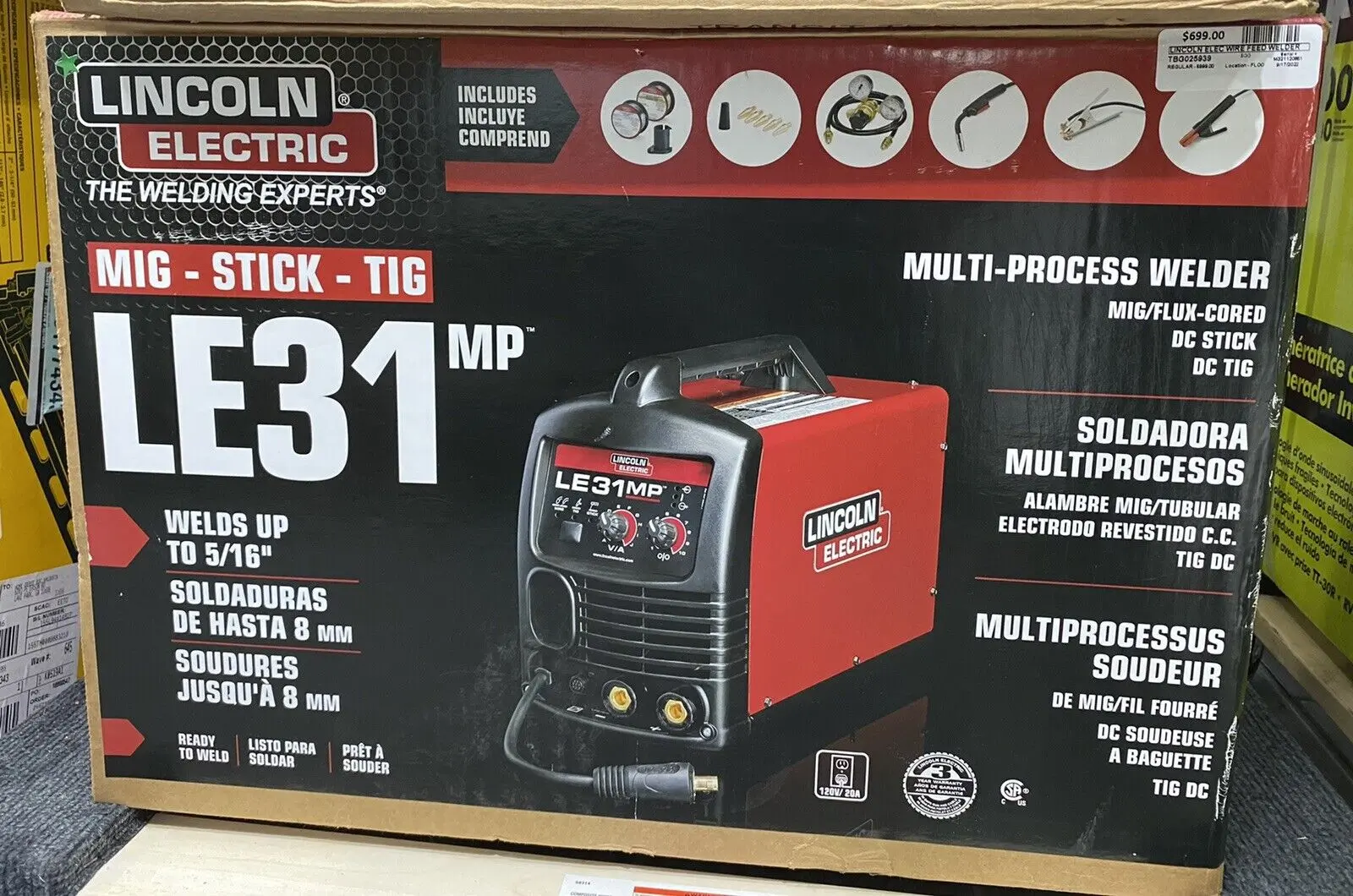 2. PRIMEWELD TIG225X Tig/Stick Welder
Powerful 225 Amps
Pulse Function
Can Weld 1/4-inch Aluminum and 3/8-inch Mild Steel
Precise Foot Pedal Welding Heat Control
Duty Cycle: 100% at 100 amps
Power Output: 225 amps AC/DC
Warranty: 3 Years
Primeweld is a leading manufacturer of welding machines, and the TIG225X is their top-of-the-line model. This machine is perfect for pipeline welding, as it has a duty cycle of 100% at 100 amps and an output of 225 amps AC/DC.
The best part is that there are tons of settings and accessories such as CK torch, flex head, Superflex hose and DINSE, that you can use to weld different types of metals including aluminum and steel.
In addition, it has a pulse and car frequency controls that enable you to weld thin metal sheets with ease. Plus, the 3-year warranty means you're covered in any problems.
Furthermore, the pedal amperage control makes it easy to adjust the welding current, and the digital display shows you the exact settings you're using. Overall, this is an excellent machine for making pipeline welds.
Pros
AC cleaning cycle – allows removing impurities and oxidation
Low-temperature control
Easy to read digital display
3-year warranty
Made in the USA
Cons
It has loud fan noise
Foot pedal isn't durable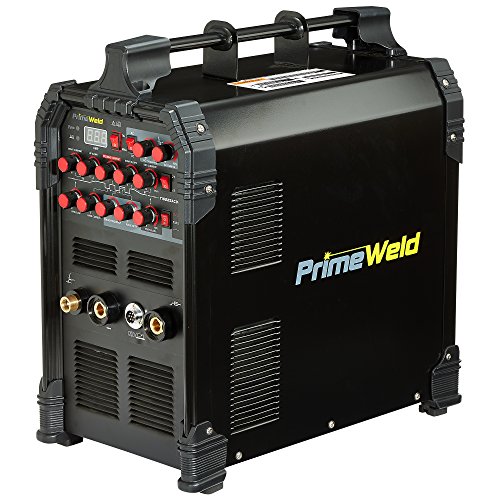 3. Hobart Handler 210 MVP MIG Welder
Can Weld 1/4 to 3/8" Mild teel
Infinite Voltage Control
3 Year Warranty
Made in USA
Duty Cycle: 30%
Amp Range: 25-210
Warranty: 3 Years Limited Warranty
This solid performance welder is perfect for the do-it-yourselfer or light fabricator who wants to weld auto body panels, repair farm equipment, or just have a machine around for occasional projects. It's easy enough to learn and progress as your skills develop.
Durable wire feed cast aluminum drive system ensures smooth and precise feeding of wires. You can set it up for gasless welding or use shielding gas with the included regulator and hose.
This welder has an infinite voltage control that allows you to dial in the perfect weld bead, and the 7-position tapped voltage control selector gives you the ability to weld at different thickness
In addition, it has easy-to-change drive rollers and a comfortable handle that makes it easy to carry around. if you are looking for a versatile and powerful machine that can weld thicker materials, Hobarts 210 MVP is the right choice.
Pros
Durable and long-lasting – top quality material
Built-in gas solenoid
Versatile, powerful and multi-voltage
It comes with everything you need to get started right away.
Made in the USA
Affordable – Gives almost the same performance as Miller Welder
Cons
Heavyweight – not easy to carry outside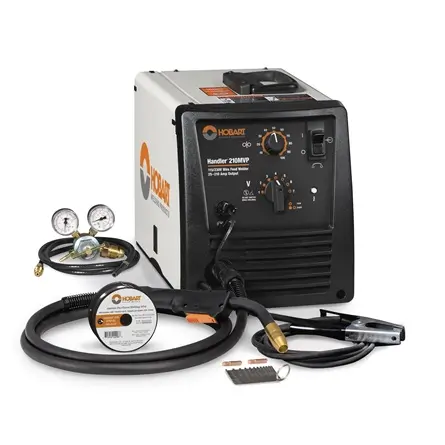 4. DEKOPRO 110/220V MMA Welder
Advanced IGBT Inverter Technology
Powerful welder capable of welding mild steel, steel, stainless steel and cast iron
Energy efficient design
Lightweight and compact with carry handle
Duty Cycle: 40/60%
Output Range: 160 AMP
Warranty: 1 Year
DEKOPRO is a Chinese company but their MMA welder is one of the best in the market. It uses advanced IGBT Technology that makes it more energy-efficient and provides a better welding arc.
If you're just starting out with pipeline welding and searching for a cost-effective yet high-performance machine, this welder is worth checking out.
It is easy to set up and use. The digital display shows you the current, voltage and wire speed, so you can always get the perfect weld. The machine also comes with a ground clamp, welding mask, gloves and an electrode holder.
What I love about this welder is the high-performance, fully mute motor fan with an instant cooling function. This makes it easy to use for long periods of time without getting overheated.
Pros
Lightweight and compact design – includes a handle to carry around easily
Excellent performance MMA welder with ETL certification
Unique IGBT inverter technology
Versatile: Can be used in automobile, construction or any kind of industry
Adjustable current-voltage and wire-speed
Cons
Works just okay with 7018 electrodes as compared to the other machines
The accessories are made of cheap material and might not last for long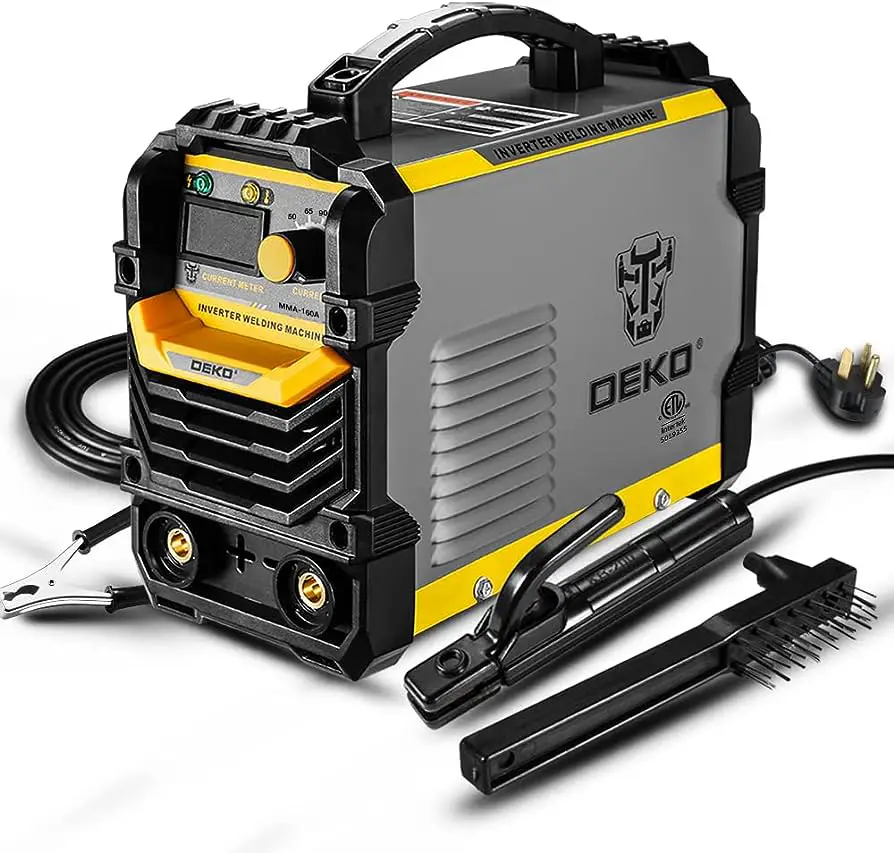 5. Forney Easy Weld 261, 140 FC-i Welder
Infinite Voltage and Wire Feed Speed Control
Up to 140 Amp Can Weld 1/4-inch Mild Steel
Lightweight and Portable at 19 Pounds
30% Duty Cycle at 90 Amps
Duty Cycle: 30% at 90 amp
Output Range: 140 amp
Warranty: 12 Months
Manufactured in the USA Forney is one of the most trusted brands regarding quality and performance. The Forney Easy Weld 261, 140 FC-i Welder is a MIG welder that is specifically designed for beginners and do-it-yourself projects.
It uses flux core wire to weld pipe made of stainless steel, mild steel or aluminum. With its infinite voltage and wire feed speed control, you can dial in the perfect weld every time – regardless of experience level. Plus, with its powerful 140 Amp output, it can easily handle even the thickest steel plates. 
Furthermore, this welder is very easy to set up and use. It has all the necessary accessories included. Plus, it has an easy-to-use control panel with a digital display showing you the current and voltage.
Pros
Infinite power voltage gives you the perfect weld
Easy to use – get ready to make your first weld within 5 mins
All metal case – built to last
Portable and lightweight – easy to carry around
Thermal overload protection prevents damage to the welder
Include 15-20 adapters and integrated cable wrap
Cons
Only works with flux core wire (not MIG wire)
Not suitable for thicker metal and larger projects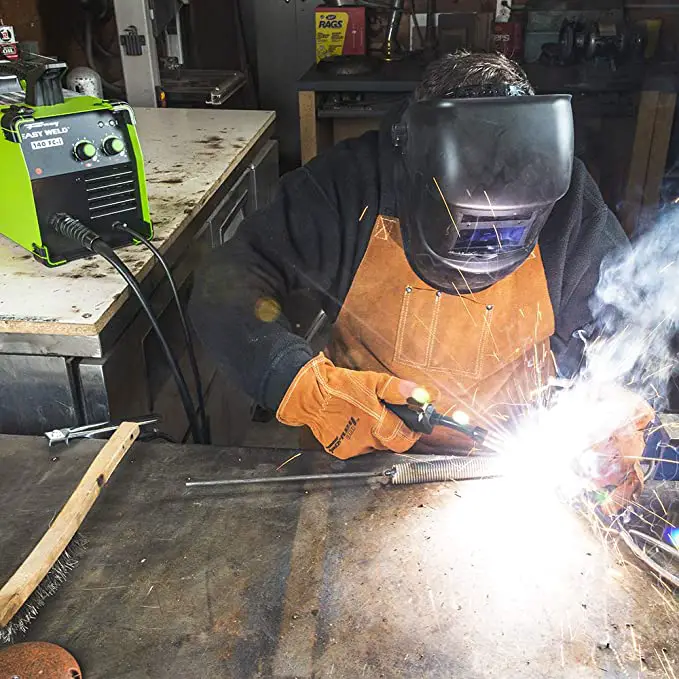 6. YESWELDER Digital 205DS MIG Welder
IGBT inverter technology
Digital Display
Capable of MIG, TIG, Stick Welding
Automatic Protection for Over-current, over-voltage, and over-heating
Duty Cycle: 60% at 160A, 100% at 123A
Output Range: up to 200 amp
Warranty: 4 Years
YESWELDER 205DS is a 3-in-1 multi-process and dual-voltage welder that can do MIG, MMA and lift TIG welding. It is one of the most versatile welders in the market and perfect for people who want to do a variety of welding projects.
With its smooth weld and fast-burning arc, this welder is suitable for any kind of welding project, including automotive, equipment building, home projects or maintenance and repairs.
Moreover, the IGBT inverter technology provides high power in a light, compact unit – making it easy to take with you wherever you go. What I like about this welder is the synergy control feature which lets you automatically change the wire speed and voltage to get the most accurate welds.
Pros
Gasless or Gas MIG
Welds perfectly with 7018 and 6011 electrodes
2T/4T design – suitable for both quick fixes as well as continuous work
Digital display
Cons
The instructions manual is not well-written
Takes some time to get the right settings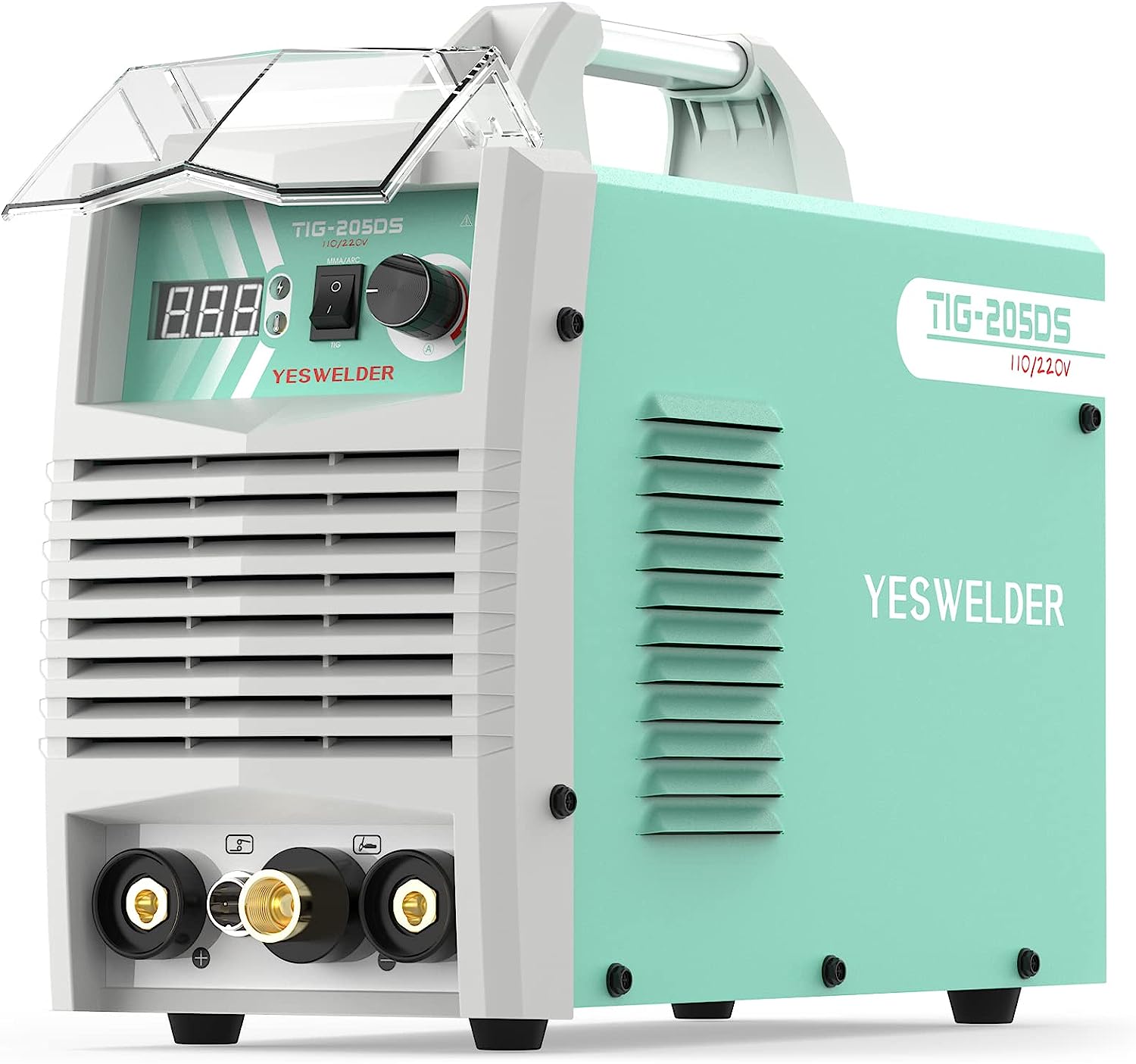 What Are the Other Tools Needed for Pipeline Welders?
Pipeline welders use a variety of tools in addition to welding equipment. This includes:
Generators – to provide power for welding equipment
Pumps – to circulate cooling water through welding torches
Compressors – to supply air for welding equipment
Grinders – to remove paint, rust, or weld beads
Saws – to cut metal pipes
Torches – to preheat metal before welding or cutting metal pipes
Personal protective equipment (PPE) such as welding helmets, jackets, gloves, steel shoes, and eye and ear protection.
Pipeline Welding Common Mistakes You Must Avoid
Pipeline welding is a challenging and complex process. Many things can go wrong, so it's important to be aware of the most common mistakes so that you can avoid them. These include:
Bad Metal Preparation: If the metal is not properly prepared before welding, it can lead to problems such as porosity, inclusions, and cracks.
Tacking: Tacking is the process of welding short segments of metal together to hold them in place before welding the seams. If the tack welds are not properly done, it can cause the pipes to leak or break.
Welding Out-of-Position: Pipeline welders often have to weld in difficult positions such as overhead or horizontal. Hence, welding inaccurate position can lead to weld defects such as lack of fusion, poor penetration, and slag inclusions.
Incorrect Welding Process: Many types of welds can be used for pipeline welding, but not all are suitable for every application.
Lack of Fusion: One of the most common problems with pipeline welds is the lack of fusion. This occurs when the metals being welded have not melted together completely, resulting in a weak joint.
Not monitoring the arc length: The arc length is the distance between the electrode and the metal being welded. If the arc length is too long, it can cause the weld to be weak or porous. On the contrary, if the arc length is too short, it can cause the metal to overheat and melt.
Not observing travel speed: The travel speed is the speed at which the welding torch or electrode moves along the metal. If the travel speed is too fast, it can cause the weld to be sloppy and have poor penetration.
Related Questions
How Much Do Pipeline Welders Make at the Most?
Pipeline welders are among the highest-paid welders. The median annual salary for pipeline welders is $60,370, and the top 10% earn more than $85,490. Salaries of pipeline welders depend on the skill level and type of industry. Typically, an entry-level pipeline welder makes hourly wages of $10 to $20. While the skilled ones make $25 to $50 per hour.
Which Certification Do I Need to Become a Pipeline Welder?
There are many types of welding certifications, but not all are required to become a pipeline welder. The American Welding Society's (AWS) Certified Welder program is the most common certification for pipeline welders. To become a certified welder, you must pass a written exam and a welding performance test.
Which Pipeline Welder Machine Is Best Among Gasoline, Propane, Diesel? 
The best pipeline welder machine is the one that best suits your needs. There are many factors to consider when choosing a welder, such as the type of metal you'll be welding, the thickness of the metal, and the power source.
A gas-powered welder is a good choice if you're welding thin metals, such as sheet metal or tubing. If you're welding thicker metals, such as plate steel or cast iron, a propane- or diesel-powered welder will be more powerful and will have more features.
Is Pipeline Welding Hard?
Pipeline welding is challenging because, in addition to substantial training and expertise, a pipeline welder is expected to operate in extremely dangerous settings where one wrong move could endanger his or others' lives. That is also why it is one of the best-paying professions in the welding industry.
Moreover, pipeline welders often have to travel to different job sites, as pipelines are often located in remote areas. The amount of travel required varies from job to job, but it is not unusual for pipeline welders to be away from home for several weeks at a time.
What Kind of Welding Do Pipelines Use?
Pipelines use a variety of welding processes, including shielded metal arc welding (SMAW), flux-cored arc welding (FCAW), gas tungsten arc welding (GTAW), and plasma arc welding (PAW).
What Is a 5G Welding Position?
The 5G welding position is the most common position for welding pipes. Because the pipe is resting flat on its side, it's also known as the flat position. In this position, the welder has good access to both sides of the joint and can see the melt pool clearly.
What Is TIG Welding Process?
TIG welding, sometimes spelled TIG or Tigwelding, is an arc welding technique that produces welds with a non-consumable tungsten electrode. A shielding gas, commonly Argon, is utilized to protect the weld area from external pollutants. Most metals, including aluminum, stainless steel, and cast iron, can be utilized with it.
Related Questions