The best angle grinders for weldings run at over 10,000 RPM, over 6 Amps, 4.5 inch disc size, and are made from a reputable manufacturer.
The Avid Power Grinder is my top choice because it has a comfortable, ergonomic design and movable grip handle. It features a powerful motor to handle heavy-duty applications and a cast aluminum gear housing. It is ideal for welders looking to improve their work without spending a fortune.
Take a look at the market and you will find plenty of grinders available. How do you know which one is best for welding?
The answer is not simple, depending on your needs and preferences. However, there are some grinders that we as welders use more often than others.
I will share with you the best three grinders I use from my own welding experience.
Powerful 7.5 Amps
No-Load 11,000 RPM
Cast Aluminum Housing
Quick Release Grinder Guard
Powerful 13 Amp Motor
8,500 RPM Grinder Speed
Adjustable Guard
Runs off of AC/DC power
3/4 Horse Power Induction Motor
Rugged Cast Iron Base
Precision Machined Aluminum Tool Rest
Rear Exhaust Ports in Wheel Guards
Let's see more detail the three grinders mentioned above and how I use them.
1. Avid Power 7.5 Amp 4-1/2 inch Angle Grinder
I actually own two of these. I keep a grinding disc on one and a wire wheel on the other.
Whether you're grinding slag from welds, shaping hunks of wood with a blade attachment or resurfacing cement, this Avid Power angle grinder brings speedy rotation and versatile muscle to the job.
With a maximum rotational speed of 11,000 RPMs, easy to use locking thumb switch and the protection of a quick-release grinder guard, this tool puts the power and easy use in your hands, while the ergonomic design and movable comfort grip handle provide hours of precision control.
The serious muscle that's built to last, this 4 1/2 in. small angle grinder features the long life of heat-treated gears and power of 7.5 amps to get you through countless jobs. And since this grinder works with any standard 120-volt outlet, you'll never have to worry about running out of batteries before the job is through.
A solid tool-built Avid Power tough and backed by a year-long warranty, this grinder puts power that you can count on in your hands. Cutting, grinding, or shaping, get it done with Avid Power.
Includes: Metal grinding wheel, spanner wrench, and soft grip handle
7.5 Amp, 11,000 RPM operation
Powerful motor handles heavy-duty applications
Cast aluminum gear housing
Quick release grinder guard can be located at various positions to wheel without special tools
The Avid Power 7.5 Amp 4-1/2 inch Angle Grinder is my recommended for individuals who regularly undertake heavy-duty grinding, shaping, and resurfacing projects. This could include professional contractors or avid DIY enthusiasts.
Pros:
The Avid Power angle grinder can be used for grinding, shaping, and resurfacing various materials, from wood to cement.
With a rotational speed of 11,000 RPMs and a 7.5 amp motor, this grinder has the muscle to handle heavy-duty applications.
The grinder features an easy-to-use locking thumb switch, a quick-release grinder guard, an ergonomic design, and a movable comfort grip handle for precise control.
The grinder can be powered by any standard 120-volt outlet, eliminating concerns about battery life, and a year-long warranty backs it.
Cons:
Although powerful, this grinder needs to be connected to a power outlet, which can limit mobility on larger work sites or outdoor locations.
Although a year-long warranty is offered, it is shorter than other brands.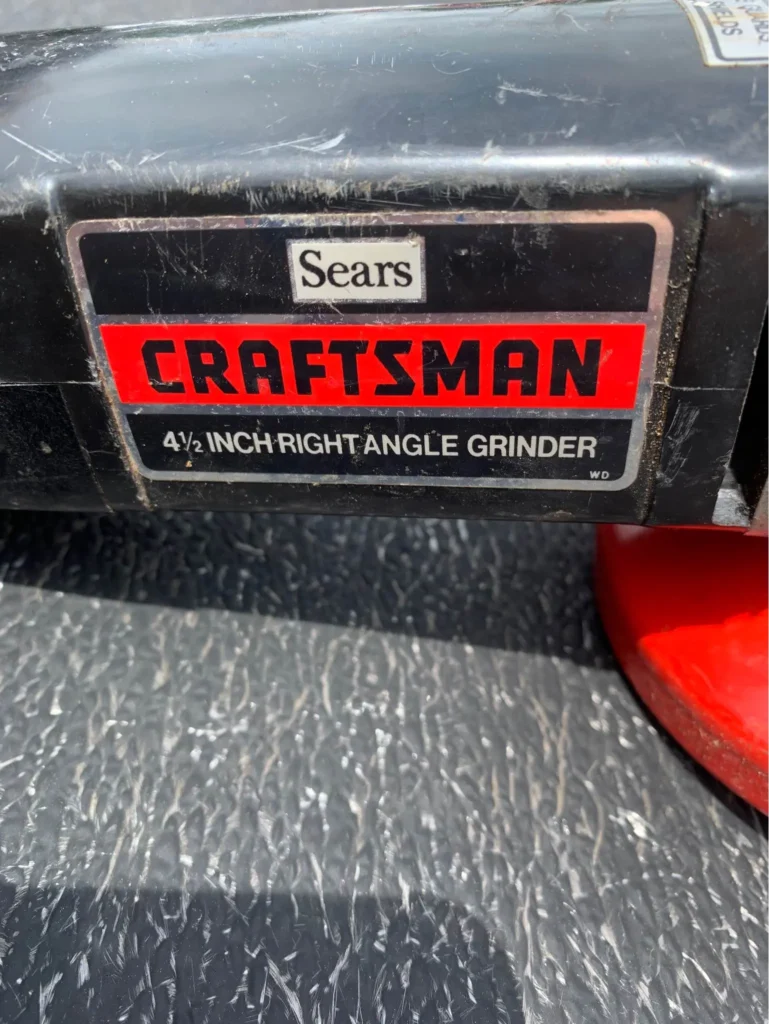 2. DeWalt 7″ Angle Grinder
My 7″ DEWALT is quite old and has seen a world of abuse. It may look rough but it keeps doing its job!
The DEWALT 7-inch medium angle grinder is a compact yet powerful grinding tool offering 13.0 Amps of power at speeds of up to 8,000 RPM.
This heavy-duty tool features a rear-handle grip area for better control and comfort, an adjustable keyless guard that can be easily moved to your preferred position, and a spindle lock that makes changing wheels quick and easy.
Other features include sealed roller bearings to prevent debris from entering, external brush doors for easy access during servicing, and two-position side handles for optimal control.
The DeWalt 7″ Angle Grinder is recommended for people who require a powerful and durable grinding tool for more rigorous tasks. It is well suited for professional contractors or tradespeople who need a reliable tool for continuous heavy-duty use.
Pros:
With 13.0 Amps of power and speeds of up to 8,000 RPM, the DeWalt 7-inch grinder can handle demanding tasks.
The grinder features a rear-handle grip area, an adjustable keyless guard, and a spindle lock for easy wheel changes.
The grinder's sealed roller bearings prevent debris from entering, prolonging the tool's life.
External brush doors provide easy access during servicing, which could simplify maintenance and increase the grinder's lifespan.
Cons:
Compared to other models, this grinder has a lower maximum speed (8,000 RPM vs. 11,000 RPM in some others).
The larger 7-inch size might be unwieldy for certain applications.
3. DeWalt 9″ Bench Grinder
This is a lighter-duty grinder that does not take up very much space. Mine works flawlessly.
After years of industrial use, I trust DeWalt grinders. They are extremely reliable and perform at a high level for hours per day. There are plenty of grinders that are cheaper or have more marketing hype. But if I had to pick a brand for a job that had to be completed on a strict schedule, then I am picking DeWalt every day of the week.
Medium and coarse grinding wheels
Large, adjustable eye shields and spark deflectors for safety
Adjustable tool rests
12-1/2-inch space between the discs so you can grind large pieces
3,600 RPM for high speed material removal
Powerful 3/4 horsepower motor
The DeWalt 9″ Bench Grinder is recommended if you need a compact, reliable, and safety-conscious grinding tool for medium-duty tasks. It's robust features and brand reliability make it suitable for professionals who have strict schedules and need a dependable tool, as well as for hobbyists who value reliability and performance.
Pros:
The DeWalt 9″ Bench Grinder is noted for its reliability even after years of industrial use, and its compact design doesn't require much space.
The grinder includes large, adjustable eye shields and spark deflectors for user safety.
It provides a 12-1/2-inch space between the discs, allowing for grinding of large pieces.
The grinder operates at 3,600 RPM and has a robust 3/4 horsepower motor, enabling high-speed material removal.
Cons:
This grinder is a lighter-duty tool, which might not be suitable for heavy-duty, industrial tasks.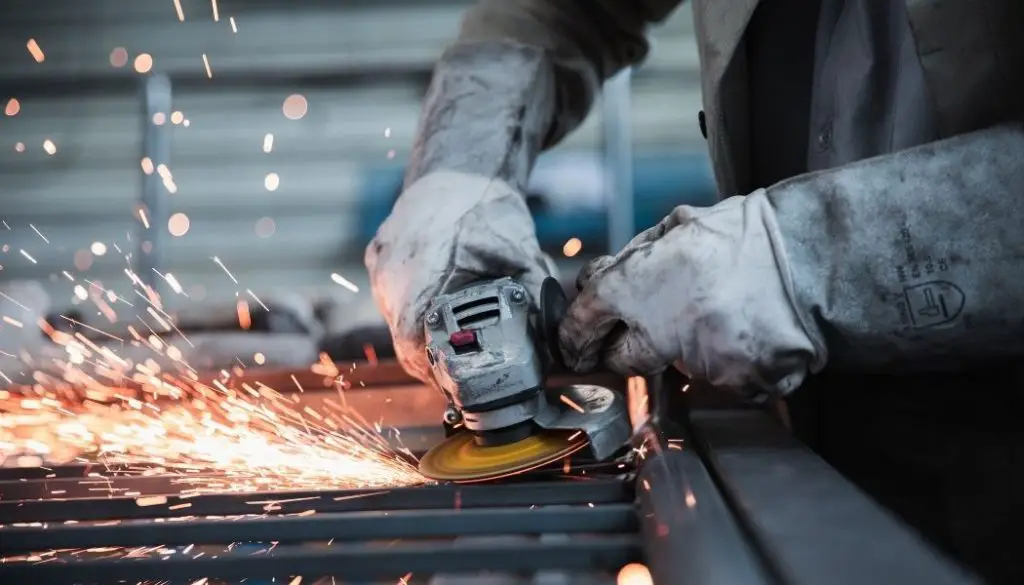 4 Best Grinding Discs for Welding
There are many choices when buying grinding disks but finding the right one can be a real nightmare. The wrong disk can ruin a great workpiece, burn through your spindle bearings in seconds, or destroy your work area.
These are my favorites:
1. Flap Grinding Discs
Flap grinding disks are perfect for welding applications where the parent material is too hard to grind on either side of the weld. They're also great for confined spaces, overhead work, and removing weld spatter without over-grinding.
These discs are forgiving and allow you to blend into the parent material when necessary. And they come in 60 -grit or finer so you can avoid large gouges.
2. Fiber Discs
I love Norton Blaze F980. You can use these discs to grind stainless steel, inconel, and titanium without worrying about them wearing out too quickly or breaking apart. These discs are also designed with an anti-clog coating which helps prevent clogging during operation. And they come in various sizes so there's one for every job!
The self-lubricating "supersize" treatment will help cut cooler and improve workpiece finish, while the ceramic aluminum oxide is self-sharpening and will allow for a faster cut than aluminum oxide.
3. Depressed Center Cut Wheel
If you have a project that requires aggressive weld removal, Depressed center wheels are the best choice for your application. They excel in this work by providing excellent cut-rate and product life. You'll be able to get through your project quickly, with minimal downtime between cuts.
They also offer maximum safety because they don't require special equipment or skills to properly use them.
4. Wire Wheel
Different wires types are meant for different materials. Below I listed base metals and which type of wire is appropriate:
Metal – Carbon Steel, Brass or Nylon Wire.
Aluminum – Stainless Steel Wire, Brass, or Nylon.
Stainless steel – Stainless steel, Brass, or Nylon
Iron – Carbon Steel Wire, Brass or Nylon
Cover and Brass – Stainless steel, brass, and Nylon
These Wire cup, wheel and end brushes come with three options:
Crimped Wire Brushes – Each single filament is only supported by the adjacent strand, allowing for increased mobility and adaptability in tight or inaccessible areas. 
Standard Twist Knot Wire Brush – Flatwires are formed out of straight wires twisted together to form a more robust rope-like substance and are used when we need higher impact.
The Stringer Bead Twist Knot Wire Brush – The right tool for tough weld scale cleaning, removing beading at the junction of two pipes or roots and hot-weld pass. Due to its high-impact action and narrow face design, which provides greater surface area contact against surfaces while still being able to withstand extreme conditions such as heat generation from aluminum alloys heated up during processing, this type can also perform well in more aggressive brushing applications.
Quality carbon steel wire
Speed of up to 20,000 rpm
3 different wire wheel brushes, coarse crimped, twisted knotted and wire wheel brush
Related Questions
How Is Angle Grinder Used In Welding?
Welding has definitely changed since I first started learning it. I've seen tools come and go, but the one tool that has always been around is the angle grinder. It's been around since power grinder was a bad word.
Automatic welding has changed the way we use our angle grinders. In the old days, they were used to rough and finish off parts and remove burrs. Now we mainly use them for cleaning and preparation before welding, and for removing the welded seam.
How Long Will A Wire Brush Last?
The cheap ones work the same as the expensive ones. Now, if you go to a hardware store and get a cheap one from their parts department, don't expect it to last very long at all. The brushes are in most cases poor quality so they will melt and break easily.
Read Next