To start welding, choose a welding process (MIG or Stick), acquire appropriate safety gear, set up your welding machine according to the manufacturer's guidelines, and practice welding on scrap metal to develop technique and skill.
The essential equipment for a beginner welder includes a welding machine, welding gloves, a welding helmet, flame-resistant clothing, leather boots, a cutting torch, and an angle grinder.
The art of welding has been around since the middle ages. Through its evolution, welding has been refined so that just about anyone can learn the basics.
Within a short time, the new welder can handle small to medium-sized projects. It will take time to gain the knowledge and obtain enough practice to procure the necessary skill to tackle more complex jobs.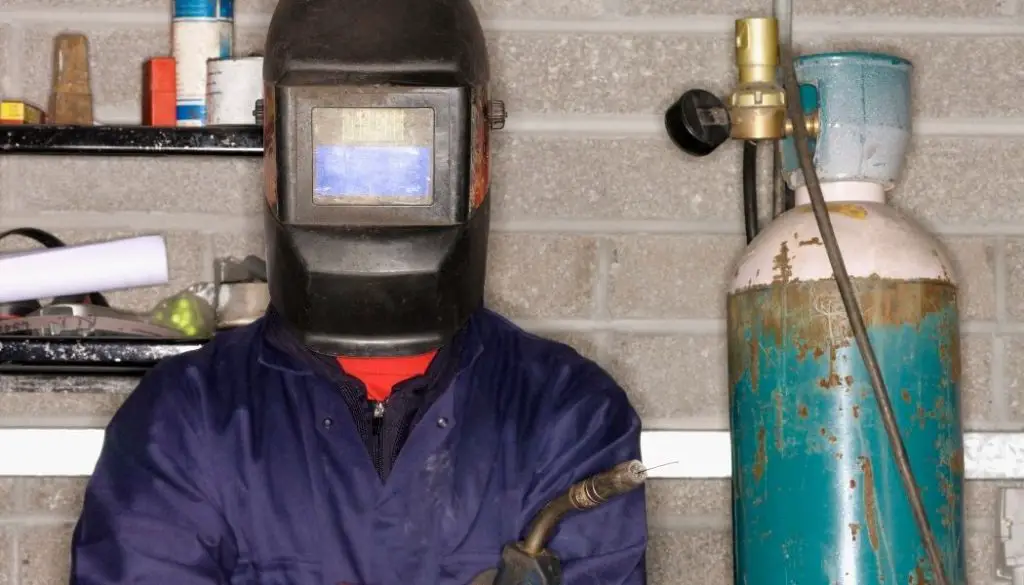 For the scope of this article, we will concentrate on the methods I believe most people think of when they think of welding. Arc welding for most is understood to be the use of an electric machine with a consumable electrode. This type of welding is also referred to as "Stick welding".
But, it can be rightly said that Metal Inert Gas (MIG) and Tungsten Inert Gas (TIG) welding are also forms of arc welding. Today, we will be discussing Stick and MIG mainly.
What kind of welding machine is best for beginners?
MIG welders have surpassed stick welders to become the most common machines purchased for industrial work.
The continuous wire feed eliminates the need to stop work to discard and replace a used-up electrode.
The inert gas shield of MIG welding performs the same duty as the solid flux coating on the rods used in electrode welding.
Both shield the molten pool from contamination, which may lead to pinholes, a.k.a. porosity, brittle welds and other issues.
A finished MIG weld will not have slag covering it. Therefore, saving you time by not having to buff slag off to inspect the quality of the weld.
Performing MIG welding indoors, away from wind and large fans is best. The shield gas blowing directly onto the weld will easily get blown away when wind currents are present. It needs to shield the weld from atmospheric gases and otherwise perform its duties.
Be that as it may, the wire machine does have some flexibility. One can change to flux core wire on most machines, replacing the need for shield gas. The flux core wire will allow you to weld outside in windy conditions but will deposit flux on the weld.
When it comes to price, MIG welders are typically more expensive than stick welders. I Highly recommend Lincoln Electric MIG 180, which I wrote extensive research about:
180 Amps Can Weld 1/2" Thick Mild Steel
Aluminum Ready Spool Gun
3 Year Warranty
Extremely Reliable and Durable
TIP: You would love my Lincoln Electric Pro MIG 180 Product Review. It is really in-depth.
What type of welding projects is best for beginners?
You will need to ask yourself if most of your projects will take place indoors, outdoors or a combination of both. What do you need to Weld?
When To Start Learning Stick Welding?
If you think you will be welding outdoors most of the time, stick welding may be the right choice. Learning to weld with an electrode or rod has other benefits as well.
In addition, learning the basics of the stick will probably help you learn MIG and TIG welding faster, when you intend to increase your welding prowess later.
You will also be able to securely weld much heavier materials with a stick welder.
A variety of rods can be purchased for different circumstances. Thus, providing a greater range of confidence in weld strength and quality.
When To Start Mig welding as a Beginner?
If you decide that you will always be working indoors on lighter, thinner projects and like the simplicity of MIG welding, then this could be the best route for you to take.
You may find the learning curve to be shallower with MIG, than with stick welding.
TIP: Read my posts 8 Tips for MIG Welding Beginners for easier start.
Is a Stick welder with an AC machine OK for Beginners, or do I Need an AC/DC?
Beginning welders may be tempted to purchase an AC-only machine to start with. They are cheaper, and if you decide you don't enjoy welding much, you are not out very much money.
You can purchase an AC machine as a beginner welder. The quality of the welds can be very good. Good enough that an AC machine will do just fine for most jobs. And, it will hurt less seeing it sit over in the corner of the garage, not being used if that is the life your machine ends up being relegated to.
With alternating current or AC for short, the current flows back and forth, switching polarity sixty times per second – (60 Hertz). A noticeable buzzing sound can be heard during the welding process, which is absent when welding with DC.
A few people choose to do all their welding with AC. However, most welders prefer welding with DC most of the time when it's available.
Amico 200 Amp Stick/TIG Welder
Powerful Capable of Welding up to 3/8 inch Stainless Steel
Almost Non-Existent Spatter and Post-Weld Cleanup
Dual Voltage Input - 110V/230V
13 ft Torch Cable
115V or 230V Input Supply Input
Extremely Lightweightt 18 lb with Adjustable Shoulder Strap
Roll Cage Design
Large TFT Screen
NOTE: When welding AC, remember that you must use rods strictly made for AC welding.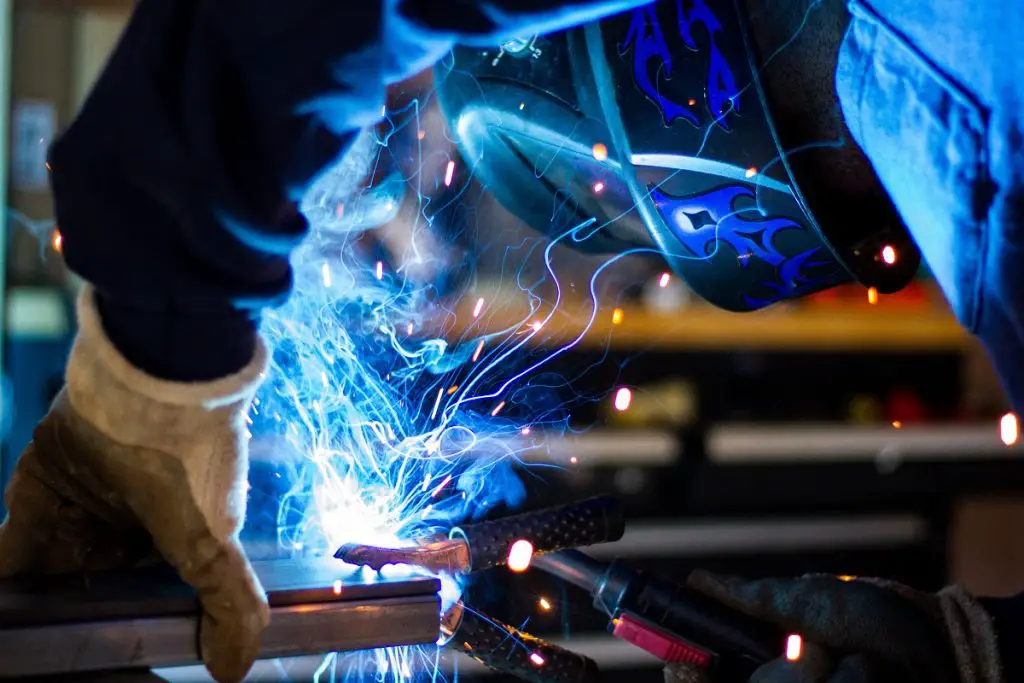 Why would I spend more to buy an AC/DC Welding Machine?
An AC/DC machine provides you with three polarity options. You can weld with AC or you can choose to weld with DC or direct current.
With DC, the electrons flow in only one direction as opposed to changing polarity sixty times per second as with AC, as we discussed earlier. In addition to the first two options, you can also choose to weld with the DC current flowing in the opposite direction.
When you switch the direction of electron flow from DC+ to DC-, you manually change the polarity.
Having the ability to choose between these three options can improve the quality of your welding. You will immediately notice the difference when switching from AC to DC welding.
Five of the biggest differences are:
The welding process itself will flow much smoother
You will have a more stable arc, less sticking, etc.
On DC there will be no more buzzing sound
There will be less spatter, welding with DC
Welding rods made for AC or DC can be used when welding with DC.
Purchasing an AC/DC unit like Forney 235 may be the best choice considering you might eventually want to tackle various projects in the future.
Ready to Weld Out of the Box
Powerful 235 Amp Welding Machine
20% Duty Cycle at 230 Amps
15 ft Welding Cable, 15 ft Ground Cable, 15 ft Power Cord
If you feel you will never need more than an AC welding machine, then that is what you should purchase. They are cheaper, simple to use, and great for gauging your interest and skill.
What kind of welding helmet is best for Beginners?
The first time I struck an arc over forty years ago, I used a flip helmet with a fixed filter lens. I graduated from that helmet to one with a fixed filter lens that would flip up and down. That seemed like a great improvement at the time.
Today, the choices of helmet styles seem endless. The auto-darkening lenses changed the welding world when they first hit the market.
The self-darkening lenses keep getting bigger and bigger. Seeing a larger portion of the work area before and after striking the arc helps tremendously, especially if you find yourself welding out of position often.
The top three welding helmets that I recommend are listed below. They're all fantastic. Even those on a tight budget. If you'd like, you may look over my entire list of the best welding helmets for beginners.
Should I buy Adjustable shade range lenses?
The adjustable shade range lenses were an awesome upgrade as well. With this feature, the welder can fine-tune the auto-darkening lens to match the brightness of the arc.
This is often different for each individual due to the sensitivity of his or her own eyes. You can now quickly find the most advantageous filter level allowing you to see what you are doing with less eye strain.
These helmets are now priced so low that it makes little sense not to buy one with both self-darkening and adjustable shade functionality. Your eyes and your welds will thank you for it!
What type of welding gloves are best for a Beginner Welder?
Like helmets, the choices for welding gloves are abundant. Gloves come in different sizes, shapes, colors, leathers and cuff lengths, just to name a few
There is no need to get exotic in your choice of glove leathers if you are just starting out. I love Rapicca leather gloves, as you can see below.
Reinforced Double Layer Kevlar Padding
Guaranteed to Withstand Temperatures up to 932 F
16-inch Extra Long Gloves
1.5mm Thick Cowhide Leather
Lincoln Electric Welding Gloves
High Grade Leather and Soft Cotton Liner
Kevlar Threading and Leather Reinforced Stree Points
Inside Cuff Lined with Twill Cotton to Absorb Moisture
TIP: Look for a glove with kevlar stitching made with cowhide and lined with a cotton liner. There should be several options depending on where you shop.
Cowhide can be readily dyed with just about any bright color and while new, they are pleasing to the eye. But don't get too caught up on color because if you do much work with them, they won't stay pretty for long.
What other personal protection equipment is recommended for a Beginner Welder?
There are three things the welding process produces that we need to protect against.  We must protect ourselves from hot sparks, UV rays, and hot metal.
Our welding helmet will protect our eyes and face from UV rays and hot sparks.
Our 14″ welding gloves will protect our hands and forearms from UV rays, hot sparks, and hot metal.
The UV rays produced by the welding arc can leave severe burns similar to sunburns on all other exposed skin. Since we have our eyes, hands, and lower forearms covered already we need to ensure our upper forearms and chest are taken care of.
What protective clothing should I wear when welding?
For many, the most practical upper body clothing is a cotton t-shirt covered by a long-sleeved, flame-resistant welding shirt or jacket.
The cotton undershirt will help protect your upper chest from the direct UV rays, be a second layer of protection from hot sparks, and help wick up perspiration on hot days.
The flame-resistant welding shirts can be purchased with an extended collar to keep UV rays off your upper chest and lower neckline.
They will also help keep hot sparks from going down your shirt. Extended collar or not, consider buying an extra size larger to fit over your regular clothes for welding under colder conditions.
Other options for protecting your upper body are sleeves, capes, and aprons.
NOTE: Never wear polyester clothing of any kind when welding!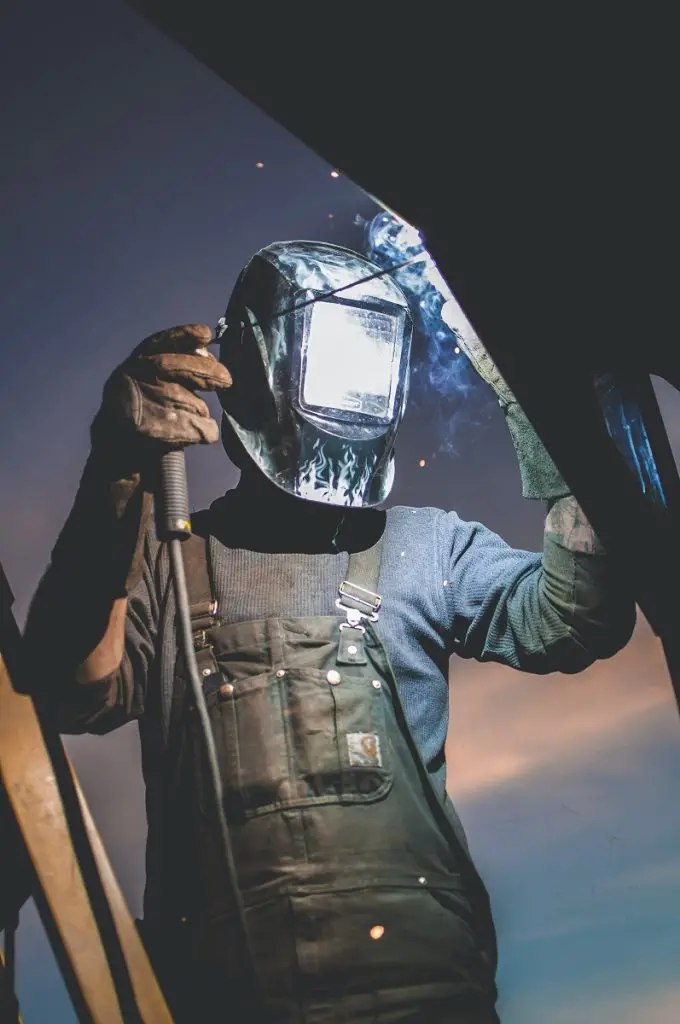 How to Protect below the belt while welding?
We must protect everything from the waist down from the same hot sparks, UV rays, and hot metal. Heavy denim jeans will work for most situations.
However, any heavy cotton and flame-resistant cotton welding pants will work to cover you from the ankles up. One thing you don't want is cuffs on the legs. They make great spark traps.
It is best to wear leather shoes or boots.
NOTE: Do not wear tennis shoes with thin tops.
What to wear when cutting and grinding
Once outfitted with your PPE for welding you have the majority of equipment necessary for grinding and cutting. If you purchased a new helmet with auto-darkening and adjustable shade range that includes grinding shade, then you are set.
If not, you will want to pick up a plastic face shield, and safety glasses worn together when grinding. A pair of cutting goggles will finish off your ensemble.
Safety note: Always wear hearing protection when grinding!
Which is better for the beginner, a plasma cutter or an oxygen/acetylene torch?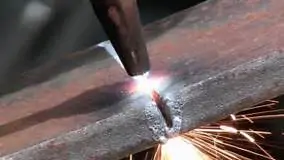 When deciding between purchasing either a plasma cutter or a cutting torch, you will need to know what kind of metal work you plan on doing the most.
For me, even though I have both, I use a plasma cutter most of the time. However, I would rather have an oxy/acetylene torch if I could only have one.
I lived without a plasma cutter up until about three years ago. They are great for doing what they are built to do but are limited in versatility compared to an oxy/acetylene setup.
For instance, when you purchase an oxy/acetylene kit they will typically come with the handle, the two necessary gas regulators, a gas welding tip and the cutting assembly.
With this, you can gas weld, cut steel, warm up frozen nuts and bolts for easier removal, heat steel for bending or reshaping into something more useful and many other things.
What peripheral equipment is needed for a plasma cutter and oxy/acetylene torch?
The plasma cutter and oxy/acetylene cutting processes require you to have peripheral equipment before either can be used.
A plasma cutter needs an outside air supply, therefore, if you do not have an air compressor of adequate size one will need to be purchased beforehand.
You will need to purchase or rent an oxygen and an acetylene bottle, to utilize your gas torch. The size of the bottles will depend on how often they will get used.
If rarely used, purchasing a small torch kit with small bottles may be right for you. If you are using it a few times a month, you will probably want to rent some larger bottles from your favorite welding supply store.
You can always start with the small bottles and upgrade to larger rentals later. This will allow you to keep the smaller bottles in case you need to go mobile with your torch. They will be much easier to carry.
Once your compressor is hooked up to your new plasma cutter, you will be ready to start cutting much more precisely than you can with a gas torch.
A good thing about plasma cutters is that they will not heat your base metal as much. This helps keep your thinner materials from warping due to the heating and cooling process.
Is a grinder needed for beginner welders?
To start off, every welder should have a couple of medium to large metal files in the drawer. A chipping hammer and a wire brush are also essential items.
Angle grinder
Unless you are working on pint-sized projects, there should be at least a small angle grinder in your future. There is more versatility with a portable grinder than with a bench grinder.
Powerful 7.5 Amps
No-Load 11,000 RPM
Cast Aluminum Housing
Quick Release Grinder Guard
Powerful 13 Amp Motor
8,500 RPM Grinder Speed
Adjustable Guard
Runs off of AC/DC power
3/4 Horse Power Induction Motor
Rugged Cast Iron Base
Precision Machined Aluminum Tool Rest
Rear Exhaust Ports in Wheel Guards
Regarding angle grinders, the 4.5″ will be perfect for most newcomers. All your favorite power tool manufacturers make one. There is a diverse selection of wheels and discs that can be used with just one 4.5″ angle grinder.
Of course, there are typical discs for grinding steel. There are discs for grinding masonry. Different cutting wheels can be bought for cutting either steel or masonry. Another good tool is the course, knotted wire wheel for cleaning and buffing tough stuff.
Bench grinder
A bench grinder can come later as your experience and projects expand. If you need a table grinder for your projects to start with, be sure to have a sturdy table on the heavy side to bolt it down to.
This will keep it from walking all over the floor due to vibration and pushing your work against the wheels during the grinding process.
Cup Brush
If you need a lighter touch, a cup brush is available with the choice of nylon or steel bristles. The flapped wheel grinding/sanding disc is one of my favorites.
The hook-looped sanding pad that sheets of sandpaper with varying grits will attach to is a great accessory.
At least one kit comes with most or all the above accessories for a very reasonable price.
Should a beginner welder buy a chop saw?
If you have a cutting torch, a chop saw is not a mandatory piece of shop equipment. But it's darn close. It's like cruise control on your car, you can live without it, but it sure is nice to have.
Chop saws are very handy for quickly cutting straight edges, with the option on most of them to cut angles up to 45 degrees. When the torch hoses are all rolled up on the rack, and you don't feel like breaking out the heat, open up the chop saw.
You can have the material clamped down and cut in less time than it takes to pull out the flamethrower. The bonus is that you won't need to do much grinding before you start welding. Always keep at least one extra cutting wheel on hand.
Most major shop tool manufacturers make chop saws. I have one similar to the image below that uses a steel blade. The blades are quite a bit more expensive but last longer than I thought they would.
The good part is you can use either a steel blade or fiber/abrasive wheel type on it. You need to always wear hearing protection when using a chop saw, but with the steel blade, your neighbor's dog will probably also need hearing protection.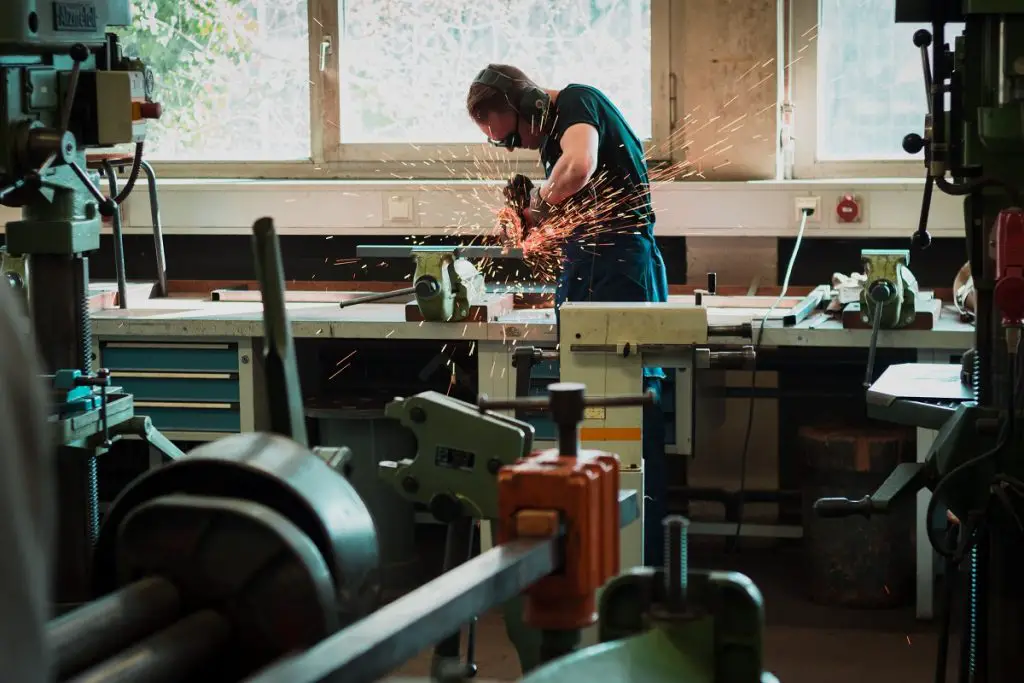 Is a welding table needed for beginner welders?
Welding tables are very handy to have around. You can get by without one, depending on a couple of things.
Welding smaller items that are time-consuming warrants a table. Find one that fits your working area and is large enough to hold your stuff.
If you have enough concrete floor, driveway or patio space for larger things, you can get by without one. Granted, the younger you are, the easier it will be to get by without it.
TIP: Having a piece of angle iron welded to one edge making a trough is very handy. If you are welding lengths of the material end to end this is the best way to keep everything lined up nicely. Just lay them in the trough and butt them up together before tacking.
Attaching a vise is a great addition to the table as well. Vices come in handy for everything from holding your torch handle so you can clean the tip to acting as a third hand to hold your welding pieces while you tack them.
Be sure to pick the best quality vice, large enough to do what you need. Then buy the next size larger.
As a beginning welder, are there other tools that I might need?
Again, depending on what you plan on building or repairing, there could be a lot of smaller items that would make your experience easier.
For marking metal before cutting, you are going to need some soapstone. I prefer cylindrical sticks shaped like a pencil. Soapstone is akin to hard chalk and shows up fairly well when looking at it through a dark lens when cutting. Buy it by the handful because I swear they crawl away when the lights go out.
You will, of course, need a tape measure. The 25′ ones may be more than you will need, but I would have at least one nearby.
An assortment of squares is a must. You can probably get by with a 1′ adjustable square and a framing square to start with.
For a lot of projects, you may need a level. A torpedo level with a magnet along one side may be enough to get you started. You will want a longer one when the economy picks up.
I find myself using vice grips quite a lot. Start with a standard pair of straight jaws. There are probably a dozen designs with different styles of clamping jaws. You will quickly learn which ones will assist you best for your type of work.
Nothing comes in handier than a standard pair of pliers for picking up and holding hot pieces of metal.
If you are having trouble understanding some of the terminologies in this guide, please read through this glossary I have put together of the most common welding words and phrases you need to know.
Read Next