Can you weld gold? Absolutely! You can weld gold using several welding methods, with TIG welding being the best. 
TIG welding gives you precise and resilient gold welds without costing a lot. Yet, TIG welding is technique-sensitive, despite the advantages. 
Read on to learn all you need to know about TIG gold welding. 
TIG Welding for Gold
You can weld gold with several welding techniques like TIG, MIG, and laser. TIG welding is the most suited for gold.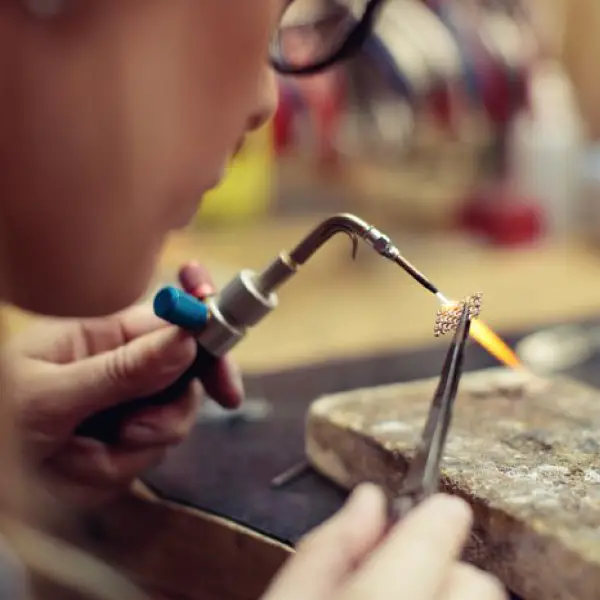 High Precision and Quality
TIG welding has maintained its reputation as one of the most precise welding techniques. The weld puddle control is easy to use, so you can get precise welding by controlling heat input.
Plus, you can weld tiny thin gold pieces with the help of micro-TIG welds.
Micro TIG welds work by reducing the current to 5-300 amps. This low current gives you more precise welds with minimal thermal damage. 
Welders like to use micro TIG to weld tiny spots (about 0.25 mm) on thin gold for that reason. 
No Spatter
Spatter—the molten metal that splashes during welding—doesn't occur with TIG welds. This is because you don't necessarily need fillers for TIG welding. 
Further, you put the fillers inside the welding puddle when you want them, which helps prevent spattering. 
Laser Welding for Gold
Laser welders are another excellent option for welding gold. Their accuracy and precision are superior even to TIG welds.
There's a catch, though: laser welds are very expensive.
How pricey, you're wondering? I'm talking about $10,000 upfront. Add in the laser accessories and materials—about $3,600—and you'll need to pay $13,600 in total. 
So, laser welders aren't a popular choice for welding gold.
Equipment Required for TIG Gold Welding
Before you try TIG welding for gold, you need to set up the equipment first. 
Here's what you'll need:
TIG Welder Machine
Pulse functionality is the most important feature in TIG welders if you frequently weld thin gold material. 
TIG welder machines that have pulse functionality work in a way similar to micro TIG. The pulse function lets you control the amp output, which is great for precise welding. 
So, whether you want to weld thick or thin gold pieces, you'll be able to do both. 
Another feature I recommend is getting an inverter TIG machine that automatically changes AC to DC. 
Standard welders usually use high AC voltage (220 V), while most households use a voltage of 110 V. So, you'll need to use a transformer with standard welders. 
So, save yourself from lots of headaches by getting an inverter TIG machine. The machine will help you save on power consumption too.
Shielding Gas
Shielding gas protects the molten metal from getting damaged by preventing exposure to atmospheric gases. I recommend using pure argon as a shielding gas. 
Pure argon gives the most precise welds when compared to pure helium or mixed argon/helium. This precision is exactly what you want when you weld gold.
Welding Torch
To choose the right welding torch, ask yourself the amp type you'll use for welding. If it's a thick gold piece, the amp should be set to high, and vice versa.
Get a micro-torch for the thin, delicate gold pieces and another normal-sized torch for the thicker pieces.
Electrodes
Picking the right electrode size mainly depends on the amp setting you'll use. 
I recommend getting a pure tungsten electrode with a diameter of 1.6 mm for low amp settings. Pick a standard-sized 2.4 mm electrode for thick gold metal welding as well.
How to Weld Gold
You might find TIG welding for gold a bit difficult at first, but it's worth it once you get the hang of it. 
Here are the general instructions you need to follow:
Insert a Tungsten electrode into the collet, but make the electrode's tip pointy beforehand.
Set the settings according to the thickness of the gold. Remember, low amp settings for thin gold, and vice versa.
Turn on the shielding gas.
Clean the metal and prepare the welding table.
Wear your PPE.
Hold the electrode and weld the metal.
Finally, if you're using fillers, draw a bead.
Mistakes to Avoid When TIG Welding Gold
TIG welding is an excellent choice for its precision and cleanliness, but mastering this method involves a steep learning curve if you're a beginner. 
So, here are the common TIG welding mistakes to avoid: 
Not Cleaning Gold Before Welding
TIG welders rarely spatter, as I mentioned earlier. Yet, if you don't thoroughly clean the gold metal from dirt and other contaminants, you'll get lots of spatter.
Lack of Shielding Gas  
Before you get used to the TIG welder, you may forget to turn on the shielding gas or don't add enough of it. These things will end up contaminating the gold. So, make sure to check the gas flow rate. 
In general, a flow rate of 20 cubic feet per hour works well with gold and other metals. If you set the gas flow higher than that, you'll end up with an unstable arc and poor weld precision. 
Craters
Weld craters are thin, almost-cracked sections that occur when molten metal isn't enough to fill a cavity. 
You get weld craters when you suddenly reduce the current and cool down the weld too quickly. Slowly reduce the welding power to avoid this issue. 
Safety Precautions for TIG Gold Welding
It's critical to protect yourself from the possible hazards of welding. Here are the main things to keep in mind:
Safety Equipment
I can't stress this enough: wearing the proper protective gear is crucial!
I've seen many welders work without wearing the necessary gear for protection. They would often get at least a couple of burns. 
I listed below the main protective care to wear:
Welding Gloves
Welding gloves should be heat-resistant and cover the entire hands and wrists.
Eye-Protecting Helmet
Get a proper-fitted helmet that also offers eye protection. This will protect you from the harsh sparks and light that come when you're welding gold. 
Insulating Jacket, Pants, and Work Boots
A fire-resistant jacket will protect you from the burning sparks of welding. I highly recommend getting one made with leather. Also, get heat-insulating cuffless pants. 
I personally prefer a welding jacket like this one by Lincoln Electric. It is designed especially for high-amperage welding and out-of-position welding. It has a two-part armpit design that actually allows you to move your arms which is much more comfortable than the old-fashioned leather jackets.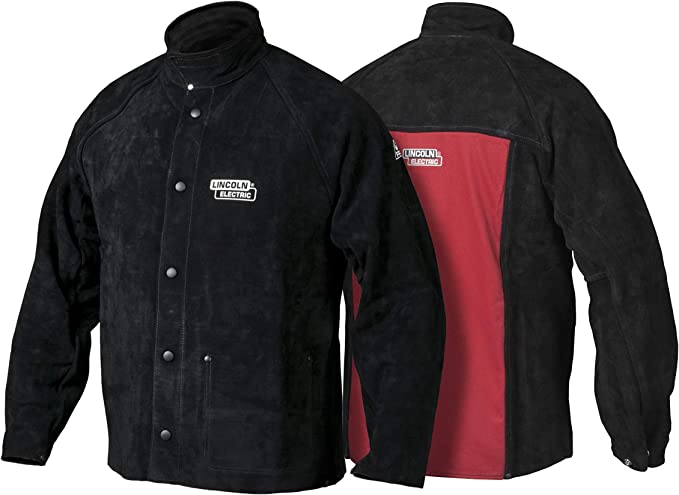 Work boots will protect you from electric shocks and walking on sharp objects. Make sure that they at least cover your ankles.
Ear Plugs
Ear plugs are pretty self-explanatory. They'll protect your ears from welding sparks and hearing loss. I recommend getting ones that cover your ears just to err on the safe side. 
Gas Leakage and Electric Wires Inspection
Routinely check and inspect for possible gas leakage. You can do that by mixing water with dishwashing soap and applying the mix to the pipes. If you notice any bubbles, that means there's gas leakage. 
You should also regularly check up on the electric nodes to see if there's a naked electric wire.
Safe Working Environment
Check your workspace to see if you have any flammable or sharp objects around. If you do, store them somewhere safe. 
Wrapping Up
If you were wondering, "Can you weld gold?" The answer is yes! TIG welding gold will give you precise and spatter-free pieces. 
All you need to get started is a TIG welder, a micro-torch, shielding gas, and electrodes. Just make sure to follow the safety precautions discussed above to ensure a safe and successful welding job.