The Century 255 MIG Welding Machine is reliable and powerful, suitable for professional welding tasks. It offers easy setup, a robust duty cycle, and excellent wire feed speed control. Its weight and lack of portability is a drawback, but overall, it's a highly efficient and durable machine.
Summary
Specifications
Dimensions: 32.5 x 19.5 x 12.5
Weight: 85 pounds
Max Output: 255 amps
Output Range: 30-255
Polarity: DC
Duty Cycle: 30% @ 175A
I rate this as high powered welder. This is a moderately priced welding machine. It can weld up to 1/2 inch steel. This welding machine has a moderate weight, coming in at 85lb. It's not too heavy, making it manageable for most tasks.
You can download the manual here.
Pro Tip: Before using the Century 255 MIG for welding, ensure to set the correct wire speed and voltage for the thickness of the material you're working with. Practice on scrap metal first to perfect your settings. Always maintain a good stick-out distance, ideally 3/8 inch, for optimal performance. Regularly clean and replace the contact tip to avoid wire feeding problems.
What is Included?
Century 255 Flux-Cored/MIG Wire-Feed Welder with 15′ Magnum 250L gun, and cable assembly with 0.035 contact tip
10 ft work cable and clamp assembly
0.045 contact tip
Reel adapter for 2″ wide, 8″ diameter spools
Reel adapter for 3″ wide, 8″ diameter spools
MIG welding nozzle
Adjustable gas regulator and hose
10 ft input cable with attached plug
Pros
High Power Output for Thicker Metal
Supports both MIG and Flux Core Welding
Digital Readouts are User Friendly
Cons
Limited Duty Cycle
High Price Point
Features
1. High Power and Performance
The Century 255 MIG Welding Machine boasts high power and performance, making it an ideal choice for professional or heavy-duty welding. It features a power output of 30-255 amps, allowing it to handle a wide range of welding tasks easily. This machine's high-performance capability comes from its advanced transformer technology, providing superior arc performance.
Additionally, its infinite wire feed speed control allows for precise penetration and weld bead shape adjustment, further enhancing its performance. All these features make it a powerful and versatile welding machine.
2. Thermal Overload Protection
The Century 255 MIG Welding Machine features Thermal Overload Protection, a crucial safeguard against overheating. This system automatically shuts off the machine when it reaches a dangerous temperature, preventing internal damage and extending its lifespan.
This safety feature ensures the welding machine's efficiency and operational continuity, providing a reliable and dependable tool for any welding task. It also contributes to the user's safety by reducing the risk of accidents caused by overheating.
3. Spool Gun Ready
The Century 255 MIG welding machine features a Spool Gun Ready feature, offering convenience for its users. This feature allows for quick and easy connection of a spool gun, essential for welding materials like aluminum.
The machine is designed to automatically detect the spool gun once connected, eliminating the need for complex setups or additional tools. This feature enhances the versatility of the Century 255 MIG welding machine, making it a flexible option for various welding tasks.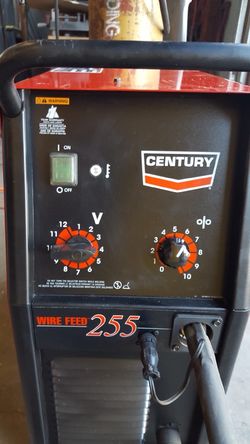 Field Testing
After field testing the Century 255 MIG Welding Machine, I can confidently say it's a reliable and powerful tool. Its 30 to 255 amp output allowed me to weld various materials precisely and easily. Even on heavier steel, the performance was consistent and the welds were clean and strong.
One impressive feature was its infinite wire feed speed control. This made it easy to adjust for different thicknesses and materials, significantly enhancing my welds' quality. The machine also handled flux-cored and MIG welding, adding to its versatility.
However, the machine is quite heavy, making it less portable than other models. Additionally, the initial setup was a bit challenging, especially for beginners. But once I got the hang of it, operation was a breeze.
In terms of durability, the Century 255 performed well under rigorous usage. It showed no signs of overheating or performance degradation, even after extended use.
The Century 255 MIG Welding Machine is a robust, versatile tool that delivers high-quality welds. Despite its weight and slightly complex setup, its performance and reliability make it a worthwhile investment for hobbyists and professionals.
Results
The Century 255 MIG welding machine is best suited for heavy-duty metal fabrication and repair works.
This Century welder has a decent 3 year limited manufacturer's warranty.
Conclusion
After thoroughly testing and reviewing the Century 255 MIG Welding Machine, I can affirm its satisfactory performance. The machine's performance score of 90% reflects its powerful output and reliable functionality.
In comparison, its durability score of 70% suggests it has a decent lifespan but may not be the most robust model on the market. However, its value for money score of 70% indicates that while it's not the cheapest, it offers reasonable value for its price.
With an overall score of approximately 77%, the Century 255 MIG Welding Machine is a solid choice for those seeking a dependable, fairly priced welding machine.