The best MIG welding machines offer a 30-200A output range, 20-30% duty cycle, the ability to weld metals up to 1/2″ thick, are portability, and include crucial accessories like a spool gun and ground clamp.
The Hobart Handler 140 MIG Welder is my top choice because it has everything you need to start welding immediately. It features a stepped voltage control with a durable cast aluminum drive. It is ideal for beginner MIG welders who don't need the most powerful machine.
Can Weld Up to 1/4" Mild Steel
20% Duty Cycle at 90 Amps
115V Supply Only
Includes 10 ft MIG Gun and 10 ft Work Cable with Clamp
Lightweight at less than 26 lb
IGBT Inverter Technology
Welds mild, stainless steel, and aluminum
1. Hobart Handler 140
Can Weld Up to 1/4" Mild Steel
20% Duty Cycle at 90 Amps
115V Supply Only
Includes 10 ft MIG Gun and 10 ft Work Cable with Clamp
I like the Hobart for a freshman level beginner. It has everything you need to start welding immediately. And the stepped voltage is perfect for someone starting.
If you have to turn a knob that allows for infinite settings, you could miss the learning curve that stepped voltage settings will force upon you—potentially making you a better welder in less time.
You don't want to get caught up in finding the perfect voltage to get your job done. When you are new, it is more about spending time welding, getting experience.
The Hobart Handler 140 will get you the necessary experience and complete the job simultaneously. I also rate their support highly. When you are new, you are going to have a lot of questions. Hobart's phone support is your next best bet if you don't have a group of welders to talk with.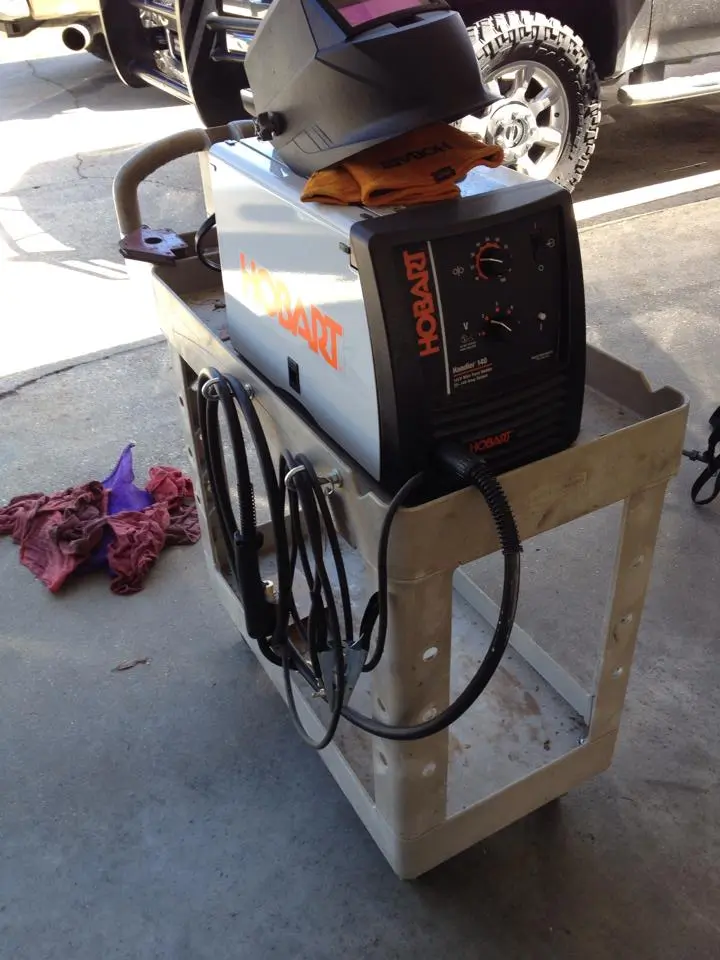 Specifications
Amperage Range: 25-140 Amps
Input Voltage: 110/115/120 V
Duty Cycle: 20% at 90 Amps
Weight: 57 Pounds
Pros
Stepped voltage control
Cast aluminum drive
Total weight of 57 lbs
Great customer service
It will run off regular 115v power (most households)
Cons
Limited amps – can weld up to 1/4″ thick mild steel
The grounding clamp needs to be upgraded.
2. Lincoln Electric Easy MIG 180
180 Amps Can Weld 1/2" Thick Mild Steel
Aluminum Ready Spool Gun
3 Year Warranty
Extremely Reliable and Durable
Let's say you have some welding skills and want a MIG machine that will grow with you. I would recommend the Lincoln Easy MIG 180.
I like the Lincoln 180 because it retains much of what I like about the Hobart but has more power. To boot, it is still light enough to transport with ease.
You can start bidding on small welding jobs with this machine. This machine could help you start your first paid welding gigs. In addition, it is reliable enough to be around for years.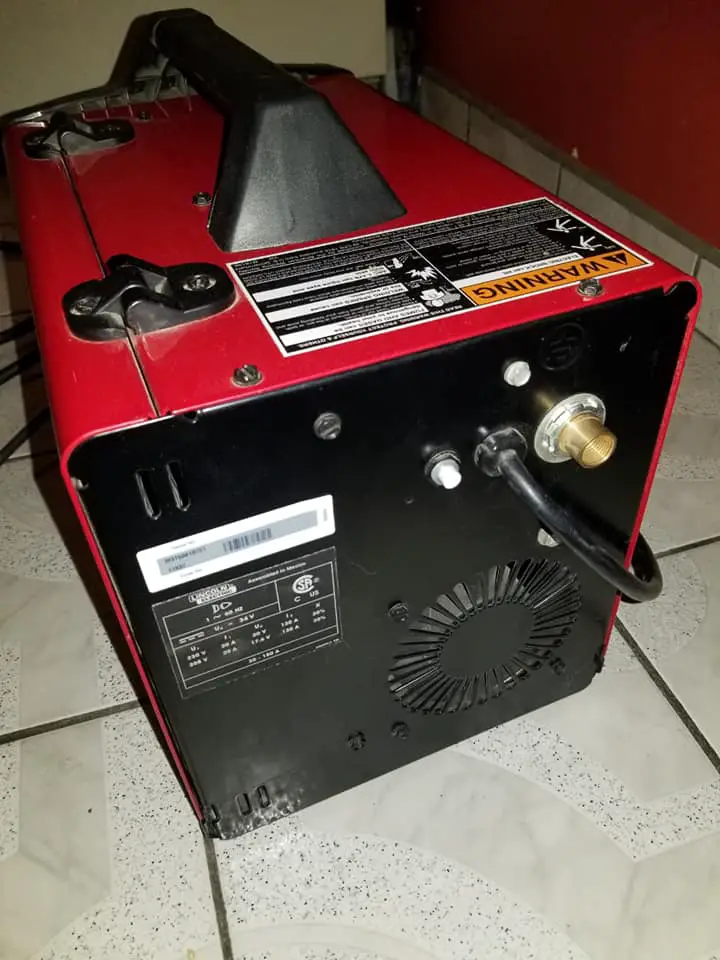 Specifications
Amperage Range: 30 to 180 Amps
Input Voltage: 208/230 V
Duty Cycle: 30% at 130 Amps
Weight: 56 Pounds
Pros
Higher Voltage and amps of 180 means you can weld up to ½ thick material
Spool gun ready – for aluminum projects
It only weighs 56 lbs
Cons
The warranty is only 3 years
The grounding clamp needs to be upgraded
The spool gun is sold separately.
Requires industrial voltage supply.
3. Eastwood 180 MIG Welder
The Eastwood 180 MIG Welding Machine is highly appreciated for its smooth welding performance, robust build, and user-friendly design. It's ideal for both professional and DIY users seeking quality and reliability.
Infinite Wire Control feature allows for precision in welding tasks. It enables users to adjust the wire speed for smooth, uninterrupted welding, regardless of the material or thickness.
I can confidently say this machine is a good buy. It may not be the top-performing model on the market, but it certainly holds its own in the mid-range category. I recommend the Eastwood 180 MIG Welding Machine to anyone looking for a reliable, durable, cost-effective welding solution.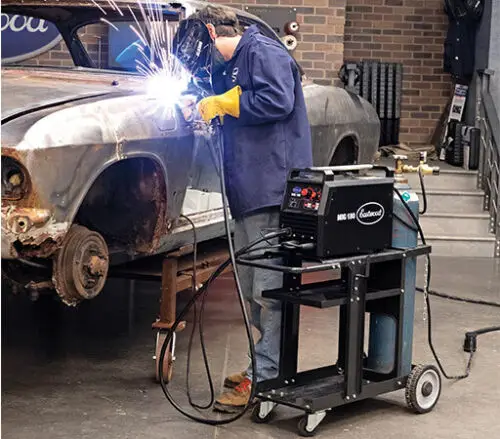 Specifications
Amperage Range: 30 to 180 Amps
Input Voltage: 120/240V
Duty Cycle: 30% at 130 Amps
Weight: 35 pounds
Pros
Versatile for a Wide Range of Metals
User Friendly User Interface
Powerful Performance
Cons
Limited Power Output
No Digital Display
4. Forney 140 Easy Weld
The Forney 140 MIG Welding Machine is highly praised for its power, ease of use, and portability. It offers smooth welding performance and is perfect for beginners.
The assembly out of the box was straightforward and hassle-free. The machine's compact size and lightweight design made it highly portable, a feature that I found very advantageous.
Performance-wise, the Forney 140 didn't disappoint. It handled varying thicknesses of metal with ease and the adjustable wire feed speed control was a great feature, allowing me to customize the machine to suit my needs. The arc was stable and consistent, producing clean and precise welds each time. There was minimal spatter, which was a pleasant surprise.
While it may not be the best in the market, it's a worthy consideration for those who need a reliable, cost-effective welding solution. It certainly delivers a level of quality that justifies its price.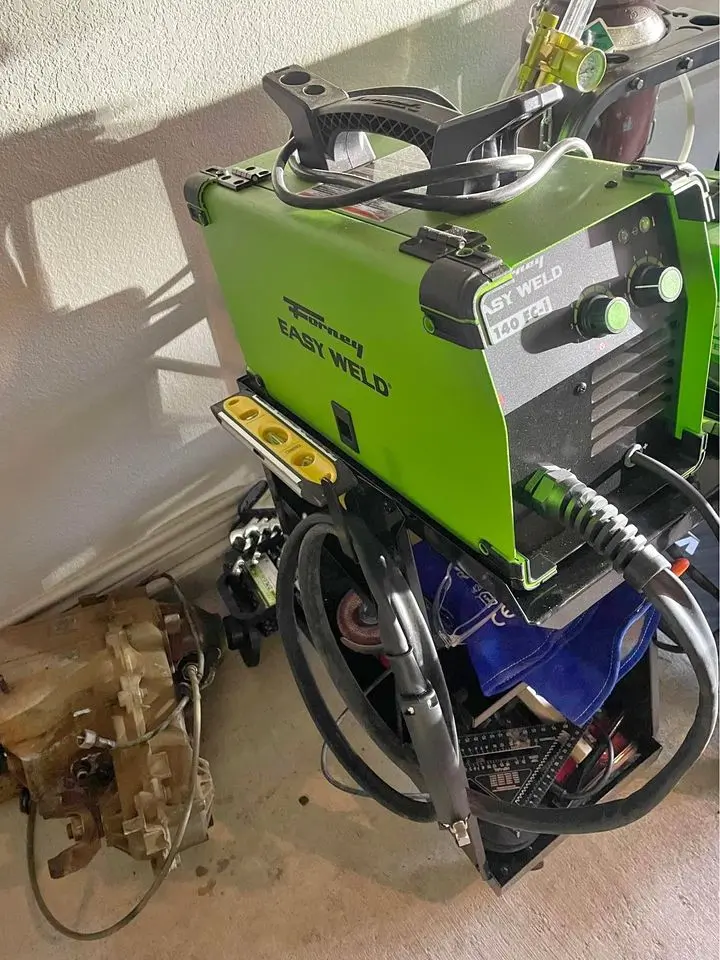 Specifications
Amperage Range: 30 to 140 Amps
Input Voltage: 120V
Duty Cycle: 20% at 90 Amps
Weight: 57 Pounds
Pros
Versatile to Handle Various Tasks
User Friendly Simple Controls
High Performance
Cons
Limited Duty Cycle
Not Ideal for Heavy-Duty Tasks
5. Miller Electric Millermatic 211
The Miller 211 Welding Machine is highly praised for its versatility, portability, and advanced auto-set feature. However, its high price is a downside. Overall, it's a great investment for both professional welders and hobbyists.
It was exceptionally user-friendly, with easy-to-understand controls that make it suitable for novices and professionals. Its versatility also stood out, as it easily handled MIG and Flux-cored welding processes. I found the Auto-Set feature particularly convenient. It takes the guesswork out of setting the machine, automatically adjusting to the optimal parameters according to the thickness of the material and wire diameter.
I highly recommend the Miller 211 for both professional welders and hobbyists. It's a solid investment that delivers quality results consistently.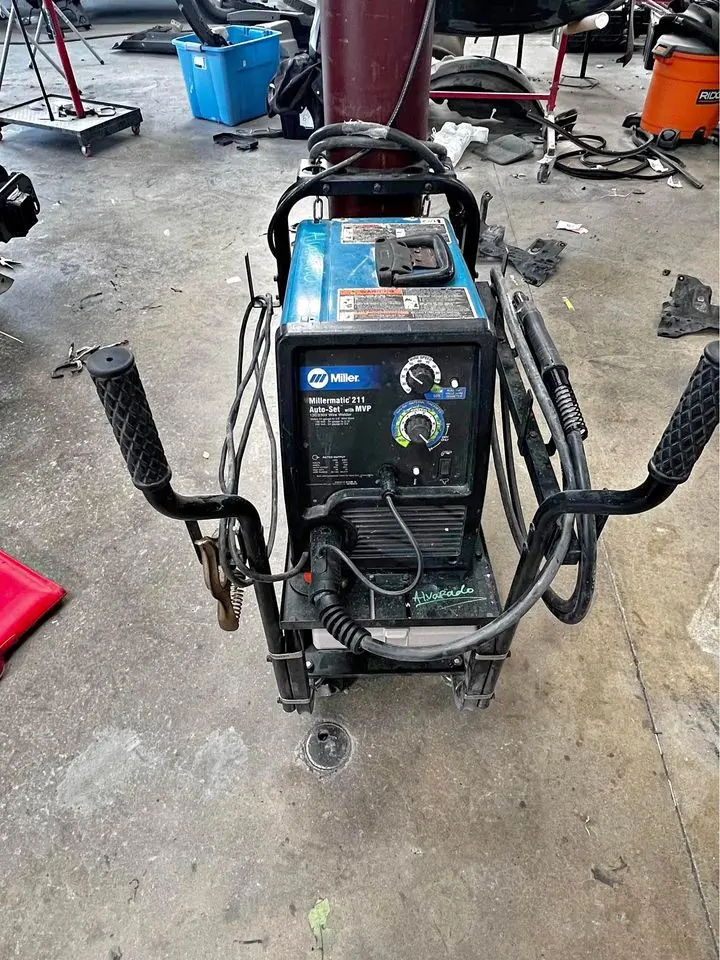 Specifications
Amperage Range: 10 to 230 Amps
Input Voltage: 120 or 240 V
Duty Cycle: 40% at 140 Amps
Weight: 38 pounds
Pros
Exceptionally Reliable and Durable
Advanced Controls for Precision Welding
Versatility in Handling Different Tasks
Cons
Expensive Price Point
Bulky Design
6. Titanium 140 MIG Welder
The Titanium MIG 140 Welder is a versatile machine that offers a wide range of welding capacities, including steel, stainless steel, and aluminum (with an optional spool gun). It also has a comprehensive set of accessories, including a MIG gun, flow gauge regulator, work clamp, and various drive rolls and gun consumables.
It is extremely lightweight and compact, making it ideal as a truck welder, and still has sufficient power for most common jobs.
I was surprised by the build quality of the Titanium 140. I expected lower-quality construction for its price tag, but it felt solid. Although compact and lightweight, it is still powerful enough to weld most jobs that a DIY welding will see.
The handles on top make it extremely easy to transport, and I would likely keep this machine in my truck if I kept it permanently.
The digital controls are intuitive, even for beginner welders. Plus, the welder features a tool-free design to swap guns quickly and easily.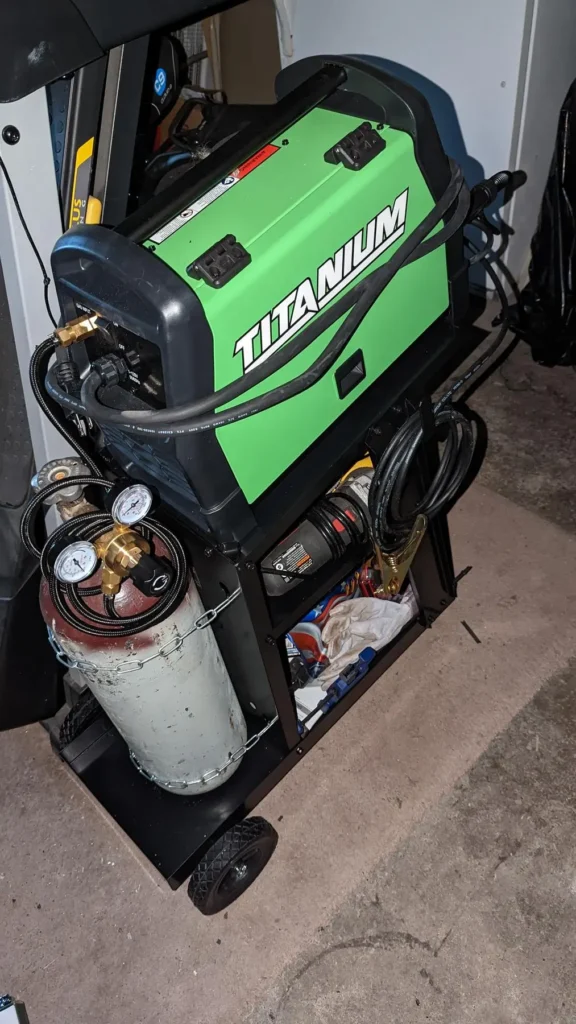 Specifications
Amperage Range: 40 to 140 Amps
Input Voltage: 120V
Duty Cycle: 30% at 90 Amps
Weight: 26 Pounds
Pros
Can Weld Steel, Stainless Steel, and Aluminium
80 to 275 inches per minute wire feed speed
Extremely lightweight and inexpensive
Cons
120V input only – no industrial voltage input
You need to purchase an additional spool gun to weld aluminum
Poor warranty
The duty cycle is low at 30% at 90 amps, so if you are working the machine hard at 140 amps, you will need to take a lot of breaks to avoid tripping the machine frequently on thermal overload.
MIG Welding Machine Buying Guide
I still remember my initial venture into MIG welding machines – the confusions, comparisons, and the seemingly endless research. With years of hands-on experience, I am equipped to guide you on your first MIG welding machine purchase. But before we delve deep, let's take a moment to demystify MIG welding for beginners.
Metal Inert Gas (MIG) welding, otherwise known as Gas Metal Arc Welding (GMAW), is a process that employs a continuous and consumable wire electrode and shielding gas, fed through a MIG welding machine. The wire is both an electrode and filler metal, facilitating welding. The shielding gas, typically an inert gas mix, protects the weld from atmospheric contamination.
With this basic understanding, let's move to the core elements you should consider when buying your first MIG welder.
Navigating the welding machine market can be daunting, especially with the sea of features, specifications, and technical jargon. However, having spent countless hours welding, I've identified some critical areas you need to focus on: brand, duty cycle, amperage, portability, accessories, the type of metal you'll be welding, and metal thickness.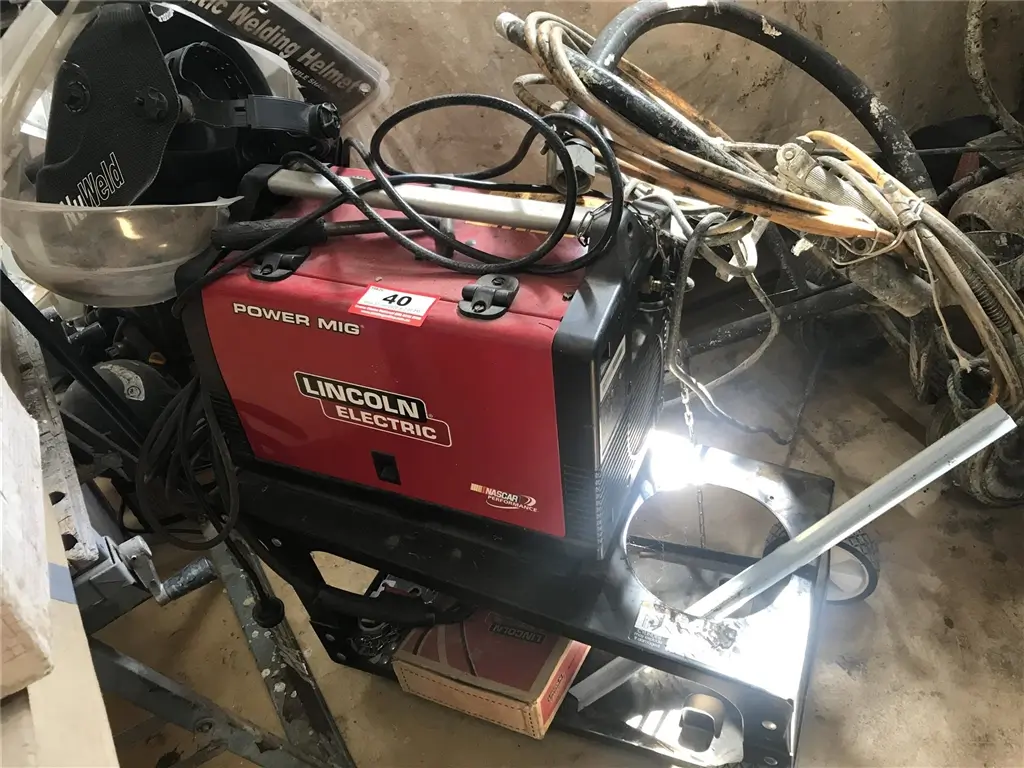 Brand
One thing that stood out to me during my welding journey is that the brand of the welding machine profoundly impacts its performance and durability. High-quality brands like YesWelder offer robust machines and exceptional after-sales service, a factor often overlooked by first-time buyers. These brands have garnered numerous positive reviews from welders worldwide, a testament to their reliability and superior performance.
Duty Cycle
The duty cycle was a term that baffled me when I first embarked on my welding journey. But let me tell you, understanding this concept is essential for managing your welding processes effectively. Simply put, the duty cycle of a welder represents the duration it can operate at a specified output without overheating.
For instance, a welder with a 20% duty cycle at 200 amps can weld continuously for 2 minutes before requiring an 8-minute cooling break. Therefore, opt for a machine with a higher duty cycle for prolonged welding projects.
Amperage
The amperage of a welding machine essentially dictates its power. From my experiences, a high amperage MIG welder is indispensable when dealing with thick materials like steel or aluminum. Lower amperage machines, conversely, are better suited for welding thin metals. Always consider the amperage range of a welder, ensuring it aligns with your welding tasks.
| Amperage Range | Suitable Metal Thickness |
| --- | --- |
| 30-40 Amps | Up to 1/16 inch |
| 40-85 Amps | 1/16 – 1/8 inch |
| 85-150 Amps | 1/8 – 1/4 inch |
| 150-200+ Amps | 1/4 inch and above |
Portability
One aspect I cannot stress enough is the convenience of a portable MIG welding machine. There have been innumerable instances where I've been thankful for my portable unit, especially during offsite jobs and mini truckin' projects. Compact and lightweight machines are significantly easier to move around, proving their worth in diverse tasks.
Accessories
The right accessories can dramatically improve your MIG welding experience. I remember when my first MIG welding machine didn't come with a spool gun, and I had to weld aluminum manually – a daunting task! To spare yourself such challenges, ensure your package includes critical accessories like a spool gun for aluminum welding, a sturdy ground clamp, and an electrode holder.
Metal Type
The type of metal you plan to weld should substantially influence your buying decision. Having welded various metals, I can vouch that MIG welding performs exceptionally well with steel, aluminum, and stainless steel. However, specific welders are designed to work better with certain metals. Always align your metal type with the specifications of the welder.
Metal Thickness
Lastly, don't overlook the thickness of the metal you'll work with. As someone who learned the hard way, I can say without a doubt that attempting to weld thick steel with a low-voltage MIG welder leads to weak, subpar welds. As a general guideline, for metal thicker than 1/8″, consider a MIG welder capable of delivering more than 140 amps.
Wrapping Up
Although our discussion revolved around the technical elements of purchasing the best MIG welder, it would be imprudent not to highlight safety. Always prioritize investing in quality safety gear, including a welding helmet, gloves, and a protective jacket to shield yourself from sparks and the intense light emitted during welding.
There you have it – an extensive MIG welding buying guide, interwoven with personal experiences, practical examples, and insightful tips. I sincerely hope this guide helps you navigate the welding market more confidently and find the perfect MIG welder to suit your needs.
Remember, the best MIG welder isn't necessarily the most expensive or feature-packed but the one that aligns perfectly with your specific welding requirements.