Welding can be a good job for those who enjoy hands-on work and have strong technical skills. It offers a range of industries to work in, potential for career advancement, and competitive wages. However, the job can be physically demanding and expose welders to potential hazards, making safety crucial.
At the same time, it can be quite stressful if you don't know what you're getting yourself into. Below are many basic facts and information about this field that can help you answer the question "is welding a good job?"
So, keep reading to find out if it's right for you. We'll also talk about some things you can expect when you finally embark on the adventure-filled career of being a welder.
Is Welding a Good Job?
Many people choose welding as their career path because it provides a steady income and comes with many benefits. At the same time, it doesn't require a lot of high degrees or fancy diplomas.
Another major advantage is that almost every industry in the world relies on welders in one form or another. There's no shortage of welding jobs around from construction and shipbuilding to aerospace and petrochemicals.
In other words, there's a certain sense of security that comes with this job. It's also an industry with plenty of room for everyone to rise the ranks.
There's also a creative side to welding. It's not just about joining pieces of metal together, it's also about using innovative techniques to enhance structures, making them more functional and durable.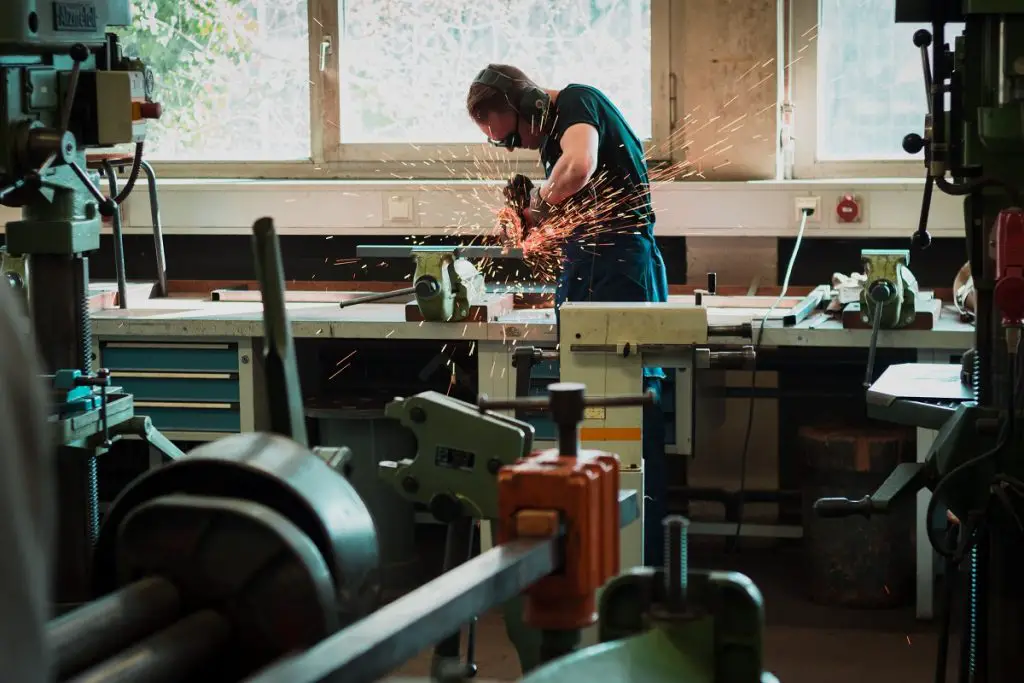 Benefits of a Welding Career
If you prefer working in various work environments, can handle all types of weather, and love a challenge, then this trade is for you!
Here are several more reasons why welding is such an amazing profession!
No College Degree Required
One of the perks of working as a basic welder is that you don't need a college degree. You can find a decent-paying job straight out of high school or after getting a General Education Diploma (GED).
Other than that, you'll find numerous options to attend a welding program or specific welding trade courses at your local community college or nearby welding schools. You can also sign up to become an apprentice and work under a master welder for about 3–4 years, which comes to about 6,000 to 8,000 hours of training. Then, after getting all the hands-on training you need, you can start looking for work in a specific field of your choosing.
Impressive Salary Ranges
We mentioned that welding pays rather handsomely. Even though you may not start making a six-figure salary immediately, it's definitely something within your reach.
Another thing to consider is specialization. You can take courses and become certified in fields that are considered unique and out of the ordinary, like oil rig or underwater welding, or working with rare and exotic metals.
There's a High Demand for Welders
Luckily, the world will never stop needing welders. Despite the general rise of automation, there will always be certain conditions and areas where robotic welding will be impossible.
This is one of the most fulfilling things about this trade and one that qualifies it to be categorized as a long-term career. Even if you switch the types of industries you work in, the trade itself will remain steady and strong.
Another benefit of this increased demand is that it offers many chances to work in different countries around the world. While that means leaving home for an extended period of time, the upside is it pays really well and you gain valuable skills in the meantime.
The exciting part is that you get to see and experience different parts of the globe. You'll also get to meet interesting people along the way, which is an amazing opportunity in itself.
Welder Salaries
Here are a few numbers to put things in perspective. The median pay for a welder is roughly $43,000 per year, while the average hourly rate comes to about $21 per hour.
So, as long as you're willing to put in the time and effort, you'll be able to provide for your family and still have lots of opportunities to earn more. It also pays to seek out more fulfilling work positions, even work overseas because that's when the opportunities become more lucrative.
 All these can drastically improve your chances of increasing your salary and making in the range of $100,000–$120,000 per year.
Career Types of Welders
Welding can be a great career choice if you easily get bored and can't stand the mundane 9-to-5 work day. So, if you're not afraid to work with your hands and get a little dirty in the process, then you might want to consider these welding careers.
Fabricators and assemblers
Sheet metal workers
Machinists
Pipefitters
Plastic and metal machine workers
Jewelers and precious stone workers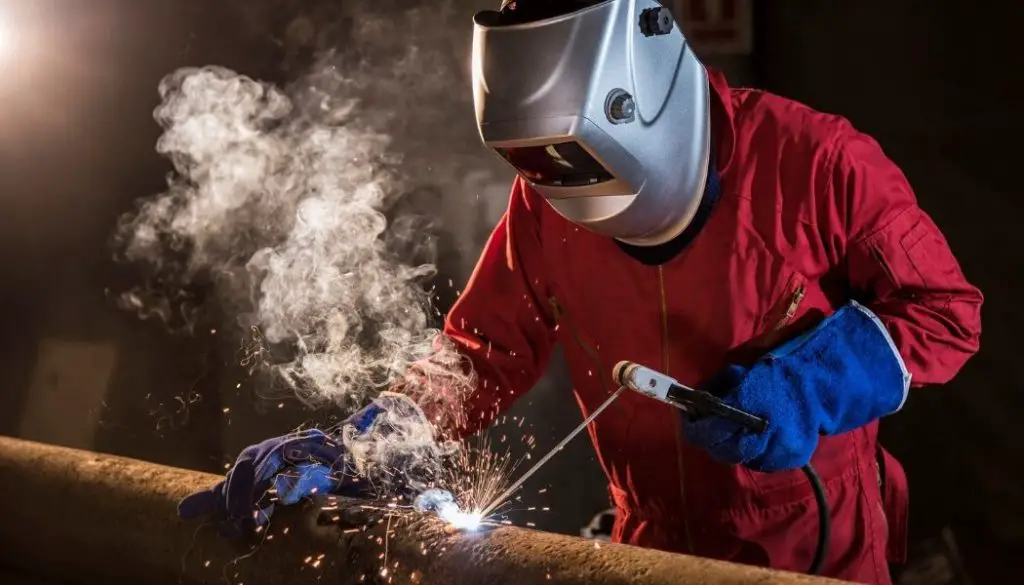 Industries that Welders Can Work In
There are plenty of opportunities within the welding field that can help you expand your skillsets and expertise. In addition, you get to work in industries that you enjoy, like robotics, industrial maintenance, or automobiles.
If not, you can still pursue your love of welding in some of the less demanding fields. Two common examples include working as a sheet metal welder or a pipefitter.
Another field worth exploring is the energy sector, which is constantly on the hunt for alternative sources of sustainable energy.
As a result, this industry has been transitioning towards more green-collar jobs to help keep up with rising demand while still being as eco-friendly as possible.
The silver lining is that no matter the type of energy source deployed, welding will always be a vital part of the manufacturing process.
Whichever field you decide to pursue, you can be happy knowing that job prospects for welding are strong and steady. According to the Bureau of Labor Statistics, welding is expected to increase by 3% over the next decade.
How to Learn Welding
Unfortunately, welding has a higher safety risk than many other jobs. For starters, there's the heat factor to consider, as well as flying sparks and metal shards.
Not to mention that some welding jobs can be more dangerous than others. So, it's no surprise that it's one of the best-paying jobs on the market.
The silver lining is that today's technological advances and high safety standards have significantly reduced the dangers of welding So, if you're interested in learning how to start, read the tips below:
The best way to learn this skill is by enrolling in courses at your local community college.
You can also look for introductory welding classes online.
Watch tutorial videos to learn basic techniques.
Speak to local welders about working as an apprentice under them.
Buy an affordable welding machine and protective gear.
Practice welding together scrap metal before trying your hand on a real project.
How to Build a Welding Career
This trade can be physically demanding even if you're working in a shed or factory. Then, there are welding jobs where you need to get into tight spaces to work or climb to high elevations. These jobs require a lot of skill, experience, and physical ability.
That's why getting the right education and certifications is so vital for your safety and the safety of others.
Research the different welding types and decide which feels right for you.
Decide if you want to pursue welding as a career, art form, or hobby.
Take welding courses and vocational programs to educate yourself further.
Take the American Welding Society Certified Welder test and get certified.
Start looking for jobs!
Keep expanding your skillsets through hands-on training, diplomas, and certifications.
Ways to Make Money from Welding at Home
Because welding is such a versatile industry, with the right planning and scheduling, you can have time to set up some work on the side. This can come in handy whenever you need to earn a bit of extra income, especially when you're just starting out as a welder.
A few ideas to try are:
Set up a small business doing welding projects for family, friends, and neighbors
Work with precious metals, making jewellery and various accessories
Create art projects using metal, plastic, or aluminum and sell them to the public
Make various household items, like sign holders, trellises, fire pits, or TV trays, and sell them online
Conclusion
It may not be the cushiest or the most elegant of jobs. Yet, there's certainly something appealing about this line of work.
From lucrative pay to long-term job opportunities, the benefits are plenty. For starters, you can travel the world and learn valuable skills. Plus, being a welder can earn you a prestigious position among tradesmen and women.
There's also the more practical side, which includes a generous employment package with full dental, medical, and retirement benefits.
So, the next time you wonder, "Is welding a good job choice?" you can use the tips and data we've compiled to help you make the best decision.