I am always asked what welding machine a beginner homeowner should get. They need a portable and inexpensive machine that doesn't need all the bells and whistles or power of a more expensive welder. The Handy Core is my new recommendation.
It can do most jobs a novice welder will need, and doesn't break the bank. Although you can purchase cheaper welders on the market, they all lack the reputation for quality that Lincoln Electric guarantees.
Summary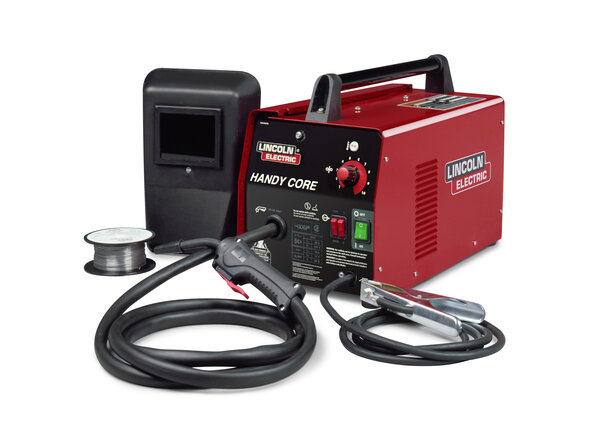 Specifications
Dimensions: 12.8 in x 224 in x 18 in
Weight: 20 pounds
Max Output: 88 amps
Output Range: 35 to 88 Amps
Polarity: DC
Duty Cycle: 20% at 70 Amps
I rate this as a very low power welder. This is an extremely inexpensive welding machine. It can weld up to 1/8 inch steel. This is one of the lightest welding machines on the market, weighing in at 20 pounds. You can move this from job to job in your truck, or even carry it by hand.
You can download the manual here.
PRO TIP: This machine is well suited for small repairs and touchups. But you will need to upgrade if you want to do more substantial welds.
What is Included?
Welding gun and cable assembly
Work cable with work clamp
1 lb. spool of .035″ Innershield NR-211-MP flux-cored wire
.035″ contact tips
Welding handshield with #10 filter plate and clear glass cover plate
Chipping hammer/brush
Pros
This is an extremely inexpensive welding machine.
It is an ideal entry level option for a beginner welder.
Although it is limited in the thickness of steel it can weld, if you are confident you won't need the extra power, it is great value for money.
Cons
The max power of 88 amps is extremely limited, and you will likely need to upgrade as the scope of your welding projects grows.
This welding machine doesn't come with the standard 3 year warranty that Lincoln Electric provides for all their other options.
Features
1. Compact and Portable
This welding machine is the definition of portable. It is extremely lightweight and the dimensions are surprisingly compact. You can put this in your truck, or even carry it by hand to your job.
2. Plugs into Household 115V Outlet
It can plug into any household socket and weld normally. This is well suited for homeowners who lack industrial power voltage in their workshop.
A welding machine that runs off a 115-volt household power supply has several advantages, including:
Convenience: A 115-volt welding machine can be plugged into a standard household outlet, eliminating the need for special wiring or a dedicated power supply. This makes it easy to use the machine in a home or garage setting and eliminates the need to run a separate power line to where the welding will occur.
Portability: Many are lightweight and portable, which makes it easy to move the machine around a workshop or job site. This can be especially beneficial for contractors and DIYers working on projects in different locations.
Cost-effective: 115-volt welding machines are typically less expensive than larger, industrial-grade machines that require a 240-volt power supply. This makes them more accessible for hobbyists and DIYers on a budget.
Safety: they are generally considered safer than higher-voltage machines. This is because they use less electricity and generate less heat, which reduces the risk of electrical fires and equipment damage.
Energy efficiency: they use less energy than larger machines, which can help to reduce the cost of operating the machine over time.
3. Ideal Entry-Level Option
Try this option if you are learning how to weld and don't want to empty your bank account. It is one of the most affordable Lincoln welding machines, but is still high quality. Although it lacks the power of the larger machines, you will still be able to weld steel up to 1/8 inches thick.
Field Testing
When I picked up the Handy Core, I nearly fell over. That's because I expected it to be at least double the weight. This is an extremely lightweight and portable machine. I was surprised they could get 88 amps out of this tiny box. Let's be honest, I wasn't overly impressed with the arc – but it isn't designed for experienced welders like myself. It is built for beginner homeowners who will only be striking an arc once every few months. For this purpose, I don't have a problem with it at all. I suspect you will outgrow it very quickly if you start to get more interested in welding though.
Results
This machine is suitable for Hobby welding.
It has a short 1 year warranty, which is disappointing considering Lincoln generally offer a standard warranty that is three times as long.
Accessories
You should consider getting a welding cart to make your gas bottles as portable as your welding machine.
Conclusion
In conclusion, the Lincoln Handy Core welding machine is a portable and affordable option for hobby welders. It scored moderately well in durability and value-for-money, earning a 7/10 and 9/10, respectively. However, its performance was only average, scoring a 5/10, due to its lack of power and limited capabilities.
Despite this, it is still a good option for those looking for a portable and affordable machine for small, hobby welding projects. However, it is not suitable for heavy-duty or professional use.