The LE31MP is one of the most inexpensive multi-process welders on the market – at least of those manufactured by reputable brands like Lincoln Electric. It is extremely versatile and lightweight at under 35 pounds (as long as the low 140 amps is sufficient for your needs).
Summary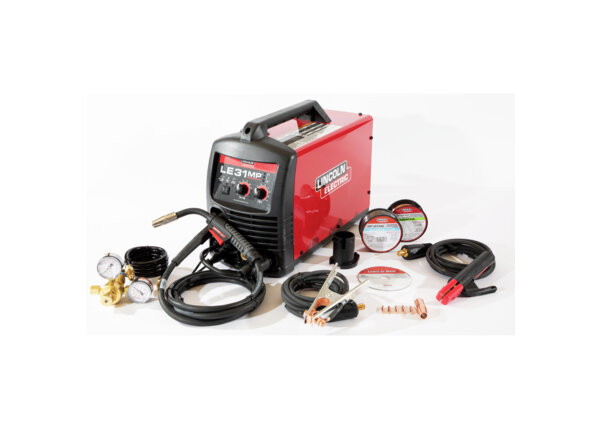 Specifications
Dimensions: 13.6 in x 8.9 in x 18.1 in
Weight: 34 pounds
Max Output: 140 amps
Output Range: 30 to 140 Amps
Polarity: DC
Duty Cycle: 60% at 95 Amps
I rate this as a medium powered welder. This is an affordable welding machine. It can weld up to 1/4 inch steel. This is a portable welding machine, that weighs under 35 pounds. It is lightweight and can be moved from job to job with ease.
You can download the manual here.
PRO TIP: Think about the thickness of metal you will be welding. If there is a chance you will weld thicker than 1/4 inch steel, you should considering selecting a more powerful machine.
What is Included?
Gun Magnum Pro 100L gun and 10 ft. cable assembly
.025 in and .035 in. contact tips
Gasless nozzle for Innershield welding
Spindle adapter for 8 in. diameter spools
.025 – .035 in. wire diameter dual track drive roll for MIG and flux-cored welding
Gas Regulator and 52 in. hose for use with Ar/CO2 or CO2 gases
Pros
This is an extremely affordable multi-purpose welding machine. If you are getting into welding as a hobby or career and want to try out all the different processes, then this model is well suited.
This can run off household input voltage, so you don't need an industrial location to use it.
Extremely simple two knob control interface. You honestly, can't set this machine up incorrectly.
Cons
The max power of 140 amps does limit the thickness of steel you can weld, which may become a constraint as your welding skill grows.
The duty cycle is on the low side, and you must take constant breaks. Keep this in mind, depending on the welding you intend to do.
Features
1. Adjustable Drive System
An adjustable drive system in a welding machine refers to a mechanism that controls the speed at which the wire feeder delivers the welding wire to the weld joint. This allows the welder to adjust the wire feed speed to match the demands of the welding job and ensure optimal weld quality.
The fully adjustable drive system reduces the likelihood of the wire tangling and getting jammed within your machine. This was a big problem in older models, but is much less likely to happen in modern welders.
2. Brass to Brass Gun Connection
The brass to brass connections are also a significant improvement over traditional connections. Brass is a highly conductive material, which means it is less likely to cause arcing or other issues that can disrupt the wire feed. This helps to ensure that the welder is always working at peak performance, even when working on challenging materials or in difficult conditions.
3. Versatile MIG, Stick, Flux-Core, DC TIG Welder
Having the versatility of switching between MIG, stick, and TIG is extremely useful. There are many people who purchased a MIG welder and were annoyed when they suddenly needed to switch to TIG and needed to buy a whole new machine. Even if you never use it, having the option of changing your welding process is valuable.
It is also cost effective, because you don't need to buy multiple welding machines for each different process. It can also handle a wider range of metal types and thicknesses.
Field Testing
I am often surprised at how much functionality you can get in modern welding machines without increasing the weight. This is an extremely lightweight machine and can do almost anything an experienced welder would want. If its max power was slightly higher, I would consider it for my workshop. Give this model a chance if you are a hobbyist and want to play around with lots of different welding processes without emptying your bank account.
Results
This machine is suitable for Versatile Multi-process welding.
It has a solid 3 year warranty.
Accessories
You should consider getting a welding cart to make your gas bottles as portable as your welding machine.
Conclusion
In conclusion, the Lincoln LE31MP welding machine is a reliable and durable option. It scored well in performance, durability, and value-for-money, earning an overall score of 8/10. With that being said, it's not perfect and may not be the best choice for everyone, but it is definitely a solid choice for those needing a welding machine.