The SP-140T is a great entry-level MIG welding machine. It is lightweight and inexpensive. You can move it from job to job while still getting the high-quality welds you expect. This machine has a high-duty cycle for such a small box. If you are getting started in learning how to MIG weld, then pay close attention to this option.
Summary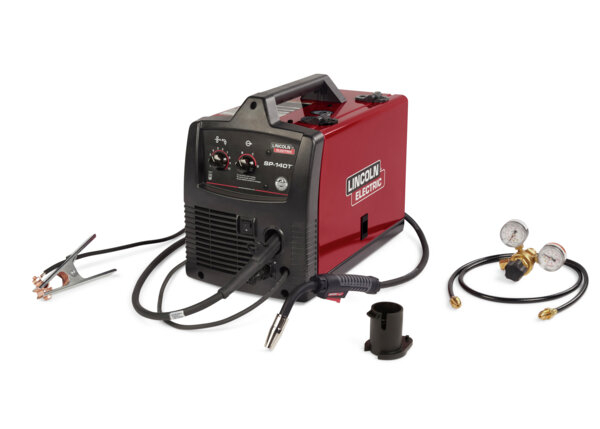 Specifications
Dimensions: 13.65 in x 10.38 in x 17.9 in
Weight: 49 pounds
Max Output: 140 amps
Output Range: 30 to 140 Amps
Polarity: DC
Duty Cycle: 20% at 90 Amps
I rate this as a medium-powered welder. This is an affordable welding machine. It can weld up to 1/4 inch steel. This is a lightweight welding machine, weighing in at just under 50 pounds. You can easily move it from your workshop to your truck and even to individual jobs.
You can download the manual here.
PRO TIP: Think about the thickness of metal you will be welding. If there is a chance you will weld thicker than 1/4 inch steel, you should considering selecting a more powerful machine.
What is Included?
Magnum PRO 100L gun (10 ft. )
Gas Nozzle
Gas Diffuser
Cable Liner
035 in. Contact Tip
Work Cable and Clamp
Adjustable Gas Regulator and Hose
Spindle Adapter
0.025 – 0.030 in. and 0.035 in. Smooth Drive Roll for MIG & FCAW
Pros
This is an extremely inexpensive and value-for-money welding machine. Even if you need to upgrade later on, you will still have gotten your money's worth.
The tool-less design allows you to easily change inputs and accessories without spending too much time away from the job.
Can weld 1/4 inch steel with ease.
Cons
The max power of 140 amps does limit the thickness of steel you can weld, which may become a constraint as your welding skill grows.
It lacks the performance of the other Lincoln Electric welding machines.
Features
1. Tool-less Design
The tool-less design features of a Lincoln Electric welding machine allow the user to make adjustments and change the input supply and cables without needing additional tools. This can be beneficial for several reasons.
One of the main advantages is that it allows quick and easy changes to the input power, wire spool mounting, wire drive service, and polarity without having to stop and retrieve tools. This can save time and increase efficiency, especially if the user needs to make multiple adjustments throughout the welding process.
Additionally, the ability to change these settings by hand, without needing tools, allows the user to spend more time with their helmet down and welding, rather than stopping to retrieve and use tools. This can be particularly beneficial for professional welders who need to maximize their productivity and minimize downtime.
In summary, the tool-less design features of a Lincoln Electric welding machine can save time and increase efficiency for the welder by allowing for quick and easy adjustments to the input power, wire spool mounting, wire drive service, and polarity, all by hand. This design feature can be a game changer for those who want to spend more time welding and less time adjusting the machine.
2. Precise Wire Drive
This full adjustment drive system reduces the likelihood of wires tangling. This has effectively eliminated the painful issues with older welding machine technology.
A precise wire drive controls the speed at which the wire feeder delivers the welding wire to the weld joint. It is designed to provide accurate and consistent wire feed, which can have several advantages, including improved weld quality, increased efficiency, reduced operator fatigue, greater control, and enhanced versatility.
3. Forgiving Arc Performance
The simple tapped voltage control makes it easier to find the sweet spot and create a spatter-free weld with a smooth arc. For beginners, you can waste a lot of time adjusting the voltage to get a quality weld. The more technology that can improve the arc and increase the size of the sweet spot means that you can spend less time experimenting and more time productively working.
Field Testing
This model is a brilliant entry level MIG option. If I was recommending a MIG for a beginner, this would be at the top of my list. It is inexpensive and lightweight but offers some great modern technology. The interface is intuitive (like all Lincoln designs). During the field test I was impressed with the weld quality.
I was impressed with the weld quality produced by the machine. I found that the machine could produce high-quality welds, which is a key factor in evaluating a welder's performance. Overall, I was very satisfied with the welder's performance and would recommend it as a great option for beginner welders.
Results
This machine is suitable for Project, farm and hobby welding.
It has a solid 3 year warranty.
Accessories
I recommend getting a machine cover to protect the bright red paintwork from damage. One of my biggest regrets is the number of bumps and scratches my welding machines have gotten over the years.
Conclusion
In conclusion, the Lincoln SP-140T welding machine is a great entry-level option for those new to welding. It scored moderately well in performance, durability, and value-for-money, earning an overall score of 7/10. While it may not be the most powerful or durable option on the market, it is a solid choice for those just starting out and looking for a reliable and affordable welding machine.