Consider a TIG welder if you require precise, high-quality welds on thin or delicate materials, such as stainless steel, aluminum, or copper. TIG welding offers more control, produces cleaner welds, and is versatile for various applications, making it suitable for professionals and hobbyists seeking superior weld quality.
Since TIG welding is more specialized, we are going to assume you already have a basic understanding of MIG and Stick welding. If you need more information about these two more common types of welding, please read one of my previous posts, "As a beginner, what do I need to start welding," by clicking here.  Otherwise, let's try to figure out if you might need a TIG welder!
So, you feel you are ready for a TIG welder due to your experience, research and having answered several pertinent questions. Questions such as, which welding method is best for the type of work I will be doing?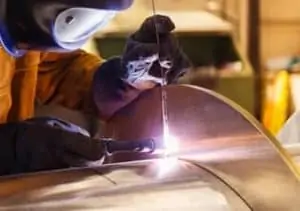 Why you might need a TIG welder
If you need to weld paper-thin metals on extremely low amperage settings, you might need a TIG welder.
If an eye-pleasing weld is desired for highly visible parts, you might need a TIG welder.
If extremely high-quality welds are necessary, you might need a TIG welder.
You might need a TIG welder if you build a race car or truck chassis out of chrome-moly tubing.
If you weld a lot of non-ferrous metal like magnesium, copper, and aluminum, you might need a TIG welder.
While not a totally exhaustive list of questions, if you answered positively to any of the above we should be good to move forward and discuss what to look for in a TIG welder.
TIG welders can be expensive, can I get by with a cheap one?
Umm, maybe, if your bank account absolutely will not allow you to purchase a quality, name-brand machine. But, please think really hard before you plop money on a lesser (cheaper) brand. You may find you cannot afford the cheaper one either, especially if it quits working after a short time. And, often, cheaper brands have service and warranties that are next to useless. Your experience with the cheaper brand could go well or be so poor you may give up on TIG welding altogether.
Save your money and buy either a Miller or Lincoln Electric brand TIG welder. Great work is easier to create with great equipment. These companies have been around well over a half-century and are the machines everyone else copies. The old saying about getting what you pay for is certainly true regarding welding machines.
Amico 200 Amp Stick/TIG Welder
Powerful Capable of Welding up to 3/8 inch Stainless Steel
Almost Non-Existent Spatter and Post-Weld Cleanup
Dual Voltage Input - 110V/230V
13 ft Torch Cable
AC/DC TIG Welder
Can Weld Up to 1/2 Inch Steel
12 ft Torch
Complicated User Interface
Having said that, with research, you will find people who occasionally report a part failure even on Miller and Lincoln Electric machines. Failures do happen in every industry. But, you should find troubleshooting advice and replacement parts for Miller and Lincoln Electric equipment much easier than other brands.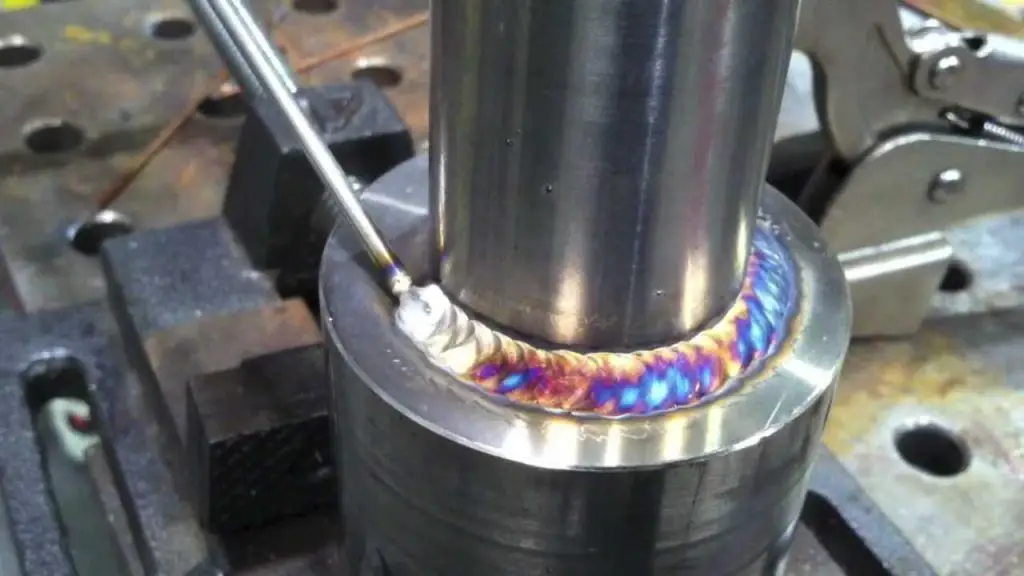 So which TIG welder is best for me?
Miller makes dozens of different TIG welders.
Lincoln Electric also makes dozens of different TIG machines. 
There is a huge spread in pricing from the low end to high end from both manufacturers. This reflects the various machine's abilities to do more things better, for longer periods of time.
You can purchase welding machines that will do more than just TIG, if necessary. Most, but not all TIG welders also can stick weld. Both manufacturers also make all-in-one machines that will MIG, TIG and stick weld.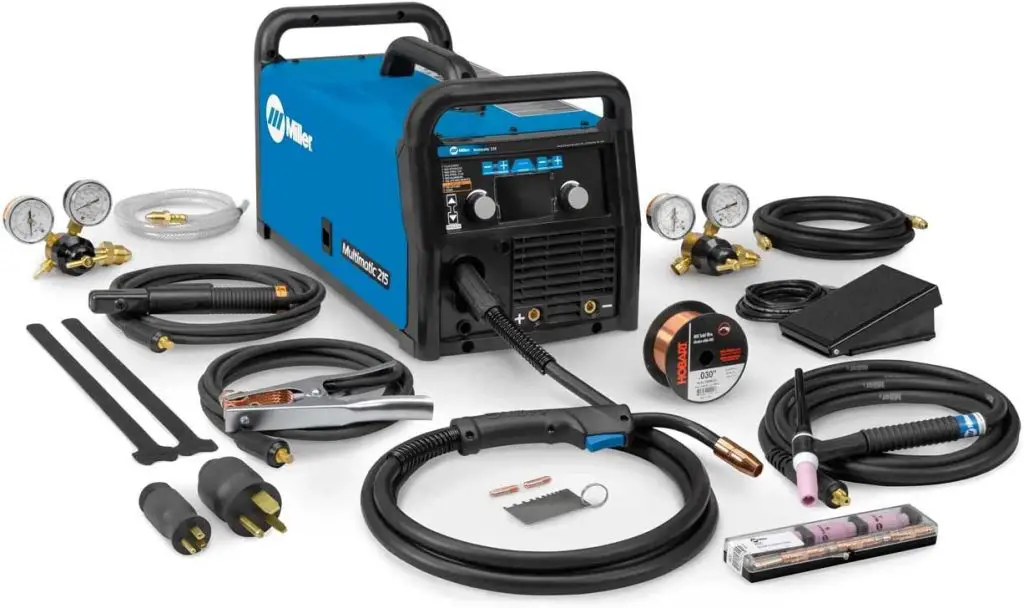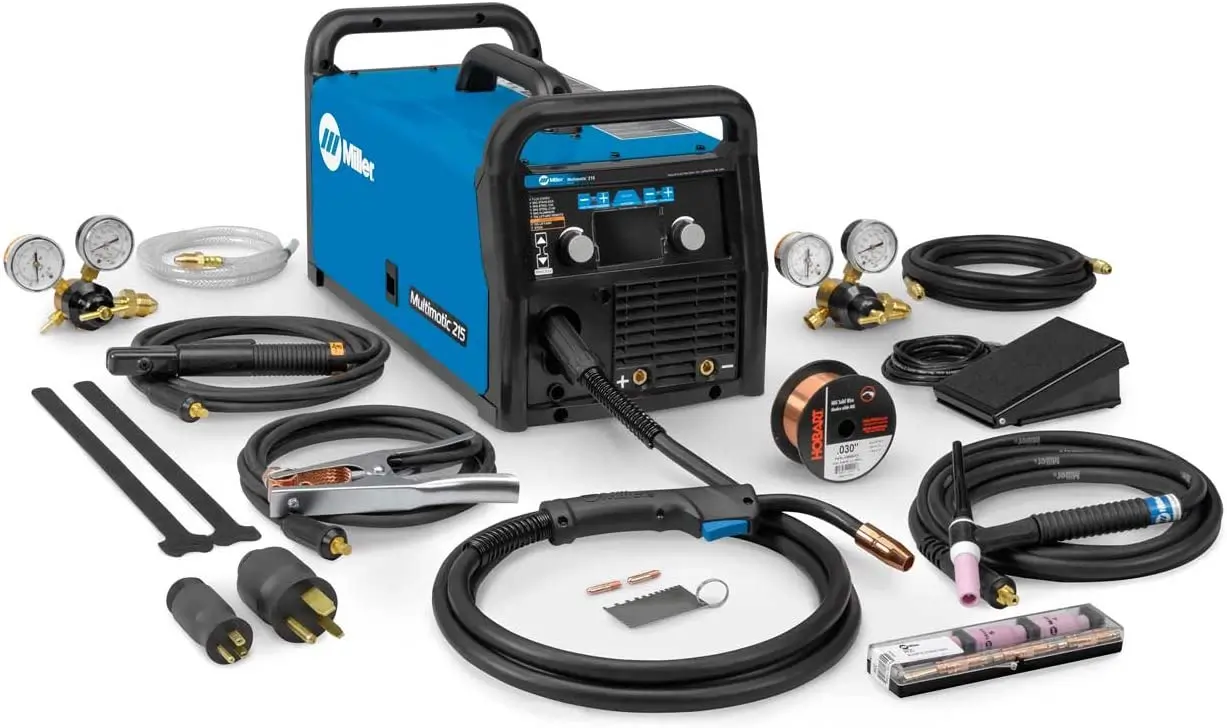 What is Duty Cycle and why should I care?
If for instance, the duty cycle of the machine is rated at 130A/20V/30%, this equates to the machine being capable of running for 3 continuous minutes at 130 amps. Then, needing to remain idle for 7 minutes to cool down. The duty cycle is based on a 10 minute period (30% of 10 minutes is 3 minutes). If most of the time the user is welding on a setting well below 130 amps, the machine will not heat up as fast and will weld longer than the duty cycle rating before needing to cool down.
In the event, you will be welding at the machine's maximum amperage or close to it, you will need to pay attention to the duty cycle rating when deciding on which machine is best for you.  
Is a multi-purpose welding machine what I need?
It is common for TIG welders also to have the capability of stick welding. But, not all of them are dual-purpose capable. So, if you desire a machine that can do both, look for them under multi-process welders. There are a few machines that can MIG, TIG and stick weld. Having one machine that performs all three primary welding processes could be very useful, not to mention space-saving.
However, remember that a single-duty machine (TIG only) at a given price point will most likely be a higher quality TIG welder than a triple-duty machine (TIG, MIG, and stick) at a similar price point.
If you have decided a new TIG welder is for you, always buy the best you can afford!
Read More