The best TIG welding machines should offer an amperage range of 10-200A, a duty cycle of 20-60% at full power, lightweight design for portability, and accessories like a high-quality foot pedal, and capable of welding metals up to 1/4″ thick.
The AlphaTIG 203Xi is my top choice because of its versatility and high duty cycle. It features a simple to use interface with adjustable pulse settings of frequency and amperage. It is ideal for both aluminum and steel TIG welding.
Advanced Inverter Technology
Lightweight and Portable
Impressive Duty Cycle
Dual Voltage Capability
115V or 230V Input Supply Input
Extremely Lightweight 18 lb with Adjustable Shoulder Strap
Roll Cage Design
Large TFT Screen
1. AlphaTIG 203Xi
What I like about this unit is the simple interface. Again, when you're starting out, it's about building confidence. And not getting overwhelmed with too many options. You can change the pulse settings of frequency and amperage.
It can use both 120V and 240V, depending on your availability. I found it very effective at welding carbon steel, aluminum and stainless steel.
This welder has a 60% duty cycle at 200 amps or a 100% duty cycle at 150 amps. This means you can weld for extremely long periods for fairly serious thickness materials.
It has a 3-year warranty on the welder but only 6 months on the foot pedals and spool guns. I noticed the copper in the ground clamp was weak and needed to be replaced relatively early.
Specifications
Amperage Range: 20 to 200 Amps
Input Voltage: 120/240V
Duty Cycle: 35% at 200 Amps
Weight: 40 Pounds
Pros
Very simple interface
Amazing customer support
Welds both AC (aluminum) and DC (steel)
Cons
Expensive unit to start with
The duty cycle can be short if you're doing a lot of welding
2. ESAB Mini-Arc 161
ESAB Mini-Arc 161 will get you acquainted with TIG on a budget.
This is great for someone wanting to learn and practice TIG welding.
I also feel that you will outgrow this machine quite quickly if you wish to continue learning. Unless you want to specialize in one specific type of welding. Say, mild steel pipes as an example, you may want the AlphaTIG Welder.
This welder is extremely lightweight at only 18 pounds and comes with a shoulder strap so you can move it around very easily. It operates on multiple voltages for flexibility. It has an amperage range of 5 to 160, so you can weld up to 1/4 inch thick material.
It doesn't come with a TIG torch, so you must purchase one separately.
This brilliant little machine is portable and affordable, but you will likely outgrow it quickly and need to upgrade as you learn more.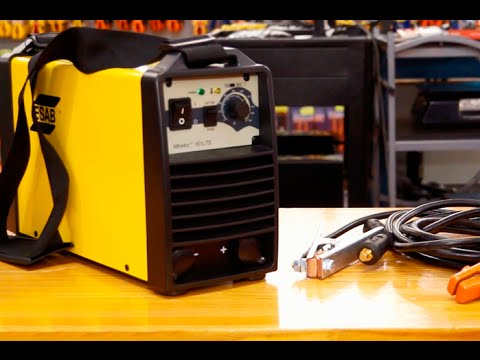 Specifications
Amperage Range: 5 to 160 Amps
Input Voltage: 115/230 V
Duty Cycle: 35% at 110 Amps
Weight: 18 Pounds
Pros
Very affordable
Esab produces quality machines
Runs 115v or 220v
Cons
Lack's AC capability
No foot pedal for added control
3. Yeswelder Arc 205A TIG/Stick Welder
The YESWELDER TIG-205DS Welder is a powerful and versatile welding machine designed for hobbyists. The 205A TIG/Stick Welder is a robust and reliable machine that excels in Stick and TIG welding processes. With its advanced features and high-performance capabilities, this welder is ideal for various welding applications, especially home workshops.
But the main feature is the price tag. This extremely affordable machine is ideal for beginners looking to try welding without spending a fortune. This machine doesn't have all the bells and whistles of a premium welder, but it is hard to walk past if you are looking for an entry-level option.
I tested it on various materials, including mild steel, stainless steel, and cast iron, and the machine easily handled them. The duty cycle was impressive, allowing for continuous welding without overheating issues. I also appreciated the Hot Start feature, which made starting Stick welding jobs easier, even with difficult-to-start electrodes.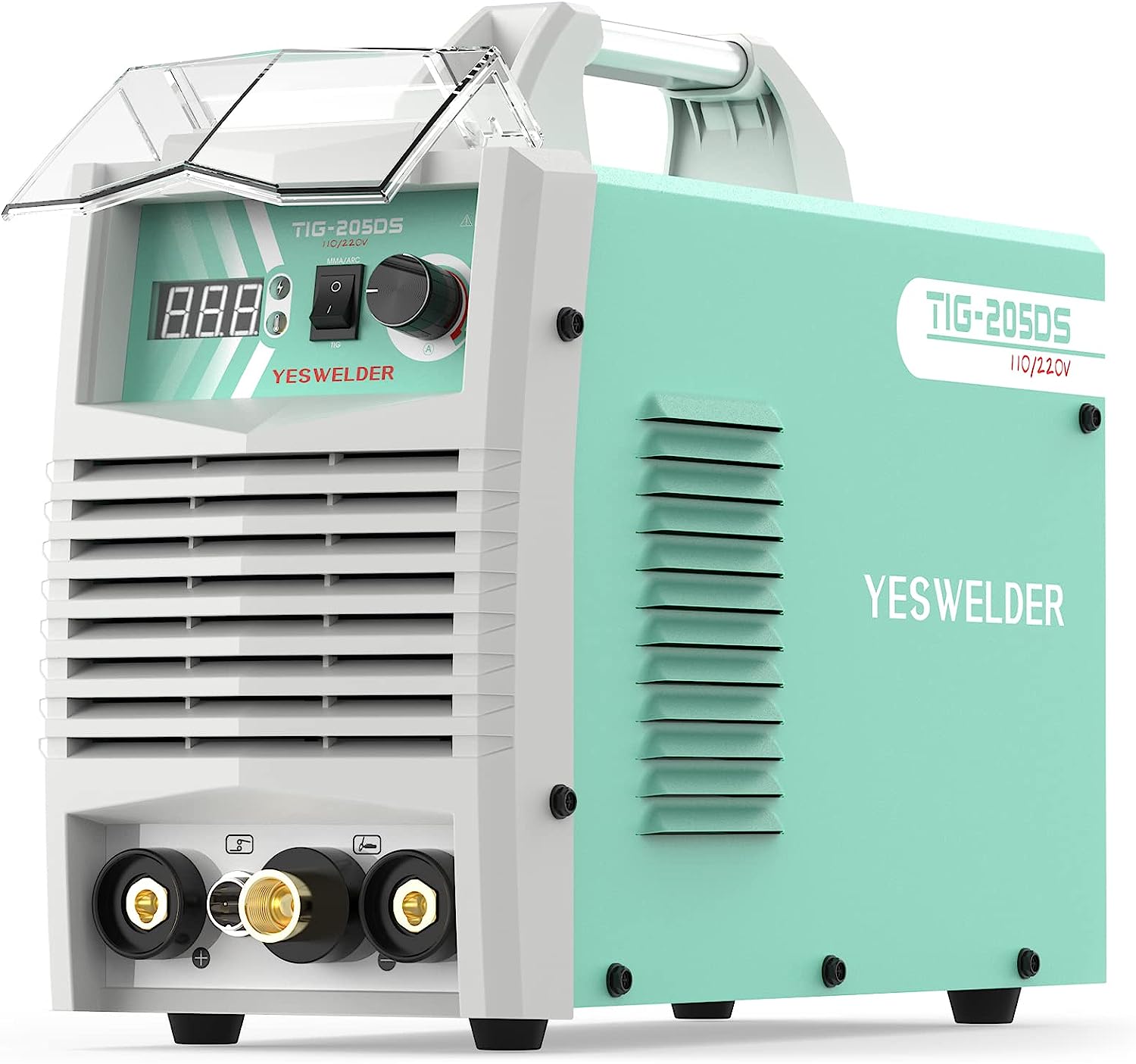 Specifications
Amperage Range: 20 to 205 Amps
Input Voltage: 110/220 V
Duty Cycle: 60% at 205 Amps
Weight: 22 pounds
Pros
Dual voltage input for added versatility
Compact and lightweight design for easy transport
High-quality performance with a 60% duty cycle
Hot Start and Anti-Stick features for improved welding experience
Affordable price for the features offered
Cons
Limited to Stick and TIG welding processes
No digital display for precise amperage setting
The cooling fan can be loud during operation
4. Vulcan 205 TIG Welder
The Vulcan 205 TIG Welding Machine is highly efficient and versatile, with user-friendly features and robust build quality. However, it may be expensive for hobbyists and beginners.
The Vulcan 205 TIG welding machine features Advanced Inverter Technology, significantly improving its performance and productivity. This technology allows the machine to provide a steady and precise welding arc, making it efficient and reliable. It also enables the Vulcan 205 to operate with less power consumption, reducing energy costs.
The machine is relatively compact, but don't let its size fool you, it packs a punch with a power range of 15 to 205 amps. It handled everything I threw at it, from stainless steel to aluminum, and performed excellently every time.
The user interface is straightforward and intuitive, making it easy for beginners and experienced welders. The Vulcan 205 allows you to weld with both DC and AC, allowing for great versatility. The machine also has a pulse feature that I found particularly useful for precision welding.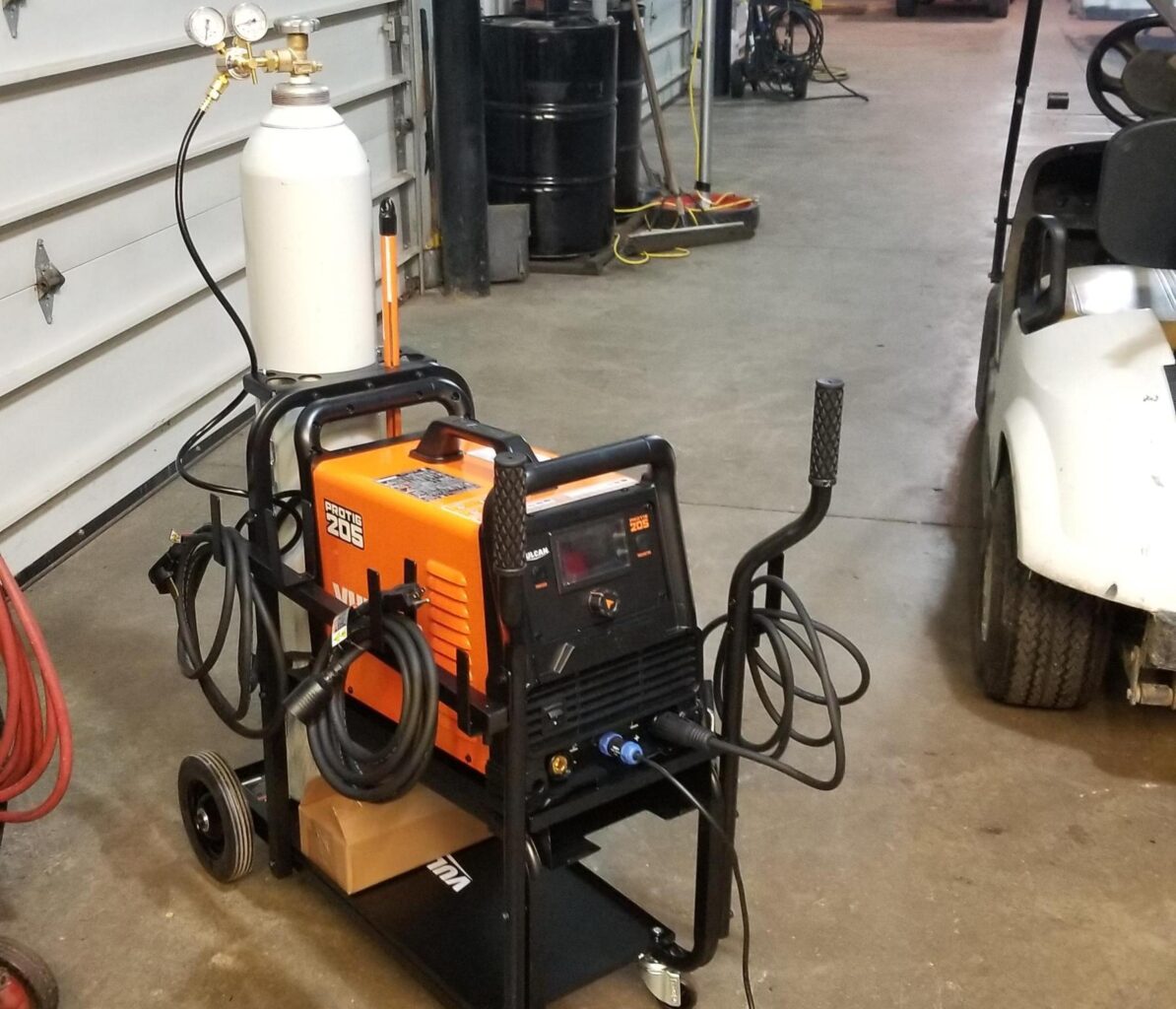 Specifications
Amperage Range: 10 to 205 Amps
Input Voltage: 120/240 V
Duty Cycle: 40% at 205 Amps
Weight: 38 pounds
Pros
Advanced Inverter Technology
Dual Voltage Capability
High Amperage Range
Cons
Higher Price Point
Limited Availability in All Retail Stores
5. Miller Diversion 180 TIG Welder
The Miller Diversion 180 TIG Welding Machine is acclaimed for its easy-to-use interface, portability, and high-quality performance. However, it is costly, considering its features. It is suitable for both professional and hobby welders.
The Auto-Postflow feature of the Miller Diversion 180 TIG welding machine automatically optimizes post flow time based on the welding amperage. This eliminates the need for the operator to control the post flow manually and ensures optimal shielding every time without any gas waste.
The Miller Diversion 180 TIG welding machine is known for its easy-to-understand interface. Even for beginners, the machine's controls are straightforward and user-friendly.
Its performance on various materials was exceptional. The results were clean, precise welds with minimal spatter on stainless steel and aluminum. The machine's AC/DC capabilities allowed me to weld thin and thick materials effectively. The Fan-On-Demand feature was also a standout, reducing noise and power consumption when the machine is not in use and minimizing airborne contaminants pulled through the machine.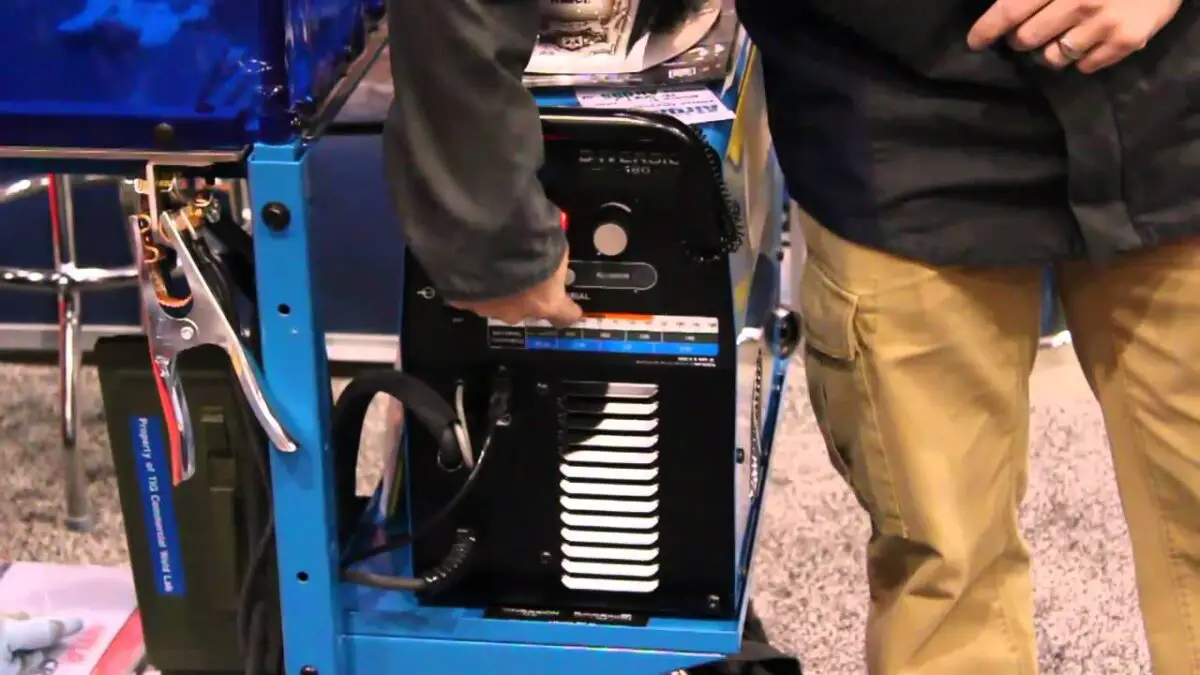 Specifications
Amperage Range: 10 to 180 Amps
Input Voltage: 115/230 V
Duty Cycle: 35% at 125 Amps
Weight: 50 pounds
Pros
Auto Postflow Feature
Dual Voltage Input
Color Coded Controls
Cons
Quite Expensive for Similar TIG Welding Machines
Limited Amperage Range
6. Miller Electric Dynasty 210 TIG Welder
Ideal for Welding Aluminum
Powerful and Precise
AC/DC Capability
Simple User Interface
In a world where precision and versatility are key factors in producing high-quality metalwork, the Miller Electric Dynasty 210 TIG Welder is an exceptional tool for professionals and hobbyists alike. As a leader in welding innovation, Miller Electric has consistently delivered top-notch equipment, and the Dynasty 210 is no exception.
This sleek and powerful welding machine promises to be a game-changer in TIG welding, boasting an impressive range of features and capabilities.
Specifications
Amperage Range: 1 to 210 Amps
Input Voltage: 120/240/480 V
Duty Cycle: 60% at 210 Amps
Weight: 50 pounds
Pros
It is a versatile machine that can be used for welding various materials, including aluminum, stainless steel, and mild steel.
It has AC and DC welding capabilities, making it ideal for welding aluminum.
The interface is user-friendly and easy to operate, even for novice welders.
Cons
It is relatively expensive, which may be a barrier for some welders.
It can only weld aluminum up to 3/16 in. thick, it may struggle with thicker jobs.
It does require additional accessories, such as a foot pedal, to operate effectively.
TIG Welder Machine Requirements
Let me start by recalling my first encounter with TIG welding – a mixture of excitement and overwhelming choices. Several years and countless welding projects later, I'm here to share my experience and guide you through your TIG welding machine purchase. But before we proceed, a brief introduction to TIG welding for beginners is in order.
Tungsten Inert Gas (TIG) welding, or Gas Tungsten Arc Welding (GTAW), involves using a non-consumable tungsten electrode, filler metal, and an inert shielding gas. It's known for its precision and the superior quality of welds it produces.
Buying a TIG welder can be daunting, especially with the many choices available. Based on my experiences, I've identified some critical areas: brand, duty cycle, amperage, portability, accessories, the type of metal you'll be welding, and metal thickness.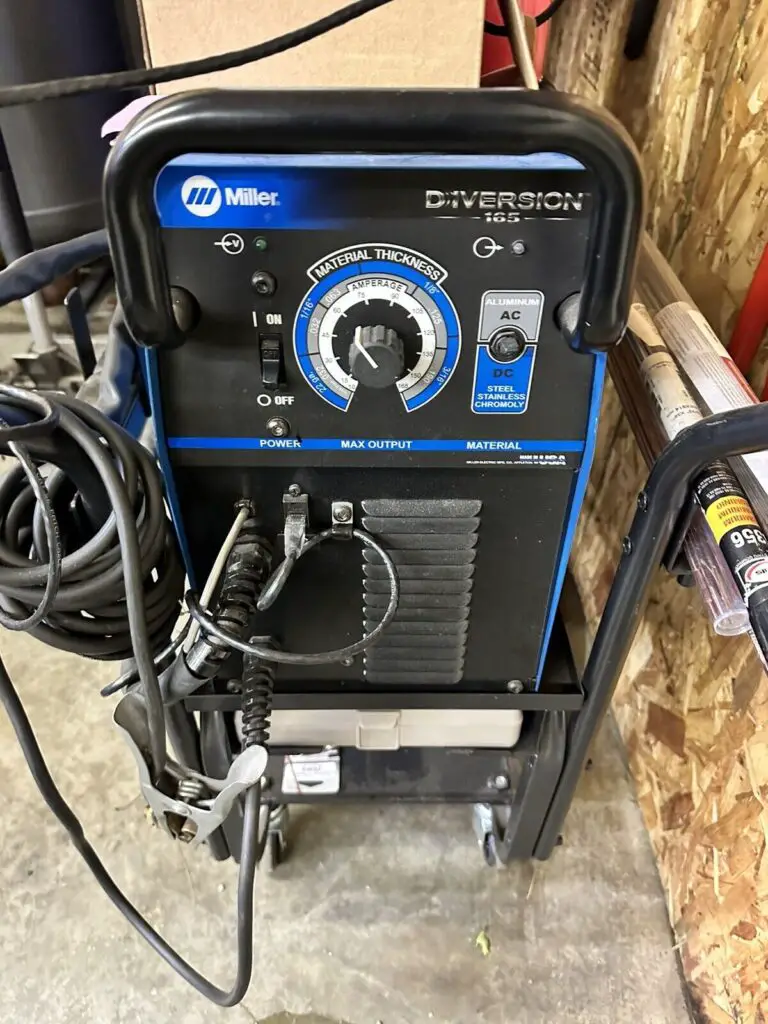 Brand
One lesson that my years of TIG welding have taught me is that the brand of the welding machine significantly influences its performance and durability. Brands like Eastwood have earned their stripes for delivering reliable and robust machines, with countless positive reviews to back them up.
Duty Cycle
If you're anything like me when I first encountered the term 'duty cycle,' you might be scratching your head. Simply put, the duty cycle is the percentage of a 10-minute period that the welder can operate without overheating. For instance, a machine with a 20% duty cycle at 200 amps can weld for 2 minutes before needing 8 minutes to cool down.
Amperage
The amperage range of your machine is vital. When I started welding aluminum – a metal that requires more heat – I realized the importance of a machine with higher amperage. Conversely, lower amperage works well for thinner, more delicate materials.
| Amperage Range | Suitable Metal Thickness |
| --- | --- |
| 10-20 Amps | Up to 0.020 inch |
| 20-50 Amps | 0.020 – 1/16 inch |
| 50-100 Amps | 1/16 – 1/8 inch |
| 100-200+ Amps | 1/8 inch and above |
Portability
Portability is a game-changer. Having used both portable and stationary units, I can't emphasize enough the convenience of a compact, lightweight machine – especially if you're frequently on the move or have limited workshop space.
Accessories
Right accessories can significantly enhance your welding experience. When I began TIG welding, I didn't have a foot pedal, which made controlling the heat during welding quite challenging. So, make sure to get a machine with essential accessories like a foot pedal for heat control and a high-quality tungsten electrode.
Metal Type
The metal type you'll be welding also plays a significant role in choosing the right machine. From my experiences, TIG welding works exceptionally well with stainless steel, aluminum, and other non-ferrous metals. However, keep in mind that some machines are better equipped to handle specific metals.
Metal Thickness
The thickness of the material you plan on welding is another vital factor to consider. During my initial days of welding thin materials, I realized the value of a TIG welder with lower amperage that could deliver precise and clean welds.
Wrapping Up
While our focus has primarily been on the technical aspects of buying a TIG welder, I can't stress enough the importance of safety. Always ensure you have the proper safety gear, including a welding helmet, gloves, and a jacket.
There you have it – a detailed TIG welding buying guide, filled with real-life experiences, tips, and examples. I hope this guide assists you in finding the perfect TIG welder to fit your needs. Remember, the best TIG welder isn't necessarily the most expensive or with the most features, but the one that suits your specific welding tasks.