Heliarc welding, also known as the original TIG welding (GTAW), is a precise welding method that initially used helium as a shielding gas. Renowned for producing strong, clean welds, it is employed across industries to join diverse metals, including thin and dissimilar materials.
The early variations of the Heliarc welding process began around 1890 by  C. L. Coffin. It was originally called "electrode welding" and used a carbon arc to produce heat. The process wasn't perfected until 1941 when it becomes more known under the name "Heliarc welding."
You'll learn everything there is to know about the Heliarc or TIG welding processes. We'll go over the method, equipment, pros and cons, career options, and the most typical problems that could affect you.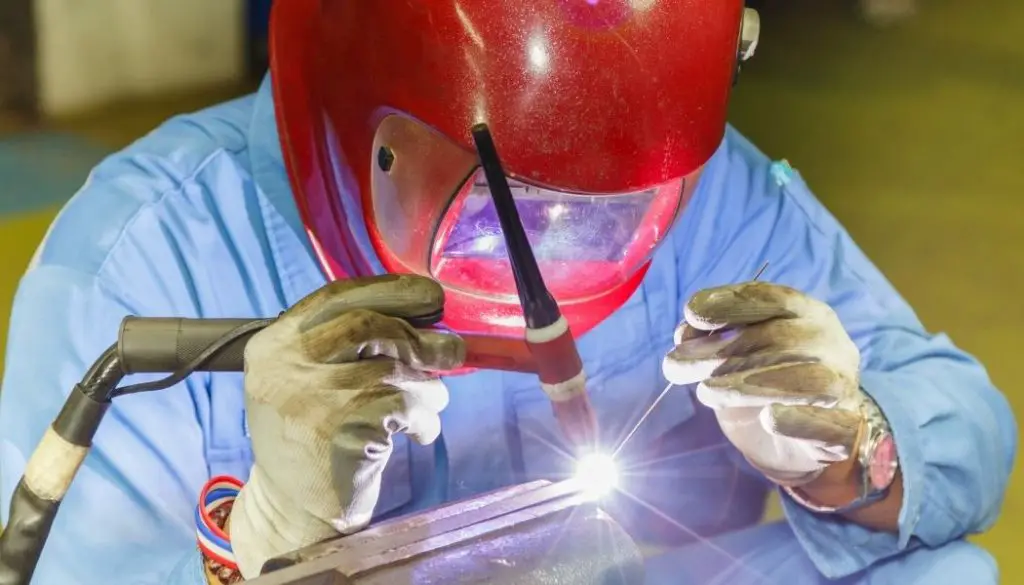 What is Heliarc Welding?
The Heliarc Welding technique involves using tungsten electrodes and an inert gas. The machine uses a high-frequency current to heat the metal until it is transformed into a liquid form that can be joined together. You use electrodes to sustain the electric arc that is created between the materials.
The process is similar to gas welding, involving the melting of metal at the joint where two pieces meet. The difference with Heliarc welding is that this process does not use a filler material, unlike gas welding which uses carbon rods or electrode wire as it's the source for the material.
What Equipment is used when Heliarc Welding?
The equipment involved in this type of welding includes a power supply that provides the electrical current needed to form the arc. You'll need a few other items to complete the welding process, including a tungsten electrode, shield gas, and filler rods.
The most important piece of equipment is the torch. Some use non-consumable tungsten electrodes as well as those who typically work with consumable electrodes which wear down as they run through the machine.
There are several types of the weld from this technique including fillet, butt, and lap joints. The size of the workpiece is limited by the machine's ability to produce enough heat.
What is Heliarc Welding Used For?
You'll often find Heliarc or TIG welding used in industrial environments for larger-scale projects such as cars or ships. You can also use it for repairs on a car or home, but with most jobs, it requires a specialized machine with a lot of power, making it harder to do at home without proper equipment.
Tungsten Inert Gas (TIG) welding creates an affective bond between metals that strengthens them and eliminates impurities throughout the process. It is more complicated and harder to learn than other forms of welding such as MIG because it requires more precision and dexterity even though you are using gas to shield the products from exposure to oxygen.
Pros of Heliarc Welding
Let's explain the positive side of Heliarc welding first.
Strong Welds
Using TIG methods allows products to be made stronger than they would by other forms of welding because it produces a strong metal bond. It requires less energy overall, making it more efficient overall.
Versatility
A benefit of Heliarc / TIG Welding is its ability to be used on materials including exotic metals, stainless steel, chrome, magnesium, aluminum, titanium alloys, and nickel alloys.
Quality Work
The process of TIG welding in this manner is accurate and can be completed with a high degree of precision, enabling it to be used to make critical parts and structures stronger.
Cons of Heliarc Welding
Two main cons of Heliarc welding are:
It Takes Longer to Learn
Heliarc welding involves a high degree of skill and dexterity, making it difficult to learn compared to other types of processes. It requires a strong understanding of electricity, angles, and time.
Without proper training, you might end up with an uneven joint or make mistakes in your alignment which could affect the strength of your product.
Multitasking
Since you need to maintain the arc, you can't focus on one thing at a time. You'll need to watch your gears and also know your timings before switching from one position to another.
Common Problems using a TIG welder?
When it comes to TIG welding, process, which is quite difficult to learn, things can go wrong easily. If you are not aware of the process, you might end up with a faulty final product or can get injured due to electrical shock.
Some common mistakes while using TIG welder includes:
Using too much or too less filler metal
When using filler metal during the welding process, it is important to use the correct amount in order to produce a quality weld. If too much or too little filler metal is used, it can affect the strength and appearance of the weld.
If too much filler metal is used, it can cause the weld to be bulky and uneven. This can lead to weak spots in the weld, leading to failure later. Additionally, using too much filler metal can slow down the welding process and make it more difficult to maneuver around the workpiece.
If too little filler metal is used, the weld will not be as strong as it could be. Additionally, it may not be able to hold up against wear and tear, which can lead to failure later on.
Incorrect polarity
Sometimes, the poles on a TIG welder can be put in the wrong spot. This means that the electricity will flow in the wrong way and it won't weld very well. You might end up with a bad weld or even an injury if you're not careful.
In most cases, DCEN or direct current electrode negative is used, but when welding aluminum or magnesium, AC or alternating current electrode positive should be used.
TIP: Read my post about Welding amperage selection
Improper Pulsing
The timing of the pulsing in a TIG welder is important. This is because it can cause problems with both the arc and the filler metal. For example, if the pulsing is too fast you might end up with porosity. If it's too slow, you might end up cracking.
Using an incorrect gas or shielding gas
It's important that you use the correct type of gas as it can affect your weld as well as its strength. For example, if you use a gas that is too rich, you could end up with a weld that may have excessive spatter.
If the gas is too lean, it can cause porosity to form in your final product.
Incorrect travel speed
Some TIG welders allow you to set a specific travel speed for welding so that you can ensure quality and speed.
However, if you go too fast or too slow with your travel speed, it could affect the accuracy of your weld as well as its overall strength.
At times an incorrect travel speed leads to bad puddle control and erratic arc behavior which leads to porosity in the final product.
Using a worn tungsten electrode
Using a worn electrode can cause problems when trying to create quality welds, which is another common mistake in TIG welding. A worn tungsten electrode will have a large ball on the end, which can cause an erratic arc and won't transfer heat well so you'll get cooling at the tip of your weld. This will give you poor penetration.
If your tungsten electrode is leaning to one side, you could end up with a concave weld puddle.
Heliarc Welding Career Opportunities
There are a number of career opportunities that involve the Heliarc welding process as well as those who have mastered it. For others, the reason for learning the skill is to perform welding on their own projects, whether it's a car or something else.
Many jobs require Heliarc welding skills, including but not limited to:
Industrial repair companies
Machine shops
Shipyards
Racing car fabrication
Scaffolders
Heavy equipment operators
Pipeline welding companies
Related Questions
What gas is used with Heliarc Welding?
Heliarc welding uses mostly argon and helium as shielding gas. These two gases are inert so they do not react to the weld. They protect the weld from oxygen, nitrogen, hydrogen, and other elements that can cause poor quality products.
How do you weld with arc welding?
Welding with arc welding involves using a special type of gas to protect the molten metal from oxygen so that it can solidify into a strong connection.
What is TIG Welding Used For?
TIG welding processes are used for critical projects such as those found in space, nuclear energy, or other heavy-duty applications where strength and precision are required. It's also useful for repairs on cars or home appliances where you need to make sure they will be repaired correctly.
What job requires Heliarc Welding?
Industrial repair companies use Heli welding to fix oil pipelines and sewer systems used for transporting oil or gas. Repair companies, machine shops, and racing car fabrication companies also use Heli welding.
Read Next