The welding industry is full of top manufacturers that have been in the business for years and earned the loyalty of thousands of welders. One of the most popular brands is Hobart. Hobart welders are one of the most popular brands of welders among professionals and DIY enthusiasts alike. They have a larger range of welding machines.
Hobart welders come from the Hobart Brothers company. Besides welders, they also manufacture filler metals and electrodes.
If you've ever wondered about the history behind the name on your welding machine, or you're researching different companies to decide which ones to buy, here is what you need to know about Hobart welders.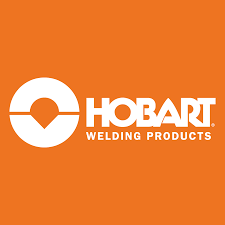 Who Makes Hobart Welders?
Hobart welders are manufactured by Hobart Brothers LLC, a prominent manufacturing company. In 1996, Hobart was actually acquired by Illinois Tool Works, so technically, Illinois Tool Works is the company that manufactures these welders. However, ITW chose to keep the Hobart name, in part because of the quality associated with it for decades.
The History of Hobart Welders
Hobart welders have a long, illustrious history that actually predates modern welding. 
Hobart Brothers, the company that manufactures Hobart welders to this day despite its merger with Illinois Tool Works, was founded in 1917. That is over a century of history behind your welder! 
Hobart started out as a family company run by C.C. Hobart, his wife, and three sons. It didn't start out as a welding company. Instead, C.C. Hobart made many different metal objects, including generators, air compressors, and even furniture. In 1925, Hobart Brothers made its first welder, and the rest, as they say, was history.
By the mid-20th century, Hobart Brothers was a welding powerhouse. The company powered much of the World War II weapons production effort and was even rewarded for its efforts. It had contracts with prominent companies such as American Airlines. 
The company even started its own training academy, the Hobart Institute of Welding Technology, in 1930. In the decades since, thousands of welders have been educated thanks to this non-profit academy. The efforts were crucial in the early days when few people were trained in welding. They are just as important today when welding is a ticket toward a secure trade for many young people.
One other impressive fact about Hobart Brothers is that the company remained family-owned and operated until 1996 when it was purchased by Illinois Tool Works. That family reputation is part of why the Hobart brand survived for so long.
What Makes Hobart Welders Different?
There are a few features that make Hobart welders distinct from other welding machines. They include:
Better wire feed speed control. Hobart welders offer infinite control over the feed wire speed, which is very valuable when you are using a system that automatically feeds filler wire.
Simpler controls. The simpler controls mean Hobart welders are more accessible for beginner welders.
More affordability. Hobart welders are known as some of the best welders for hobbyists. That's because they're easy to use and won't cost a pretty penny to bring to your workshop without compromising on quality.
Are Hobart Welders Any Good?
Hobart welders are some of the best welders you can find on the market today, especially if you are an amateur welder looking to scratch your DIY itch. 
Here are some of the reasons why Hobart welders are excellent.
They are very durable. Hobart welders come with sturdy parts that hold up to any wear and tear, which makes them last for a long time.
They are accessible for DIYers. Many welding machines are too complicated, large, or expensive for a DIY workshop. Hobart machines are perfect for amateur welders to use without compromising on quality.
They are more versatile. For example, Hobart MIG welders come with two plug-in options.
You can trust the company. Hobart machines come with a pretty long warranty, usually about three years, which makes me trust that the company will cover any damage.
Plenty of industries trust it. Hobart welders are popular in shipbuilding, the automotive industry, and many other industries. That means they're good enough for my garage.
These are enough reasons to realize that Hobart welders are pretty good.
Can Weld Up to 1/4" Mild Steel
20% Duty Cycle at 90 Amps
115V Supply Only
Includes 10 ft MIG Gun and 10 ft Work Cable with Clamp
Are Hobart Welders Made in the USA?
Hobart Brothers is an American company that prides itself on making all of its welders in the United States. Most production happens in Troy, Ohio. Some Hobart welders are manufactured in Appleton, Wisconsin. Many people were worried that ITW would move production abroad, but it didn't do so for the Hobart line.
Final Thoughts
Hobart welders are made by the Hobart Brothers company, a historical family-owned company. Now, Illinois Tool Works owns Hobart Brothers but kept the name, manufacturing practices such as manufacturing domestically, and quality people associated with Hobart.